Culture
How Japanese welcome the most important season, New Year's holiday!?
For Japanese people, New Year's holiday is the time for family, praying for happiness and health for the coming new year. It is the happiest and the most significant season of the year. Do you know any customs in Japan?
Waku Waku
Published on 25 Dec 2020, 12:00
1. Toshikoshi soba (Year-crossing noodles)
New Year's Eve in Japan is called as Omisoka. 31st of Dec is the day for purification, so many Japanese people customarily do a big cleaning of their houses to welcome in the New Year. And they usually gather together at a new fresh home with family, eating dinner or watching television on that day.
When it is close to midnight, they prepare soba noodles called Toshikoshi soba (year-crossing soba noodles).
As soba noodles are long and fine, they symbolize longevity, so Japanese people eat them to wish for a long life. Either hot dish or cold noodle is fine. But the important thing is that it should be eaten before midnight, because eating Toshikoshi soba on the 1st of Jan may bring bad luck!
2. Hatsuhinode (first sunrise)
Hatsuhinode is the first sunrise of the year. Historically, New Years Day is the day to welcome a Shinto God - Toshigami - and to pray for a rich harvest for the year.
As it is said that Toshigami will arrive with the first sunrise of the year, praying for Hatsuhinode is an important traditional event for Japanese people.
Normally, the sun rises from 6:20am - 7:30am, people often drive to the coast or climb up a mountain early in the morning, to enjoy the view.
3. Hatsumode (first shrine visit)
The first shrine visit for the year, Hatsumode, is a significantly important New Year custom too. Japanese people visit a shrine or temple during the day of January 1st or the first few days of the New Year, praying to God to make the new year a good year (Mostly from 1st to 7th of January).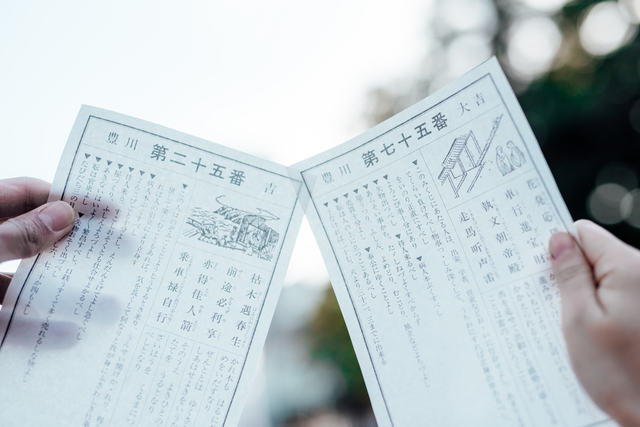 Popular activity at the shrine is Omikuji. Omikuji is the fortune telling little stripe of white paper. It will tell you your outlook on such things as business, relationships and whether or not you will find your "lost item". People enjoy seeing the luck for the new year.
4. Otoshidama (gift of money for kids)
New Year is often a favorite time for Japanese children as on New Year's Day they receive gifts of money known as Otoshidama. It is given by their parent's adult relatives such as uncles, aunts and grandparents.
The amount of Otoshidama given depends on the child's age. However, it grows as the child becomes older, for example, 1000 yen for children under 10, and 3000 yen for children over 10.
Because of this custom, the New Year holiday can become expensive for adults.
New Year's holiday is very special for Japanese. There are much more traditional events and customs all over Japan around this season too. If you experience something else from above, let's share!