Culture
Somen? Unagi?? Do you know about Japanese summer food?
What do you eat on a hot day? We will give you a brief introduction of Japanese summer foods. This guide will help you survive summer heat in Japan!
Waku Waku
Published on 30 Jul 2020, 17:39
1. "Somen" noodle
When it comes to refreshing food in summer, "Somen" is an unmissable item.
It is dried noodles made of wheat flour, characterized by the thinness of the noodles and the smoothness when it passes through your throat.
The most common method is to boil the noodles, chill them in ice water or running water. Then they are soaked in the soup when eating.
"Somen" often served with seasonings, such as green onions, ginger, sesame, seaweed, Myoga ginger or green Shiso.
Seasonings makes variation of taste of "Somen", and this is an easy meal to eat even in the hot and humid Japanese summer.
2. "Suika" (watermelon)
A typical summer fruit in Japan is watermelon.
Do you know that watermelon is sometimes eaten with a touch of salt in Japan?
More than 90% of watermelon is water, and the remaining about 10% contains minerals. If you add a little salt on it, the composition will be similar to a sports drink.
It is an ideal fruit to hydrate your body in a sweaty summer climate.
3. "Hiyashi Chuka" (chilled Chinese noodle)
Along with Somen, "Hiyashi Chuka" is also a typical summer food.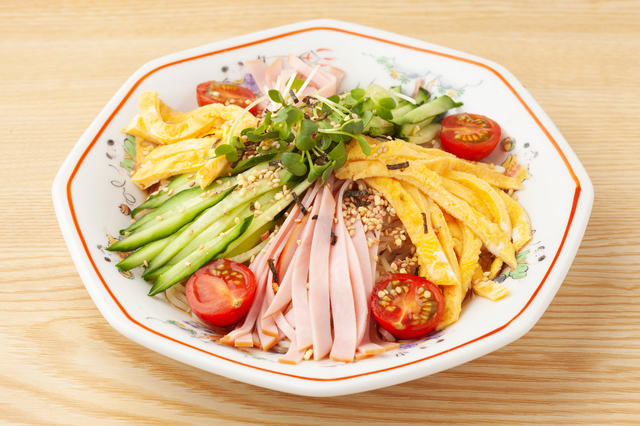 It is a dish in which Chinese noodles are boiled, cooled with cold water, and served together with ingredients like sliced ham, cucumber or fried egg and so on.
And this dish is normally eaten with soy sauce-based or sesame-based cold soup.
In the world of traditional Haiku (俳句: Japanese poetry, which has to contain one word of expression of season), "Hiyashi Chuka" is a seasonal word for July.
The dish might sound like a Chinese food, but actually, it is born in Japan.
It is also particular sight of starting of summer when Chinese restaurants put up posters saying: "Hiyashi Chuka Hajimemashita (We now serve Hiyashi Chuka)".
4. "Unagi" (eel)
Traditionally, "eel" has been eaten to get over the heat of summer. Vitamin B contained in eels is said to be the most effective for body in fighting against the heat.
Certain days in July and August are considered as "Eating eels day", decided based on the lunar calendar as the "Doyo Ushi no Hi" (the turning point of the season based on the old calendar, which changes every year).
The rice meal with dried or steamed eels are called "Unaju" or "Unadon". Eels are soaked in a sweet and spicy sauce and put on top of rice.
5. Summer vegetables
Japan has four seasons.
Since those time when nutrition science has not yet to be discovered, seasonal foods has been well taken to maintain good health.
Colorful summer vegetables are full of nutritional value. Typical examples are tomatoes, cucumbers, eggplants and corns. These are used to replace the vegetables in the usual dishes, as transformed into the "summer version" of stir-fried vegetables, stewed foods or curries etc,.
The classic "Edamame" (green soybeans) is also a summer ingredient. Boiled and salted Edamame goes really well with a glass of beer, especially in summer.
Seasonal vegetables really do have strong flavours and are extremely delicious.
6. "Mugicha" (barley tea)
"Mugicha" is a standard summer beverage in Japan.
The row material, "Mugi"(barley) has the effect of cooling the body, so barley tea is a perfect drink to fight against heat stroke.
It does not include a strong diuretic effect, so it can be taken before bedtime.
Since it has an antioxidant effect, it is also useful for beauty purposes in the summer when skin gets dark spots and freckles easily.
7. "Umeboshi" (pickled plum)
Do you know that the sour ingredient (citric acid) in "Umeboshi" is effective in relieving fatigue?
Additionally, it also has an antiseptic effect that prevents food from being damaged. That's why it is often used in Bento lunch box and Onigiri rice balls.
Since ancient times, there has been a saying that says: "Ume (plum) is a refuge for the day."
Eating one piece of "Umeboshi" in the morning allows you to get away from all misfortune of the day and stay healthy.
Did you already know listed Japanese summer food? We hope that it is useful for everyone's heat countermeasures!
Please enjoy Japanese summer while keeping yourself healthy.