Travel
10 facts about Tomonaga - The most popular bakery in Beppu (Part 2)
Although Tomonaga bakery is very well-known in Beppu, not everyone can truly recognize its charm. Therefore, I continue to share some more facts about this special bakery.
#6: "Tomonaga" bread girls
Upon stepping into the shop, I could immediately feel the fairytale atmosphere coming from the poster of a famous Japanese movie named "Kiki – the little witch" on the wall.
When speaking about this movie, people usually think about Kiki who wears a red bow tie on her head and daydreams in her own bakery. Similarly, in Tomonaga bakery, the people and I are familiar with the girls who wear cocoa brown beret caps, light brown waist aprons, and dark brown T-shirts with the name of the shop in the back.
Kiki and Tomonaga girls are all pretty and charming. Whether in the movie or real life, they are warm, friendly, and kind. They will say "Irassaimase" as a way to welcome the customers to the shop. They will provide the menu and show people how to order, as well as introducing the best bread of the shop to customers.
Moreover, the Tomonaga girls are not only lovely and friendly but also hardworking to be financially independent, just like the little witch Kiki – they are also the representatives of young Japanese women at old times who longed to become mature and independent.
#7: Ordering by a pencil?
Upon stepping into the shop, anyone would be mesmerized by the smell of freshly baked bread. From the kitchen, the sweet scent from butter and fresh milk will linger in the air, making everyone's belly growl.
Therefore, you should not be so distracted that you lose your cool and forget to take the pencil for ordering!
Right in the entrance, you can see a small shelf on the right side. From that shelf, pick up your order number, the menu, the order sheet and a pencil. Next, feel free to browse the menu and select your favorite bread.
Don't worry about language barriers! Tomonaga bakery has already printed the menu in other languages, namely English, Korean, and Chinese. Thanks to that, the Japanese language will not become an obstacle that prevents you from enjoying delicious bread.
Back to how we buy the bread, after deciding which one to buy, all you need to do is tick the quantity of that bread in the order sheet. Then, come to the checkout counter, say: "Sumimasen", and give the staff your order number and order sheet. After that, you just need to wait for some more minutes before getting your delicious order.
#8: Some notes when ordering
There are only 2 short notes!
First, in the checkout counter, there is a board stating the current status of each bread:
○: Available
△: Available but in small quantity
❌: Baking, not available
完売: Sold out
Before ticking, don't forget to check the status of the bread you want with this board!
Second, remember your number and come to the counter to get your order upon hearing your name!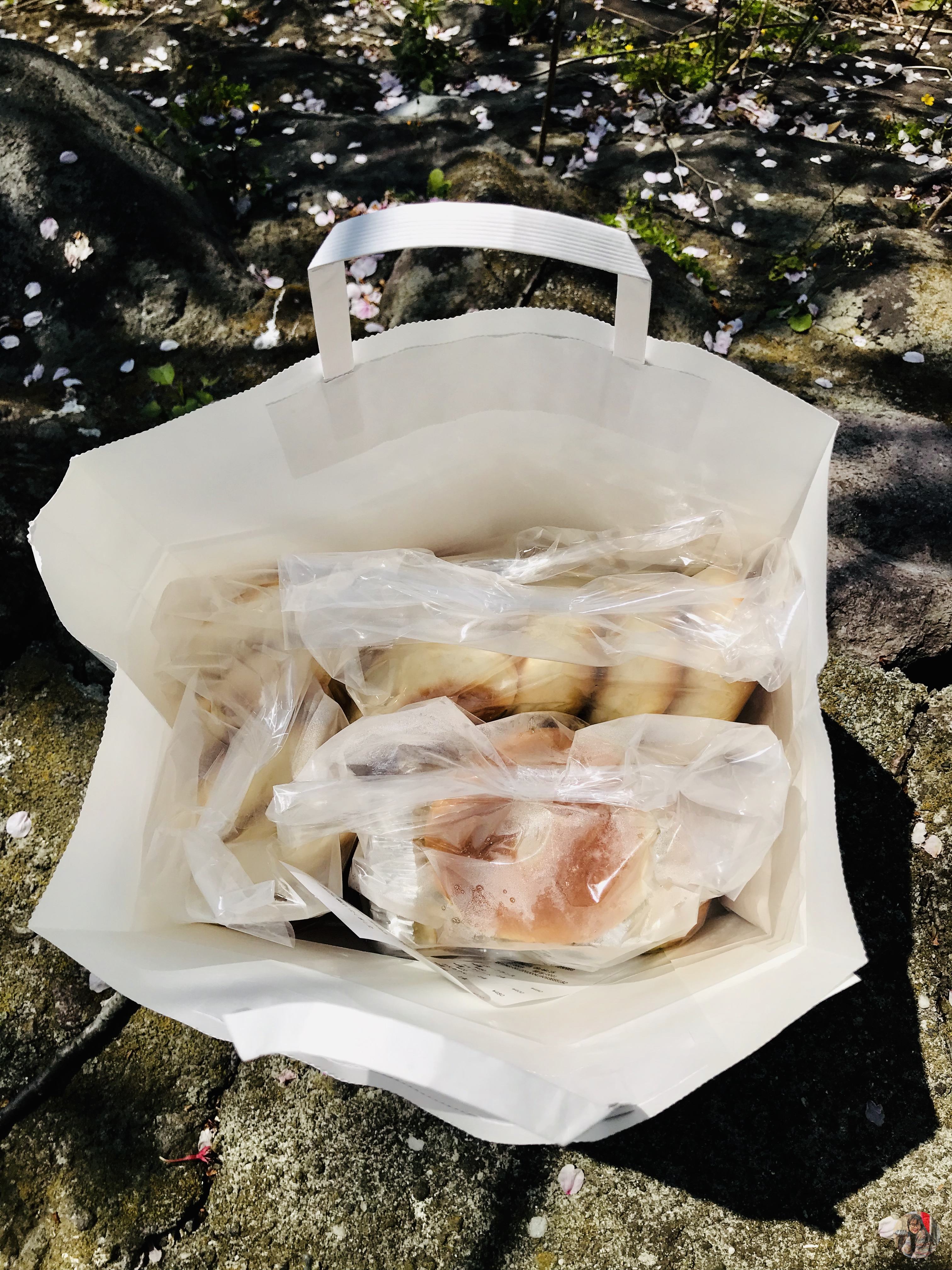 #9: Top 5 best bread of Tomonaga
Sweet Red Bean Paste (つぶあんぱん)
Price: ¥100
The Tomonaga bakery is well-known because of this red bean paste. Its highlight is the smooth red bean paste with a specific fatty taste and traditional sweetness. Therefore, Japanese people would always buy some of these buns every time they come to Tomonaga.
French Bread (フランスパン)
Price: ¥70
This bread has the size of a human's fist with burnt sugar on top. The dough is soft with a light sweetness, all of which bring out the taste of true milk bread.
Butter French Bread (バターフランス)
Price: ¥120
The rich aroma of burnt butter and the fatty taste with a mild saltiness in the bottom part of the bread will melt your heart, just like how this bread melt in your mouth. This bread will satisfy both your tongue and your soul…
Chocolate Bread (チョコレートパン)
Price: ¥100
When this bread is still hot, its dough will puff up and contain the smooth chocolate filling surrounded by white crumb. I love the feeling of chocolate flowing from the "bread belly" to my belly. It truly tastes like heaven.
Custard Cream (Wanchan| ワンチャン)
Price: ¥120
Custard cream, also known as puppy bread, is strongly favored by children and girls. This bread has a cream filling with a pleasant aroma and sweetness. Therefore, the men here often considered this bread as a useful tool when they need to sweet-talk their girlfriends.
#10: Soul Food bread (ソールフード)
The bread of Tomonaga is a valuable speciality to the people of Beppu.
The bread here is simple and cheap, yet they can become the bridge between friends or family members and consolidate these relationships.
When the people here were young, their parents gave them Tomonaga bread. When they went to school, they had this bread together with their friends. When they have children of their own, their children also have the same delicious bread just like they did before. This habit is maintained and passed down for generations.
To many people, this bakery is a friend from the past because the taste of Tomonaga bread has deeply imprinted in their mind and become the sacred memory about their childhood, their family, and their homeland.
Though those children have all grown up, come to faraway places to work, or become the elders that are spending the rest of their lives here, they cannot forget the delicious taste and sweet smell of butter bread. What's more, there is a special taste of sweetness in each bread that can make anyone, even those who were not born in this place, develop a yearning for this land and be hesitant to leave…
Tomonaga bakery store
Opening: 08:30 - 18:00, Monday to Sunday
Price: 70 yen - 300 yen