Study
5 free mobile apps in Japanese learners' starter pack
In today's article I'll introduces 5 applications in my mobile phone that'll help you master Japanese while having enjoyable experiences!
1. Akebi - A Japanese - English dictionary app
Akebi is a Japanese - English dictionary app that is internationally convenient. The terms you search will lead to multiple results from the most correct to the least relevant.
Each word you search will include its definition, alternative writing, synonyms.
Above all, the word's conjunctions and common usages in Japanese people's daily life are the two features I love the most about Akebi.
For kanji, you may choose either to search by keyboard or hand-drawing.
The kanji then would follow with its meaning and components. For years learning Japanese - one of the most complicating languages in the world - I can guarantee that memorizing components is the fastest way to identify the meaning of a kanji.
Disadvantage: Informative as it appears to be, unfortunately, Akebi is only available for Android users.
Alternative app: Japanese Dictionary Mazii
2. Todai - The most multifunctional app
Todai is the most multifunctional app for any Japanese learner! My senior had introduced Todai to me when I first came to Japan and I've been sticking with this app for 2 years.
Mainly served as a Japanese news-reading app, Todai is perfect for improving vocabulary and reading skills at any JLPT level.
Here in Todai, you can keep up-to-date with Japan's latest issues through simplified articles.
There are 2 levels: easy and difficult. Easy news often comes with basic grammars and few kanji, while difficult news contains more kanji at upper levels.
The reason why I highly recommend Todai is its mind-blowing convenience.
For each article, you can choose either to read or to listen to the news. This feature brings great advances if you want to improve your listening as well.
The best part is that every new kanji that appears in the article is underlined differently in colours. The colour of the underline indicates which JLPT level the kanji belongs to. When you touch a kanji, a box will pop up to show its meaning.
Disadvantage: Because Todai is a news-reading app, their contents focus on the news only which some users may find boring.
Alternative app: Japanese Voice: Listen & Speak
3. Spoon - A live radio app
You might have come across advertisements about this app before. Either did I, then I thought I would give it a try.
After the first few hours figuring the utility of this app, I have come to love it. Similar to the live stream feature, Spoon allows you to express yourself through live radio.
You will have chances to connect to the Spoon community and have more friends by making your own radio.
That will also mean you can listen to other radios too. I often choose Japanese radios because I want to get used to casual Japanese. You can listen to Spoon before going to sleep, on the bus or at any time just for chilling.
Disadvantage: Spoon users aren't allowed to switch location. If you live outside of Japan but wish to listen to Japanese radios, you have to change your IP.
Alternative app: LisPon
4. Hinative
Hinative is perhaps the most famous language app. When studying languages, you might cope with slang words or communicative terms that the dictionary may not help you. In these cases, Hinative is the choice.
You can post any question about any language and the natives of that language would provide an answer for you.
Because the answers come from natives, they'll also be very practical that you can apply the words right away in a suitable context.
For that reason, I usually love to ask about expressions that I often use in Vietnamese but do not know what they are in Japanese.
Hinative is an application that you don't have to use all the time. You just need it when you have something to ask. However, I recommend logging in the app once in a while, not to ask but to answer. When you already have a decent knowledge about Japanese, you can answer Japanese-related questions too, isn't it a great way to practice?
Disadvantage: Because Hinative is more like a Q&A app than an actual study app, except for your own language concerns, there are few you can learn from the app.
Supplementary app: you can use Hinative in combination with Memrise: Learn Languages Fast.
5. HelloTalk - a social network-based app
The last item in this list is HelloTalk, a social-network-based app. It works just like Facebook or Twitter.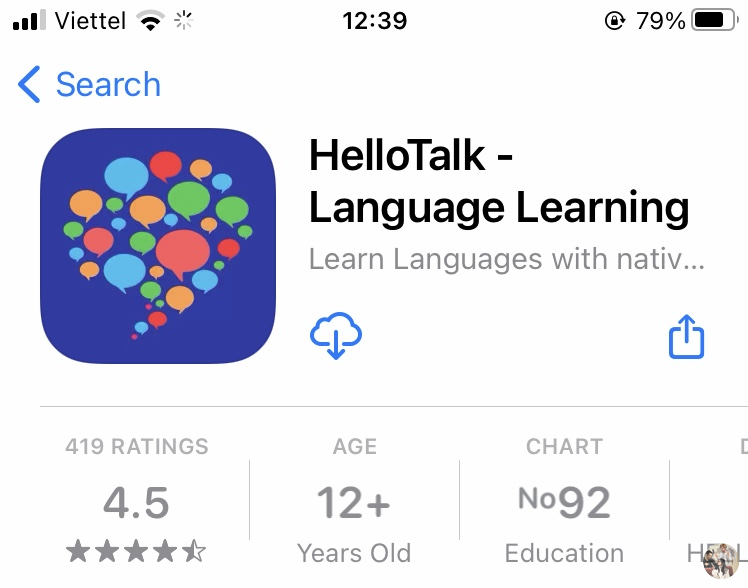 You can post anything about your daily life, from status to photo. The condition is that your caption must be in the opposite language.
I personally love this app. When I post status, if there is an error, native users would comment to correct me. And natives are as great teachers as your language sensei!
You can also chat and make more foreign friends as well. HelloTalk users are friendly and enthusiastic about learning a language as much as you are.
To me, I try to send a direct message to native Japanese first to greet and befriend them. By chatting with them, your Japanese would improve considerably.
Disadvantage: All language exchanging applications have a drawback: there are some languages attracting a lot of learners and some not.
For example, you wish to learn Japanese but Japanese people are somehow not interested in your mother language, you might be in trouble finding Japanese users who want to keep in touch with you.
Supplementary app: Tandem - Language Exchange
So how many of the above apps are there on your phone? During these days of quarantine, staying at home for too long might blunt your Japanese language skills. Therefore, it's worth considering that you maintain your Japanese by practising on your cellphone, reaching further to the outside world!