Culture
5 ways to celebrate 2021 New Year in Japan
Have you had any plans for the coming up-close 2021? Here're tips to celebrate New Year in Japan while staying safe from covid-19!
The New Year (or お正月 - oshougatsu), on January 1st each year is perhaps the most meaningful occasion in Japan. It comes with a lot of events including regional countdowns or fireworks. Unfortunately, this year due to the unceasing virus spread, most annual New Year festivals in Japan had been cancelled.
However, you can still have an equally festive atmosphere on a smaller scale. Let's check out these friendly what-to-do to celebrate an enjoyable 2021 New Year in Japan!
1. Decoration: TeamLab Exhibition inside your home
Founded by a group of international art specialists, TeamLab is lighting experiments that have been famously exhibited throughout Japan since 2001. These lighting exhibitions are absolutely beautiful and pleasing to the eye. For its popularity, TeamLab is also open for Japanese New Year's Eve and become a crucial tourist attraction.
For 2021, however, TeamLab has invented a new approach called "Flowers Bombing Home". Any TeamLab admirers can create an attractive and artistic TeamLab exhibition at home following these steps:
Step 1: Download and print out the drawing paper here.
Step 2: Color the flower with markers or fill in the colors digitally on your desktop.
Step 3: Upload the drawing on TeamLab official website and watch your work displayed live on youtube via this link: Flower Bombing Home!
Your flowers join with other thousands' all over the world on this YoutubeLive, which is playing 24/7. So during the New Year, you can turn on this soothing display on your TV or desktop to bring TeamLab to your own home.
2. Making Osechi with friends
Japanese people welcome the New Year with a traditional lunchbox called Osechi Ryori (おせち料理).
Osechi box contains a selection of several small dishes that in Japanese belief will bring luck: rolled egg, daikon, carrot, salmon and many more varied on regions.
In recent years, Osechi can be pre-ordered from restaurants and convenient stores. However, as the small dishes are mostly handmade with delicacy, the average price for an Osechi box may count up to... 10,000 yen!!
It's obvious that we students can't afford an Osechi box. Still, we can make Osechi at home (anyhow, the traditional Osechi was made totally household).
Gather a group of friends and do a big grocery shopping at the end of 2020! You can start with the most basic recipes that include cheap ingredients like sardines, salmon fish eggs and sweet potato.
What's important is that the joy of making Osechi can spread. While staying at home, is there any New Year celebration better than cooking with your closest friends?
3. Enjoying traditional foods
Besides Osechi, you can prepare other New Year's famous dishes as well. A popular food in Japan on this occasion is Toshikoshi Soba.
Toshikoshi Soba is eaten on the night before New Year. Containing common toppings like tempura, green onion, egg and spinach, Toshikoshi Soba is very easy to prepare beforehand.
Another famous dish is Mochi. Since early times, Mochi has always been said to bring luck.
There is one special kind of Mochi to eat on the New Year's Eve called Kagami Mochi (Mirror Rice Cake) - a double mochi with the small one placed on top of a bigger one. This arrangement symbolizes the past and the upcoming year.
Recently, Japanese people get into the habit of eating grilled Mochi with red bean soup before New Year. This dish is called Oshiruko or Zenzai.
Last year, I enjoyed this experience twice: once with my boss at the restaurant I work for and once with my landlady. Different from Kagami Mochi, this dish doesn't require delicacy or ceremony before eating, so any foreign students can easily have an Oshiruko for good luck!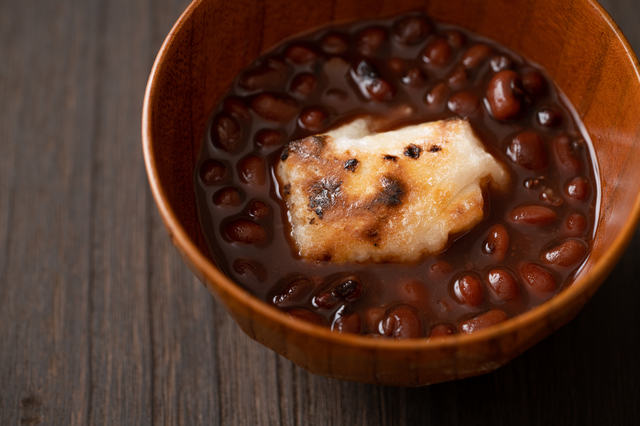 4. Watching music show "Kohaku Uta Gassen"
In the 21st century, watching the music show before New Year has grown to become a popular custom in Japan. Produced by NHK, the show called "Kohaku Uta Gassen", assembles many famous J-pop singers and idols to perform live on stage.
Every year, this show attracts millions of viewers, mostly families who stay home to celebrate the New Year. Obviously, for New Year 2021, your group of friends can gather to watch the show together. The delightful spirit and high entertainment the Kohaku Uta Gassen presents can compensate for what you may miss because of covid-19!
5. Watching the first sunrise (Hatsuhinode)
In Japan, the first sunrise in the New Year is a very special event. The traditional practice of welcoming the first sunrise is called Hatsuhinode.
The first sunrise of the New Year is believed to represent hope and reborn. On the 1st of January, many Japanese families depart from early morning to an expanded location to watch the sunrise.
This practice is safe in terms of social distance.
You and your friends won't face the risk of being in a crowd because there are multiple places to watch the sun: from the beach, on a mountain or even from your apartment's balcony. To be soaked in the freshest sunlight of the Year without worries or dramas, what a privilege!
So what have you planned for celebrating the New Year 2021 so far? Some of you may be lucky enough to travel far, but if you prefer a safe and decent celebration then these tactics are the best solutions. Not only about entertainment, but these traditional customs can also help you learn a lot about Japanese culture as well.
Let's hope for the best to come in 2021 and enjoy a happy New Year ceremony together!