Lifestyle
Common dishes not to be missed in Japan
There are daily staples made not from rare or difficult-to-find ingredients but rather very common ones for Japanese meals. They are integrated into the daily diet and invigorate you as you consume them as days went by
1. Tsukemono (Pickled food)
Tsuke dishes are foods that have been salted or pickled. This is one of the similarities between Vietnamese and Japanese cuisines since many Vietnamese also like having pickled cabbage and pickled vegetable in their daily meals.
But for Japanese people, Tsukemono is not just for family meals. In restaurants from low to high-end, there is always a place for tsukemono.
Tsukemono is sold in every market in Japan, with the most popular types being pickled cucumber, pickled radish, pickled cabbage, and pickled ginger.
Tsukemono costs around 100y to 300y depending on the type. For me, the easiest to eat would be pickled radish since the sweetness really balanced out the saltiness. It is different from other tsukemono types where the saltiness tends to overpower.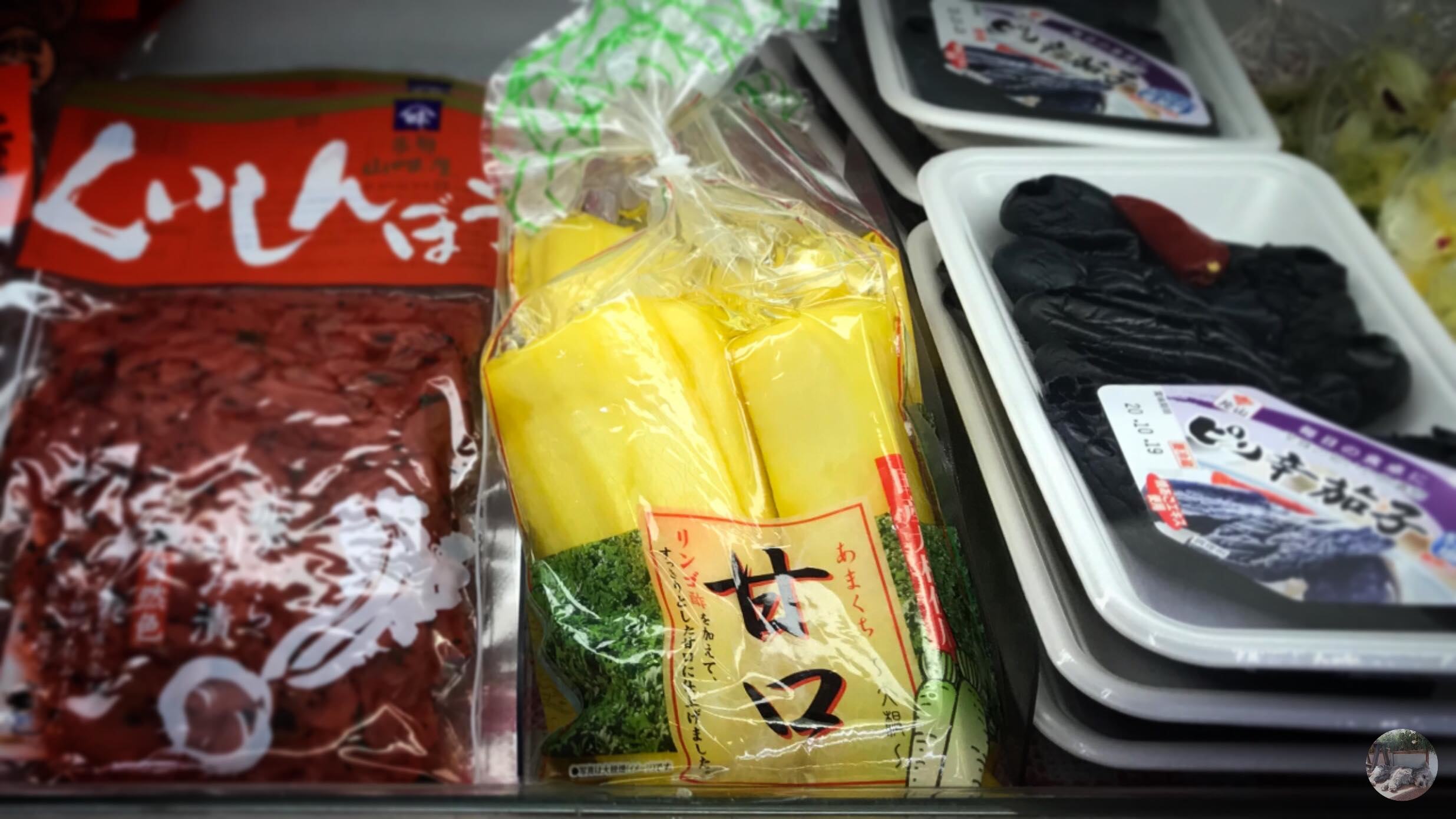 2. Natto (Fermented soybean)
Natto is a traditional Japanese dish made from fermented soybean. With a distinctive smell, natural bitterness, and stickiness, it is not a favorite for many people.
Not too many people are fond of natto from the first try. But recently, many companies have created various types of sauce to be used along with natto, making it easier to enjoy.
My recommendation for people who first try natto would be the natto with tamago sauce. The beans of this natto are not too sticky and the flavorful sauce will also negate the bitterness for those not used to it.
I would recommend the natto with plum and black vinegar sauce for a meal with too much meat, fish, and fried food. The rich natto beans with the slight sourness plum and black vinegar sauce will balance out right away.
Lastly, my most favorite, yet rarely sold at supermarkets, is the natto with ponzu. Ponzu is a type of vinegar made from oranges or lemon, so it has a slight citrus fragrance and sourness that is very refreshing and easy to enjoy.
Natto is quite cheap, it costs just from 90y to 150y for a package with 3 small packs for 3 meals. Natto is also the "remedy" for preventing strokes, well-known not just in Japan but also around the world.
1. Gobou (Burdock)
This is not a well-known ingredient in Vietnam since this tree does not grow much there. Gobou is used for its roots as cooking ingredients, they have a black, cylindrical shape and a natural bitterness.
The two most popular methods to make dishes with gobou are making salad or kinpira*. In supermarkets all over Japan, they also sell pre-made gobou salad or gobou kinpira for busy people.
Personally, I prefer the salad to the kinpira since you don't have to use too much sugar in the salad. The shoyu in kinpira also greatly cancels out the natural flavor of the gobou.
Gobou costs from 150y to 300y depending on the type and the season. It is not just an ingredient but is also a valuable remedy that inhibits many common types of cancer.
kinpira*: stir-fried vegetable with shoyu, mirin, sake, and sugar.
4 . Misoshiru (Miso soup)
A dish so familiar that it received this comment: If you can smell the Curry when passing by Indian people, then it would be the smell of Miso for Japanese people.
Miso is a type of soup made from soybean, beloved by everyone regardless of age. Miso soup is so common that I did not know which type to try for the first time since there were so many brands and flavors sold at supermarkets.
There are basically 3 types of miso soup:
Red miso
Yellow miso (mixed miso)
White miso
The darker the color, the longer the fermentation time is and the taste will be much stronger. I would recommend the Yellow miso for first-timers since it is easier to enjoy and the taste is not too strong.
The price of miso soup is widely ranged from 150y to 800y. There are provincials with their own specialty miso with a unique taste, and its price could be up to a few thousand yen.
It is no exaggeration to say that the long lifespan of Japanese people is also thanks to the incorporation of these 4 "elixirs" into their daily meals.
Simple - common - affordable - nutritious, these are the reasons you should bring these dishes into your daily meals so that everyone can have such a long lifespan as the Japanese people.