Travel
Conquering the imposing volcano of Yufudake: Inner weakness sensed and survival instinct discovered (Part 1)
Last autumn, when the school hadn't started yet and the maple leaves were still burning red, I set out for a climbing trip at Mount Yufudake, a volcano around 1583 meters in height.
My companion was Thu, a junior who was one semester younger than me. This article is all about that trip – how my survival instinct was powerfully awakened when I was confronted with a moment of frailty.
The beginning of the journey
Yufudake is a volcano located in Yufuin, a city of Oita Prefecture, Kyushu Island, Japan. From西口 (Nishiguchi - West Gate) of Beppu station, you can get on the Kamenoi bus no. 36 to Yufuin, and it takes around 40 minutes to arrive at 登山口 (Tozanguchi - Foothill) bus stop. This bus line is often used by tourists from Korea and China, and their destinations are usually Beppu Ropeway and Yufuin – the most popular tourist attractions in Oita.
Many reviews and guides on mountaineering suggest that it is best to start our trip at 8 a.m. and get down the mountain by 1 p.m.
It was a cloudy and crisp morning, Thu had her early morning part-time shift so we set off a bit late and reached the foothill at 10:30. It was a memorable mountain-climbing trip creating so many emotions in my heart that are still fresh and intact, even now whenever I recall them.
We rang the bell to get off the bus, and when we stepped off, we couldn't help jumping in excitement as to how magnificent and spectacular the scenery was. After filling out 登山届 (Tozantodoke - the registration form) with some basic information such as name, age, address and phone number for emergency contact, we took to the road.
Yufudake has two peaks, 東峰 (Higashimine - the Easter peak) and 西峰 (Nishimine - the Western peak). We chose the former one as it slopes more gently, thus easier to climb.
On the road
In daily life, I am a clumsy girl who rarely pays attention to my surrounding, and things were the same when I mountaineered. I merely followed the signs without much thinking while Thu was more observant, able to notice which routes were less steep, had fewer holes and were safer for us though she was following the exact same signs as me. The road was splendid at first, with flaming red leaves overshadowing the sky, moss growing all over the forest ground, everything was so pristine, beautiful and mysterious that it took us quite a while to take photographs.
However, the higher we ascended, the more physically demanding the trip became, the fewer the signs we could find, and then we were faced with the erect and dangerous cliffs which we had to hold onto an iron chain in order to swing upward.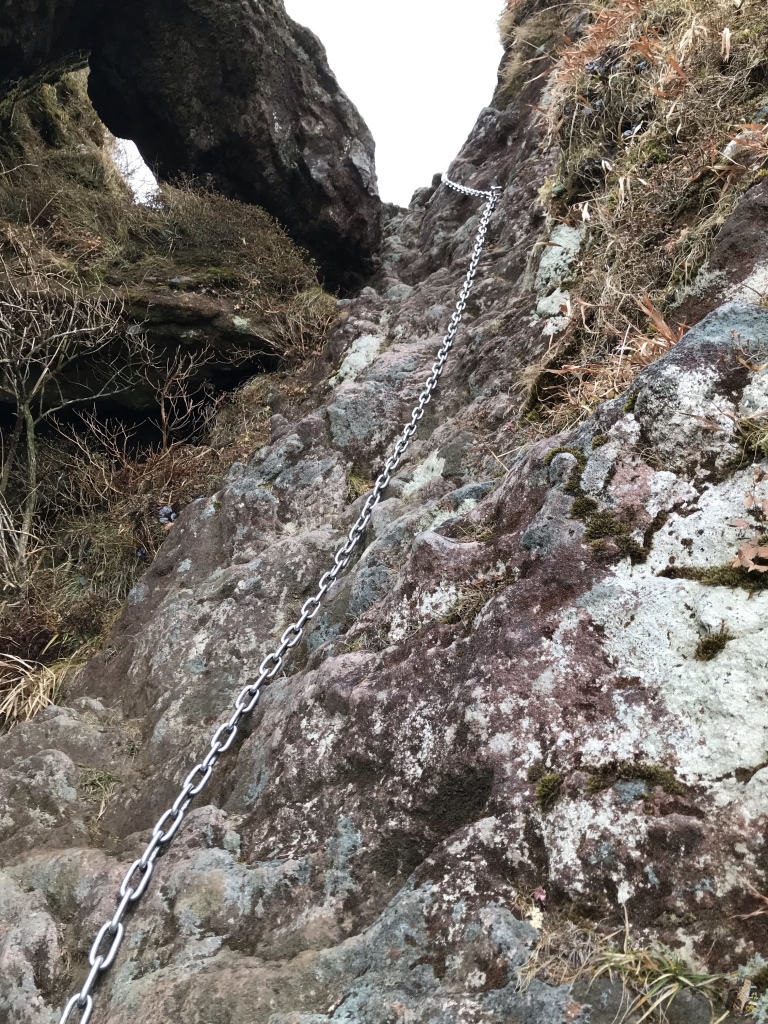 We spent half an hour contemplating the "ocean of clouds" drifting around the top of the mountain, then decided to climb down at around 5 p.m. At sunset, the ocean of clouds was literally breathtaking, it felt as if the scarlet color had dyed a corner of the sky burning red. But this heart-melting scenery suddenly alarmed me that we had to speed up our way down the mountain before the sun completely set.
Descending the mountain
At that time, I did lose my composure and somehow got into a state of panic, thus I climbed down in a reckless way, not even minding that I would fall. Everything in my mind was the narrow, rocky road I would probably have to take across the night, that one movement of carelessness would result in me scrolling down the abyss.
- Ahhhh! Help me sis, there is something here!
That moment, my heart missed a beat. I quickly turned around to relieve her:
- Don't be scared, it was only a bird flying into a bush.
But I was not 100% sure what it was.
The silence seemed to have swallowed the forest when the night started to fall, making the long whistlings, the bizarre calls and the rustlings from the above foliage become clearer and sharper. I could do nothing other than cheering Thu up by lying on how well I knew the way back, what were the meanings of the signs I saw. I told her not to be afraid while my heart felt like it was going to explode in my chest.
Then we were telling each other the stories about our childhood, our families, our friends, our relationships, our dreams and sharing the challenges we encountered growing up.
Please keep calm and watch out for part 2 of our journey!