Travel
Conquering the imposing volcano of Yufudake: Inner weakness sensed and survival instinct discovered (Part 2)
After reaching the top of Mount Yufudake which is more than 1500 meters in height, I and my companion hurriedly set off to climb down.
We realized it would take us two hours to get back to the departure spot but the forest was sinking into the night and only 1% battery was left in our phones.
Racing against the sun
The fog started to dew, and the shade of the forest was shifting from violet into muddy grey. We decided to spend the very last 1% battery on the flashlight since it was impossible for us to tell direction just with our eyes. Also, we kept on cheering each other up with some jokes and some positive stories.
And suddenly, I unconsciously uttered:
- If only there was a boy here!
Thu immediately threw herself on me for a hug, laughed and shouted:
- Sis, I'm a boy here, not a girl at all! And I'm here with you, aren't I?
I burst out laughing at her sense of humor.
Now that I think about it, although at that moment, I was still able to maintain my optimistic attitude, that we would eventually manage to go down the mountain in one way or another. However, deep down in my subconscious mind, I knew that I had failed completely to gain control over the fear that was overwhelming me. Later on, Thu revealed to me that, when I accidentally said that thought out loud, she became aware that I was terrified, hence tried to keep me motivated with her cheerful talks for the rest of the journey.
Heels
Things were pitch black, to the degree that I couldn't even see my hands without using the flashlight. Everything heard was the rustlings from the above foliage, some bizarre calls, pantings, and our hurried but careful tread. I was walking ahead, while Thu was following, holding the phone to light up the pathway. In that silence, I was immersed in my own thoughts:
- I want to call him, but should I?
- In case we have to sleep over here tonight, how do we make a comfortable bed using our raincoats?
- Should we sleep simultaneously or should we take turns to rest?
- If one of us, unfortunately, gets injured, how should we perform first-aid?
- If we call home now, our parents will undoubtedly get very worried; will we be "famous" at APU (the university we are currently enrolled in) after this incident; how could soldiers in the past be that brave; what will we do if some ghosts show up…
And still, we kept on walking.
Cliffs were on our left and the loose rope that prevented us from falling down the abyss was on our right. Though I couldn't see anything outside the not-over-1-meter range that the flashlight could reach, it was those rope, pathway, stones, signs that helped me make all of my decisions without hesitation on which path to take whenever faced with the very identical turns and intersections.
Never before had I stayed that focused, never before had I believed that much in myself, and never before had I ever been that honest to myself.
Thu told me:
- At that moment, everything I saw and could believe in was your heels.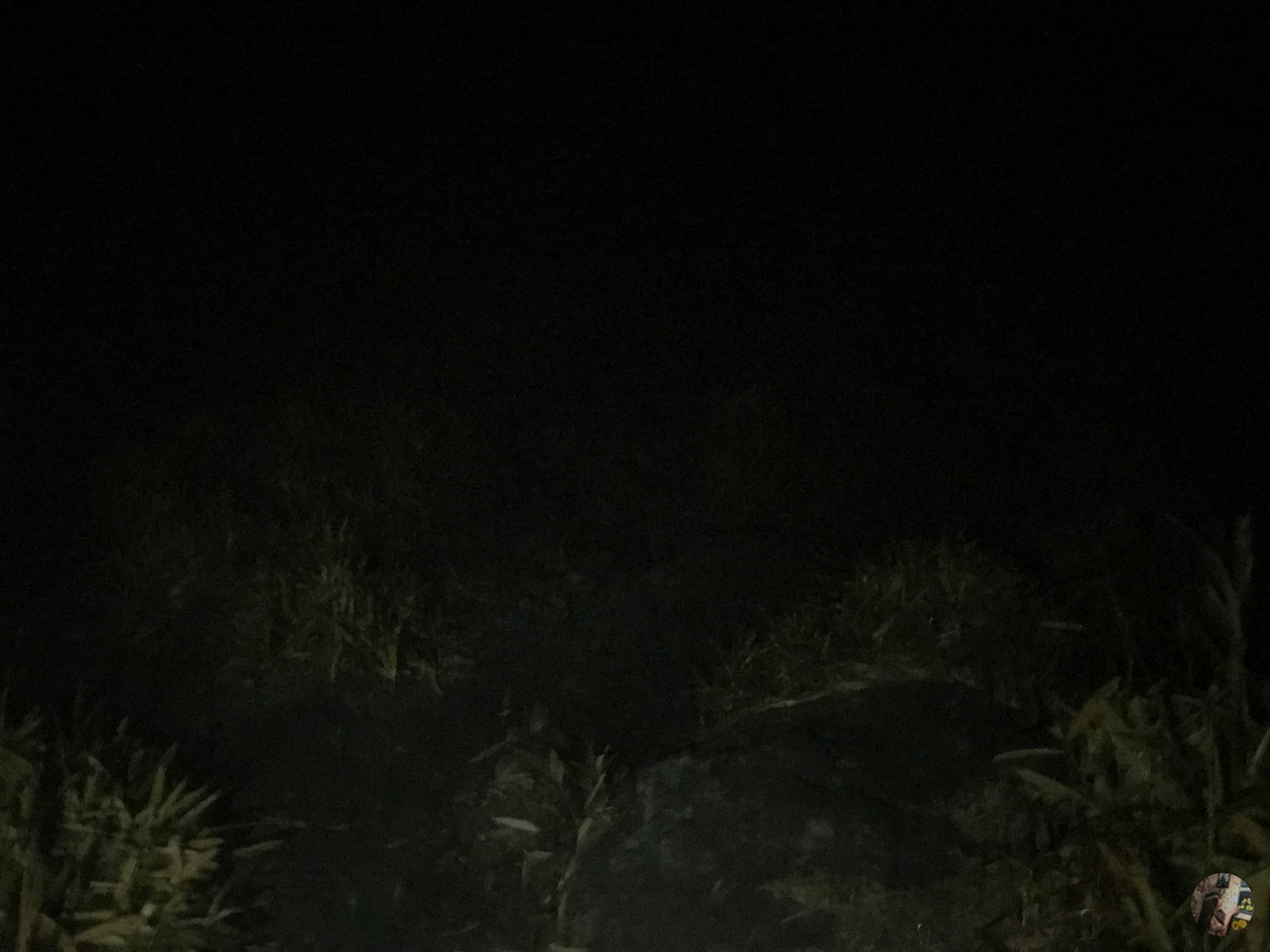 Glimmer
It was the first time in my life that I had ever felt so delighted to find a car running from afar, tiny as a toy with its flickering headlight and vrooming engine. We shared a hug in great joy, and only when we shined our flashlight and still found no foliage around were we completely sure that we had got out of the forest, safe and sound.
It was 7:30 p.m. when we arrived at the starting spot. We chanced to catch a random car heading for Beppu, and luckily, we met a super generous Japanese uncle who offered us a ride for free and even gave us a huge pack of cookies as he guessed we were starving back then. Even now, I still feel very thankful for him.
Ending
That mountain-climbing trip was an unforgettable journey through which I have discovered my most genuine emotions, who are important to me, what I desire and what I fear, how tiny I am in front of Mother Nature, how weak and at the same time, how strong I really am,… and also grasped how much it means to have a companion.
When summer comes, I will definitely continue to conquer the Western slopes and lengthen my own adventures.
---
***Some tips for mountaineering in Japan that I have learned
1. Things to bring: flashlight; power bank; 1,5 to 2 liters of water and mineral water. Drinking water should be prioritized, in case you have to cleanse your injuries; convenient raincoat; some food; basic first-aid kit; fully-charged phone; etc.
2. Stick: Usually, sticks are prepared and placed that the departure gate. Sticks may seem to cause entanglement at first but later on they will definitely be of great help, especially when the road gets steeper and more slippery.
3. Weather: Going mountain-climbing in dull weather is not recommended, as there might be dangerous lightning striking near the peak.
4. Always watch out for the signs: Just go along the pathway if you can't find any signs. Signs here refer to signposts, or even the eye-catching ribbon bands tied to tree branches.
5. If you decide to climb Mount Yufudake, go to the restroom right after you get off the bus. There is a public restroom for mountaineers nearby. But you will find absolutely no restroom along the way to the peak.
6. Get enough information before you go: search for some vocabulary and Chinese characters and try to remember them so that you can figure out what is shown on maps and signs.
7. Last but not least, keep things clean and don't litter!
If you ever have a chance to visit Kyushu, make sure you don't miss out on Yufudake!