Travel
Cycling, exploring Tokyo and making money is easy
Experiencing what delivery boy goes through.
Some folks spend money during their travels, realistically most of us do spend while others save money while exploring/travelling which is tough and almost impossible. In today's world, it's easier to travel make money and moreover save some of it.
Surprisingly, I'm the one from the second type because saving money for me is so much fun until I feel excited to spend a little bit of it.
TOKYO! The city with more than 13 million people. Hustle and bustle on every street, corner, store and every restaurant, even the air is full of crowdy vibe.
While cycling in this busiest city in the world there is so much fun waiting for you. The city is the hub center for business and trade in Japan. Thus, you are surrounded with so many buildings all over around wherever you ride you see different and unique architecture with spectacular designs.
I don't prefer to live in a mainstream metropolitan city like Tokyo. However, as long as I need to make a big amount of money it's the only choice I have. So, no back off but only to work arduous and thus fulfil my future dreams especially to travel all around the world.
Uber Eats provide a part-time job where I do food deliveries from restaurants to the customers and while doing this, I can make a fairly good amount of money.
For each ride about 400 JPY which would take around 20 minutes. Well, for me it's a totally different story. I love sports like running, cycling, swimming or mountaineering. Getting a chance to cycle and make money is like an opportunity to get both offers in one which is ultimately great.
Moreover, especially when you are an international student from a middle-class family and want to save good money it's a golden opportunity. Well, doing all the work on a laptop or mobile phone my screen time would go more or less than 12 hours a day which is worst for me my brain and health.
So, getting this opportunity of cycling anytime I want to whenever I am free is a bonus and yet I can also explore unknown streets of Tokyo.
Living in this city for almost 2 years. I still don't know many places and yet definitely have to use the google maps.
But doing this part-time is a learning experience of Japanese society, people, their living style, and the super expensive buildings which provides a different scenario of Japanese life particularly in Tokyo.
With no doubt buildings and houses in Japan from outside are super clean and fully secured. It's completely a new world where people from another planet live. Through this, I could understand the gap between the rich, middle class and poor is huge. However, it's still lower than in other South Asian or South-East Asian countries.
Today, I could make almost 8,000 JPY equivalent to 75 US dollars from cycling 4 hours with some promotions and bonuses. I felt great after working and doing something physical work out. I almost drove more than 35KM's in Tokyo.
And yet the epic story is about to come.
I was almost completing my last delivery but unfortunately, the customer didn't reply neither responded. So, I had to cancel his delivery which I already picked up from the McDonald's. The deal had an apple pie, a hamburger, French fries, a Drink and a Mac Flurry ice cream.
Due to delivery cancellation, we are supposed to throw that food or do whatever we want because we can't either return to the restaurant nor the customer was responding so you are stuck. ROFL, but yes, it's a good opportunity to fill up your stomach for free. Hahaha!
Well, I was heading back home and I thought I would hand over to my friend. However, by the pedestrian street, there was an old poor man or lady I don't specifically remember. So, I stopped my bicycle and give the food. While giving I felt as if she/he was waiting for food and thus God sent me.
Which made me think that everything happens for a reason beyond our imagination. There is a famous quote in Urdu language which says: "Daney daney pr likha hai, Khaney waley ka naam" which means "The name is written on every bite, the person who eats it"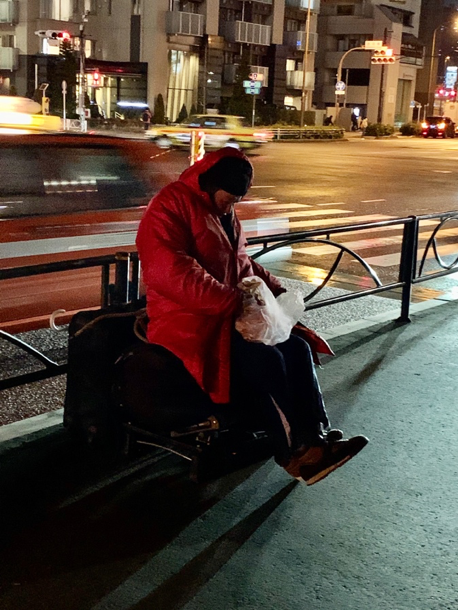 Summarizing my whole article, on the top of everything I have learned and experienced three things in short. Firstly, I can make money while pursuing what I want (btw, I don't want to do this in the future).
While travelling, making money is definitely the hardest thing to do. But if you plan things and go with the flow there might be a chance to get it. Lastly, we "humans" think we are helpless, and we have to do everything for ourselves.
However, God has already way better plans for us and he loves us more than our friends and family.
Therefore, we should not overthink and let things happen with the way they go. In short, I would definitely prefer everyone to do such experiences if you like cycling and want to make money while exploring.
Tokyo is developed, busy and super expensive but yet there are numerous opportunities to earn good money and travel. As a student, I think there are more opportunities for us to do better jobs.
However, this experience of cycling around the city taught me the amount of hard work delivery man does which is not worth the money it provides.
I had good customers who thanked me for delivering their food while few were also very rude. They didn't thank me neither replied to my greetings and I felt bad.
So, every time there is a postman, or a delivery man don't forget to give them a big smile and a huge nice, lovely "Thank you" because finding new addresses and reaching to the customer's destination is not easy! Mark my words or either you can try it once.
Ending this story, I definitely love what I did. Even though, it was tough but worth the experience. This has given me a sense to try other jobs and get a touch of everything of how much work is put in different sorts of jobs instead of only living in my comfort zone making money and going through my boring average life using social media 24/7.
Thank you for reading my first story will get back to you every week with new and incredible stories. Until then Peace!