Travel
Day trip to Amanohashidate - a short adventure where I found peace
A peaceful trip into nature. One of the most beautiful spots in Japan.
Because travelling to other countries is off-limit now, I and my husband decided to take advantage of the fact that there are no tourists in the country at the moment, to take small trips around Japan.
Hence, we took a day trip in the middle of this cold season to explore one of the most famous sceneries in Japan.
Where is it?
Amanohashidate is located on the northern coast of Kyoto prefecture.
You can reach the place either by train (Japanese Railway) or by bus. However I recommend taking the second one as it is more comfortable to sleep in, you have a nice view and it's half the price!
We booked a Hankyu Highway bus ticket online from Rakuten Travel for ¥2.700. We departed from Shin-Osaka station at 10 am and reached Amanohashidate station 2 hours later.
What can you do there?
At the southern end of the sand bar, there's Chionji temple. It hosts one of the statues of the Buddhist god of wisdom and intellect: Monju Bosatsu.
Because I and my husband are at a turning point of personal and professional growth, we stopped to get an Omikuji, a fortune paper that predicts your future. Also, another reason I really wanted to get one is that I'm obsessed with tiny objects and this particular temple had the Omikuji written on a tiny fan.
The tradition is that if you get bad luck written on the fan, you should leave it on a pine tree around the temple for it to keep it away from you. So I prayed with all my heart that it had good luck in it to take it home with me!
At the extremity of the sand bar, near the temple, there's an observatory on top of Mount Monju. It has a little amusement park with cafes and stands, perfect for a romantic date trip or some fun with the kids. I love carnival games, so I had my share of fun up there, apart from ice cream and the great view.
BUT, I had the most fun going up the mountain with the chairlift; for someone like me, that has never skied this was a thrilling experience. For people afraid of heights they have a tiny monorail that brings you up as well.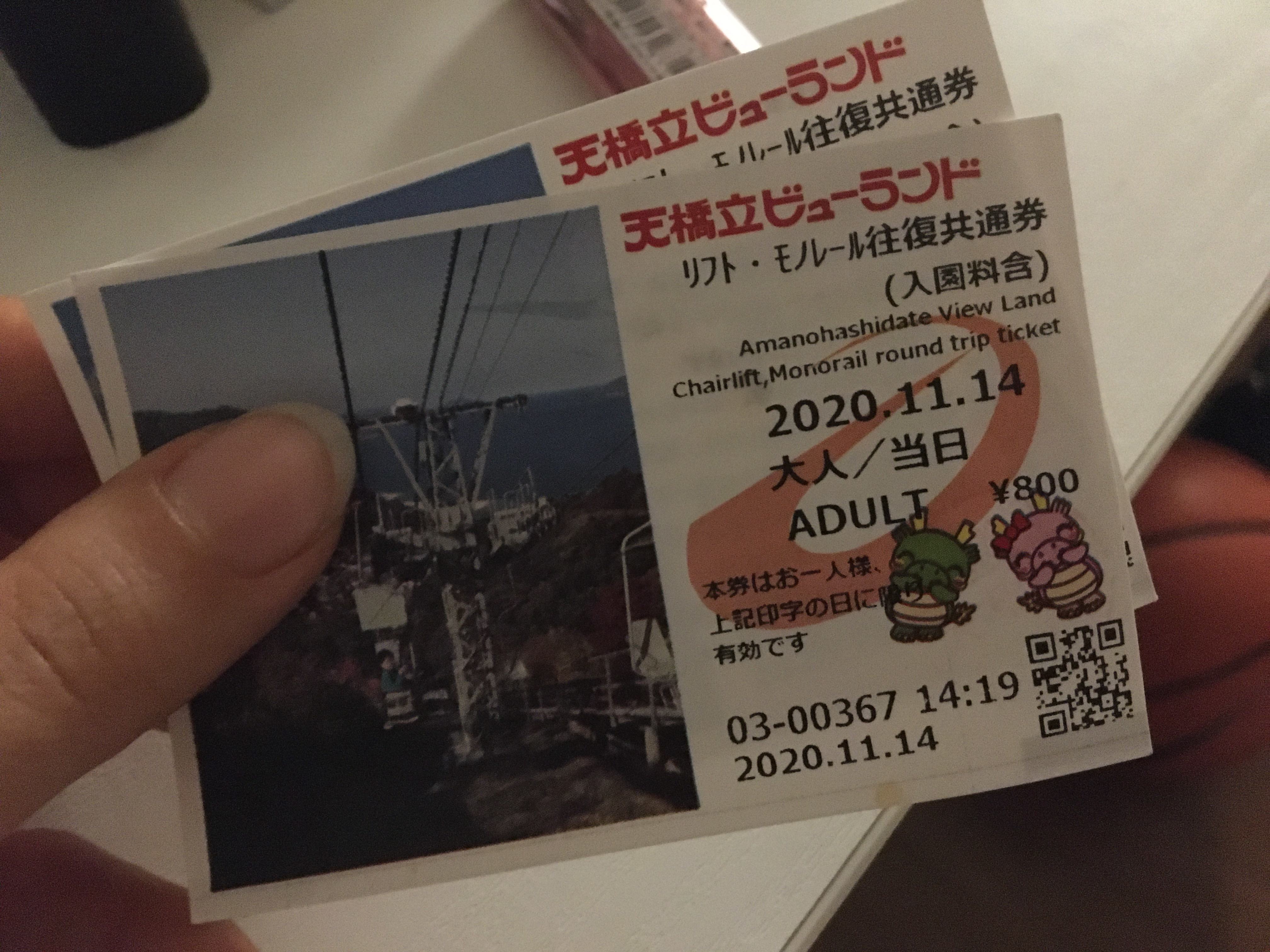 When we finished touring around, it was time to cross the actual bridge.
It is a 2.6km walk, so most people take advantage of the rental shops close to the bridge to cross it by bicycle. However, because it was almost sunset, the shops were renting only for 1 hour more. So we decided to take a walk.
A long, but worth taking walk. The view was breathtaking.
Any delicious food?
In front of the bridge, a famous restaurant called Ryugu soba makes handmade noodles.
We ordered a set that included cold soba and tempura. They were very accomodating, as we asked to replace the shrimp tempura with a different vegetable they did not hesitate to take our request. Although it's a tourist place, the food wasn't that pricy. For the set we ordered, we only paid ¥1,660 each.
It serves lunch and early dinner (from 11 am to 5 pm).
Apart from the delicious food, one thing that makes this restaurant so special is the showcase at the front that allows you to see the cook preparing the noodles.
After having lunch we felt a little bit sleepy, so we got into the cafe on the other side of the road: Café de pin.
I like my brown magic drink(coffee) dense and bitter, and this coffee shop did certainly meet my standards.
---
Although the trip was short, we definitely felt refreshed and reenergized after staying at Amanohashidate. So if you feel in need of some fresh air and a change of scenery, I truly recommend this!
Hey there! My name is Michelle, I'm half Italian and half Taiwanese. I moved to Osaka 4 years ago and Japan is still full of surprises. I've studied, worked, hustled and traveled, to get a taste of it, check out my blog posts!