Travel
Dazaifu, the soul of Fukuoka Prefecture
Whenever planning to travel in Fukuoka, you should consider taking a sidetrip to Dazaifu, a small town that certainly won't let you down!
The first field trip in college gave me an invaluable chance to visit Dazaifu, which lies on the outskirts of Fukuoka city.
From Hakata Terminal, it could be reached by direct buses or the special Dazaifu Line, a small branch off Nishitetsu Railway's main line, with a fare of around 400-500 yen.
Either way would drop you down at Dazaifu Station, where all the main attractions are located within one mile.
Existing from the 7th century, Dazaifu is only about 30 square km but always crowded any time of the year.
Dazaifu is also known for being where famous Heian nobles were exiled, including especially Sugawara no Michizane, whose influence on the Dazaifu's history and traditions was significant.
The town is mainly occupied by a large road, on which both sides are adjoined souvenir shops and restaurants. Make sure your stomach is empty before going to Dazaifu because you wouldn't be able to resist the delightful diversity of street food!
The famous local speciality here is the red bean-pasted rice cake, Umegae Mochi.
Although its name contains the word "plum", the cake is actually not plum-flavoured. It was originated from a myth that involved Sugawara no Michizane.
While in Kyoto where Michizane served the King, he fell in love with a plum tree and wrote many poems inspired by it. When he was sent to Dazaifu, the plum tree flew along with him.
Later on, Michizane's favourite rice cake was named after the tree and became the most popular local food that couldn't be found elsewhere in Japan.
Here we were also amazed by the completely new appearance of Starbucks Coffee. Designed by artist Kengo Guma, the Starbucks shop in Dazaifu was a unique architecture that would definitely catch your eyes.
Nonetheless, the main attraction of this ancient town lies at the end of the road. Built on the site of Sugawara no Michizane, Dazaifu Tenmangu is the most important shrine amongst hundreds of other shrines in Japan.
I always had affection for the legend of Michizane, so I told my teammates about his past and the origin of Dazaifu Tenmangu.
At a very young age, Michizane already had a gift for poetry. Then his career elevated, which helped him gain a powerful impact on the imperial court at that moment. However, his ascendancy had caused the rivalry between him and other noblemen, especially the Fujiwara clan, which made him exiled from Kyoto to the remote office in Dazaifu.
After a few years, in 903, Michizane passed away in resentment towards the Fujiwara. Subsequently, Japan began to suffer from destructive natural disasters, which people believed was the revenge of Michizane's ghost.
Dazaifu Tenmangu was then built on his grave to ease his anger, and Michizane was empowered to become the god of scholarship, Tenjin, one of the seven highest gods in Japan.
Every year, thousands of visitors, mostly students, came to Dazaifu Tenmangu to make offerings and pray for their study or career to succeed.
The things I love about Tenmangu shrines are the practices of Japanese prayers.
First of all, I had to wash my hands and rinse my mouth at the temizuya (bamboo basin) before stepping into the main hall of the shrine with my head bowed. Then I waited in line to ring the bell in front of the god.
I tossed the 5-yen lucky coin into the money box and lowered my head twice, clapped my hands twice also, and pray. After that, our group laughed confusedly at the fact that we didn't know whether to pray in our mother languages or Japanese.
But perhaps to me, the best thing to do at a shrine is to pick omikuji (the lucky charm). It was a small piece of paper that would give predictions and advice about your future. When going in a group of friends, it was interesting to compare the level of luckiness among each person's omikuji.
Dazaifu Tenmangu is also known for its beautiful sceneries. There are about 6000 plum trees in Dazaifu Tenmangu, including the legendary plum tree that flew along with Michizane from Kyoto.
The best time to visit the shrine is from late February to mid-March when all the trees are in bloom.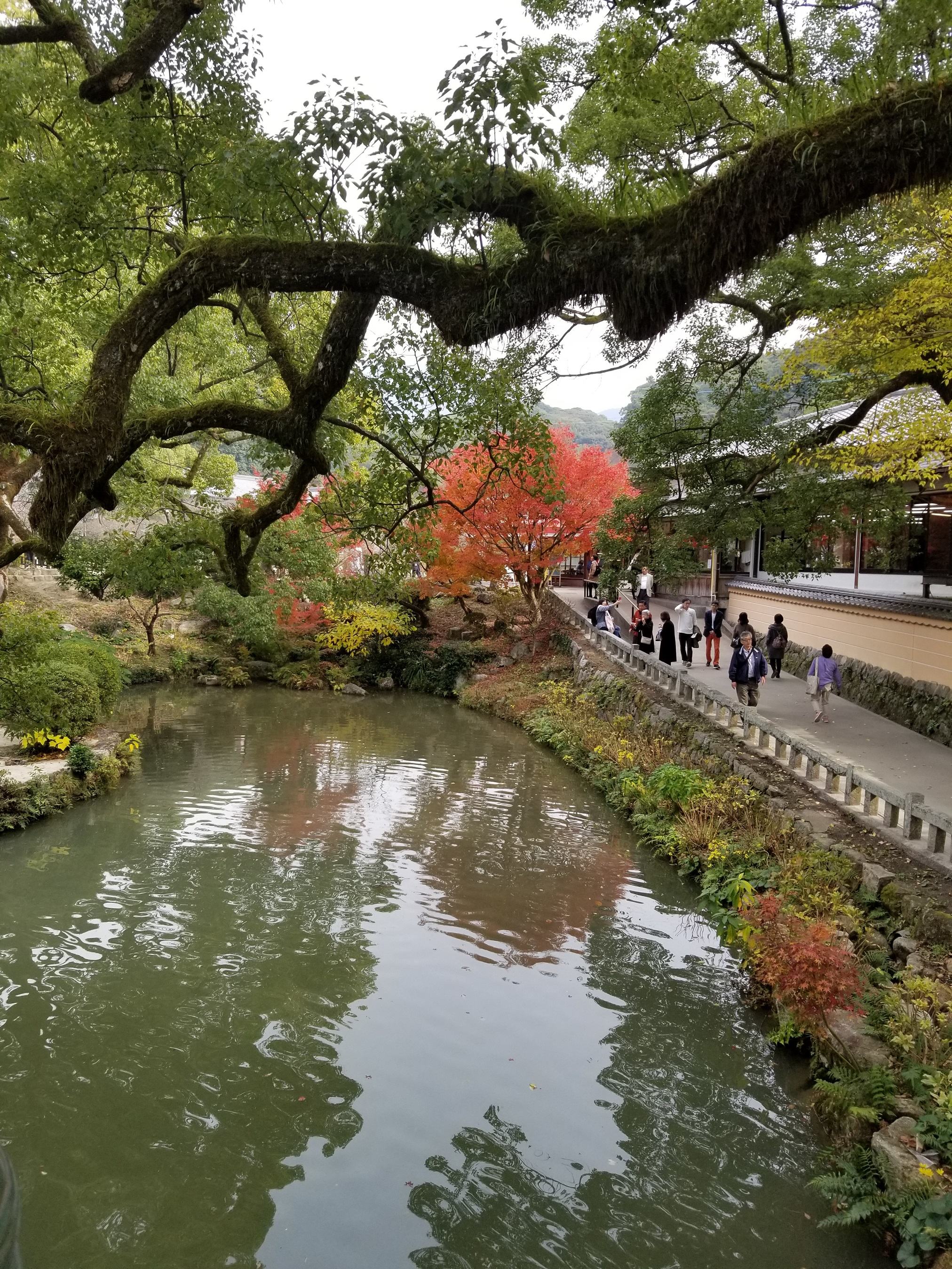 That was the end of our day trip to Dazaifu, and I'd made a promise to myself to return, as I always love to re-visit places for better sensation. To be immersed in such a sacred history of Japan is a wonderful experience, don't you think so?