Culture
Draw eyes for Daruma
When it comes to tumbler dolls, many must have thought of Russian Matryoshka. But did you know Japanese Daruma is also a famous act in this field of tumbler dolls?
Daruma's Origin
Daruma (達磨) or Daruma doll/tumbler doll, is a Japanese traditional doll. Legend has it that Daruma was modeled after the meditating posture of Bodhidharma, the founder of Zen Buddhism.
Daruma was born in the city of Takasaki, Gunma Province, in the Edo period (16th-18th century), one of the most flourishing periods in ancient Japan. There are countless versions of the tumbler doll all over Japan, and Daruma quickly becomes a favorite, not only domestically but also internationally.
Its Identification
Daruma is made of papier, empty inside, the bottom is attached with a heavy object to maintain balance, helping Daruma to stand back up if overturned. Daruma is usually round and has no arms and legs, as Japanese believe that Bodhidharma's arms and legs had contracted due to meditation for many years under harsh conditions.
Traditionally, Daruma is painted red, similar to Bodhidharma's robe. Nowadays, however, they paint Daruma with various colors and shapes, conveying rich meanings.
To finish one Daruma, the craftsman has to execute nearly 20 steps, fully handcrafted. Therefore, there are never 2 completely identical Daruma.
Its Meanings
Not only the second most popular symbol of luck (Engimono) in Japan, after Maneki Neko (beckoning cat), Daruma is also the symbol of strength, the will to never surrender, even when hit by strong waves, it can still stand up.
The Japanese saying: "Fall 7 times, stand up 8 times. Life begins here" is used to describe the characteristic of Daruma
In the Meiji period, when mulberry planting and growing silkworms flourished, Daruma was considered as the symbol for prosperous harvests.
Why don't Daruma have eyes?
Apart from the unique tumbling look, one of Daruma's traits that attract attention is the eyes, really unique eyes: big and round yet scowled and fierce. Yet those very eyes hold a very special meaning.
Have you ever met a "white-eyed" Daruma, or even one-eyed Daruma? The truth is, there is no Daruma made with eyes. If they do, there is only the sclera.
All of us must have our dreams and always try to work hard and achieve it. When buying or being given a Daruma, people would think of what they want and draw Daruma's left eye. When the goal is achieved, they draw the remaining right eye.
The left eye is considered a reminder, urging people to try their best to accomplish the set goal. The later drawn right eye serves as a mark of success
I've always dreamt of coming to my favorite country. After many efforts, my Daruma has finally got both eyes.
When I got to Japan, I had taken the chance to get another Daruma. Hope that someday, when the annoying Covid-19 has completely gone, I could go back to Japan, draw the right eye on my "Mr." Daruma myself.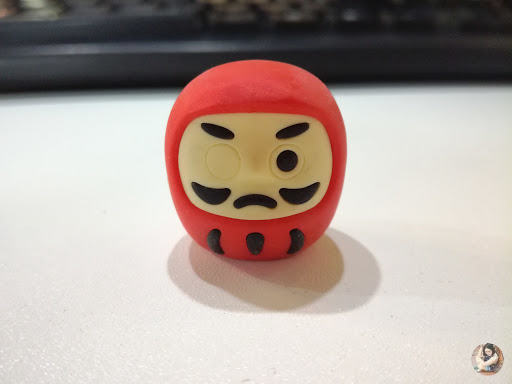 I've been able to draw eyes for my god of luck myself. And I believe that I will have many more of those "mr." god of luck.
What about you? Have you got yourself a Daruma? If not, try drawing those magical eyes yourself! I guarantee, you would feel wonderful.