Lifestyle
Great restaurants in Odaiba with amazing view and delicious food
I and my husband are big fans of good meals and pleasant atmosphere. We are happened to live in Odaiba, where an picturesque views are something that can't be ignored. So I'd like to share the best restaurants where you can enjoy both nice food and lovely views.
TGI Friday's - famous restaurant of western cuisine
It is an American famous chain of restaurants that has a big variety of dishes from seafood to vegetarian. If you reserve a place by the window, you will have beautiful scenery of Rainbow Bridge and the seaside of Odaiba.
And you definitely would love to spend New Year's eve here, as they present amazing firework shows and lines of shining colorful boats, which makes it more special. The fireworks are held every Saturday in December at 7 pm.
I have visited it one Saturday in December, but not exactly the Christmas or New Year, so we needed to wait just 30 min. But if you are planning to visit it on holidays, try to come in advance or maybe book the table a couple of hours before arrival, as they usually have a queue.
Their signature dishes are Fridays' Signature Burger, The Sirloin steak seasoned with Cajun spice, Grilled Chicken with their signature sauce.
The minus point is that their prices are higher than average, but it definitely worth it especially if you'd like to celebrate some small event here and invite friends.
Average price: 3000-5000 yen (per meal + drink per person)
Kua Aina - Hawaiian style burger chain restaurant
If you are a fan of Hawaiian burgers and drinks, then this place is a must to visit. You will not just dig in the most satisfying burger dish, but you can also enjoy the relaxing ambiance of the tropical island as if you are having a holiday in Hawaii - all the decorations, surfboard, and palms will make your day.
A little confusing thing though might be a Statue of Liberty view out of the window, as if you were moved to New York right from Honolulu.
I'd recommend Avocado Burger, it is not just delicious, but also juicy and savory.
Average price: 2000-3000 yen
Eggs n' things- Hawaiian style brunch and breakfast chain restaurant
Another Hawaiian paradise, mostly based on breakfasts, but the difference is that they can be served any time of the day. So you can enjoy an omelet or pancakes even at the dinner time. The variety of the menu is quite satisfying.
According to your cravings, you may have nice dinner dishes such as Teriyaki Chicken, or a huge plate of Japanese Pancakes served with gigantic whipped cream.
The nice fact is that their menu is always renewing according to the season - Pumpkin Pancakes in Autumn or Strawberry Sakura Cake at the cherry blossom time.
It has also a huge line there especially the mornings of weekends or holidays.
Average price: 2000-3000 yen
HB Grill - steak and grill dish restaurant
This grill restaurant has great things to offer for meat lovers, from steaks to chicken fajitas and so on.
Besides that, they have quite interesting things to offer for people who have sweet tooth as well. So it is a great place for couples where one of them is into Steaks and another adores deserts.
Moreover, you can enjoy the lunch menu just for 1000 yen, which includes salad and drink (salad is served according to their menu and drinks are mostly teas).
Average price: 1000-3000 yen
Mumbai - Indian curry restaurant
As the name says itself, you can guess that it is an Indian Restaurant. The best thing is that they have many types of curries with a buffet concept, so you can eat as much as you can fresh oven-baked naan and a variety of curries.
The view is also another advantage of this restaurant, so whenever you crave Indian curry with a seaside view, just make it here for dinner for total satisfaction.
Average price: 1500-2000 yen
American oven - western cuisine buffet restaurant
If you are looking for an All-you-can-eat concept of the restaurant with an immense choice of western dishes from tacos to pasta, then this is the way.
The best thing about it for our family was that they show halal dishes. As a Muslim family, we are troubled sometimes to find restaurants that clearly emphasize on Muslim-friendly approach to cooking.
The restaurant took care to provide all Covid-19 preventing measures. My favorite dish is roasted chicken and chocolate fondue with waffles.
Average price: 2000-3000 yen (lunch buffet price is 1600 yen per person)
Zest (a little off-topic, but must visit for an extraordinary experience) - western-style restaurant
Mexican kitchen with a cave-like atmosphere. Here, you'd like to come to have a completely different experience you've probably never had. You will be eating western and Mexican food while having the middle age atmosphere around.
Skeletons, treasure box, and dinner in the cage - the feelings are so unique and worth trying. The dishes were great, with another lunch menu that costs just 1000 yen at specific hours (unlimited french fries to be included in the lunch menu was something unique I've never experienced anywhere).
Average price: 1000-3000 yen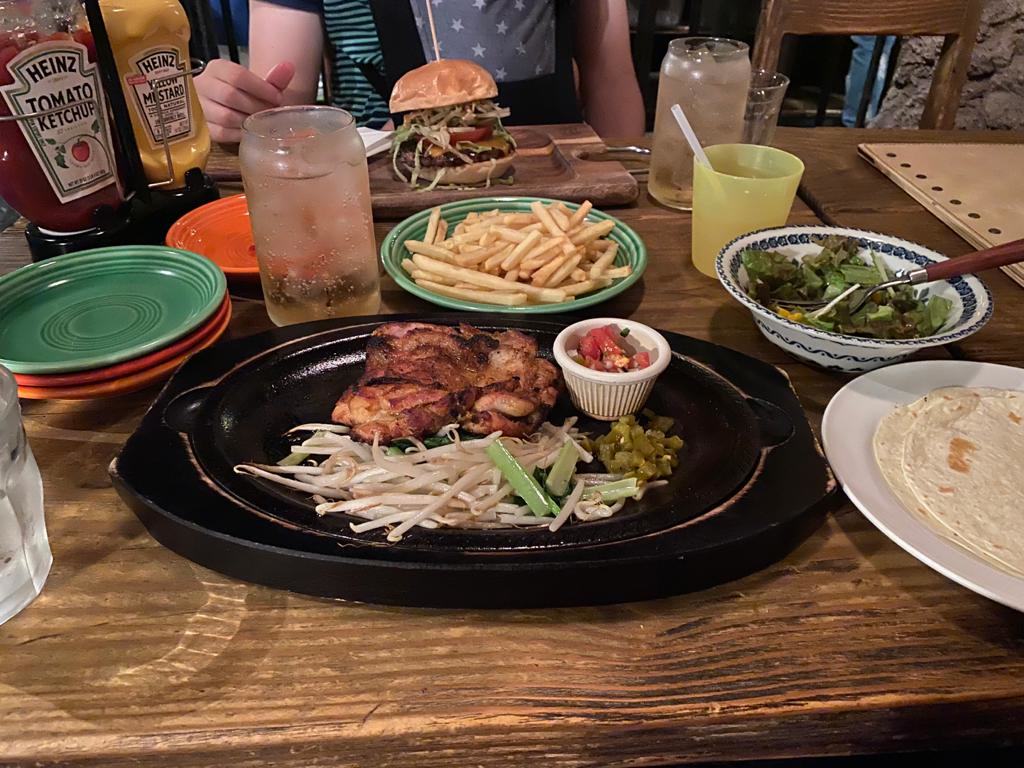 Odaiba is a great meeting point and visiting area for families, the ambiance and nature, amazing views are something you would love to experience any day of the week and any season.
The list of restaurants above is my personal experience that I loved sharing with you. The locations of all restaurants are pretty the same: The Decks and Aquacity Shopping Malls.
If you love having breakfast, lunch, or dinner with a sea view of Odaiba, then do not hesitate to visit them and please let me know in the comments if you have anything else to add.
I am from beautiful country called Kazakhstan I am married and we have an adorable child who was born in Japan, Tokyo My specialty is Tourism Management, that is why I love to share all my experiences of cultures and traveling destinations,and I'm happy to share with my current experience in Japan