Travel
Have You Ever Tried Savoury Soy Milk?
So you have heard and tasted soy milk and even sweetened soy milk, but have you tried savoury soy milk?
One of Taiwan's traditional breakfasts, 鹹豆漿 (xian dou jiang) is literally translated to "salty soy milk". I will call it savoury soy milk because it isn't exactly salty but it has a combination of flavours and it feels more of a meal than a dessert as compared to the sweet version.
Location
I had no idea there was such a popular place here in Tokyo. Tokyo Doujiang Life is located at Gotanda, the nearest station is actually Osaki Hirokoji Station which is about a 2 minutes walk. But you can also stop at Gotanda Station and walk for 5 minutes.
Tokyo Doujiang Life
Usually it would be packed to no end and even before 11AM, most of the pastries would be sold out. But due to the pandemic and a weekday, it wasn't too long of a wait and there were still pastries and this salty soy milk left for us to try.
This was our view as we were lining up to place our orders. Here you have to order first. You will be given a number and then the staff will direct you to the seats once there are seats. They will then start putting your food together and call for you to come collect it.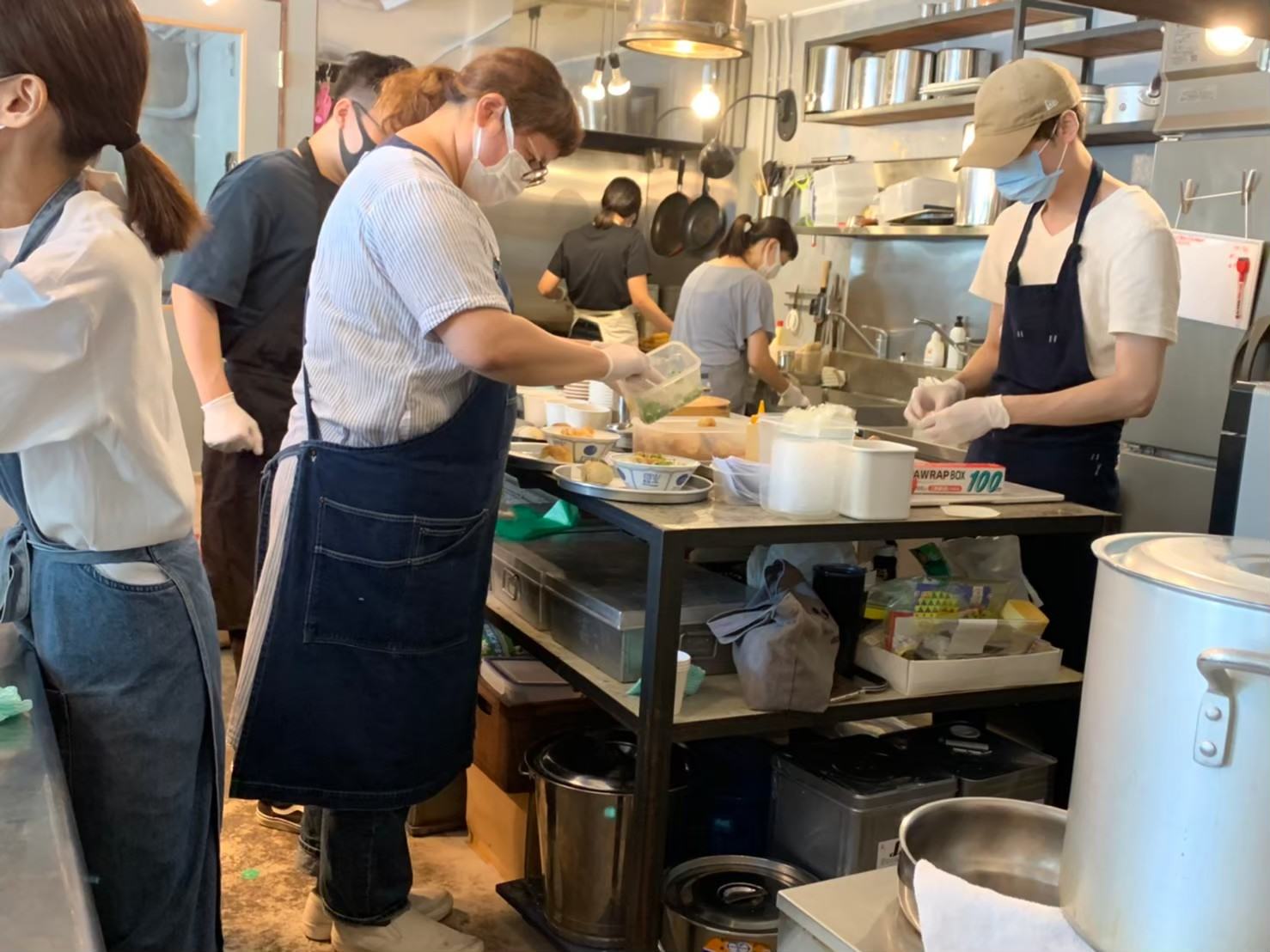 While waiting, you can have a drink of water and this was our view. Doesn't it make you even more excited to eat? We waited for about 10 minutes before getting our seats and were called almost immediately to get our food.
First up is the black sesame soy milk. The sweetness was just nice. If you like sweeter stuff, this might be a little bland for you. It was really good for a hot day because it was cold.
Next up is the savoury soy milk. There is only the warm option and in the beginning it will look like soy milk. After a while, the vinegar will start curdling it into tofu. It might be an acquired taste if you are not a fan of soybean taste. It was also my first time trying savoury soy milk and I thought it had quite an interesting taste. The youtiao (fried dough stick) was really good though.
Next up are the pastries! We were so excited to try them all but we were worried that we couldn't finish them so we kept it down to three.
Our first pastry was Shao Bing (Taiwanese styled fried bread). You have the option of ordering it plain or you can add on youtiao or green onion egg. The recommended topping was with the egg so we went for that. This was okay. Nothing too fancy or amazing. You can skip this if you come.
Our second pastry is the Onion + Meat Pastry. This is apparently the NO.1 in the savoury section. It's a classic in Taiwan too. I wished we have a picture of it where I can show you the inside but we forgot. This was SO good. I highly, so highly recommend it. The flavours, the texture of the pastry was amazing. Please go and try it one day.
Our last pastry was the Peanut Pastry. This is also apparently the NO.1 in the sweet section. My impression of sweet peanut pastry would be sweet but it wasn't completely sweet at all.
I was so surprised when I took the first bite into it. There was a slight saltiness to it which was great because if it was just sweet, it wouldn't be this delicious. Such a wonderful combination of sweet and salty. I highly recommend this too!
There are no reservations allowed for this place so do get ready to queue early in the morning if you want to try out those pastries! Till our next trip, see you~
I love eating and traveling. Always in search for the next good place for food and beautiful views. Come join me on my adventures!