Travel
High-Class Spanish Food: La Coquina Cerveceria
Trying out the Spanish restaurant with a fantastic view in the middle of Shibuya. Come join me!
La Coquina Cerveceria is located on the 13th floor of Shibuya Scramble Square. There are plenty of other lines that go to Shibuya such as the Metro Lines and even the Tokyu Toyoko Line. I absolutely love how the third floor of this building has a direct link to the JR Lines. It's so convenient and everything is covered so come rain or shine, you can make your way dry and happy to the restaurant.
Please take note that the building only opens at 11AM so even if you get there really early, you won't be able to get in.
La Coquina Cerveceria is traditional and simple Spanish restaurant which focuses on seafood. But even before I got to the food, I was blown away by the interior.
The entire place was very comfortable and pretty. And because it was on the 13th floor, the view was fantastic. We had a nice little corner to ourselves and it only started to get really full after 12PM. We made a reservation for 6 for their JPY3000 course. However, on the morning itself, one of our friends wasn't feeling well so he couldn't come.
Now one thing to take note of here is that if this happens to you too as well, be ready to pay for your friend too because it's a 100% cancellation fee. The food that was served was still for six. So even though it was just 5 of us, we had to pay for 6 people.
I know it doesn't look very fancy but it was quite good. The onions weren't spicy and the green chili was a little sour. When eaten together, it was quite tasty.
I wouldn't say this was anything special but I guess nothing can go wrong with tomatoes, tuna, olives, and onions. It was very refreshing. The olives were delicious too.
I felt this would be really good with champagne. It was a little on the salty side. I guess I am not someone who is capable of appreciating this. It didn't make me go 'wow'.
On its own, it's a little bland but there's salt on the side of the table so you can add it if you want. But my recommendation would be to eat it with the Iberian Ham. It went really well with it.
This was SO good. The herbs were plentiful and it went so well with the garlic toast that was served together with it. The prawns were juicy and fresh. The mushroom soaked up all the delicious flavours. Wonderful.
Best garlic toast I've ever eaten in my entire life. I wished I could have another slice, and another slice, and another slice. The garlic and butter were so good with the warm crisp bread. It's literally how the Japanese would describe it: crisp on the outside, soft and fluffy on the inside. Absolutely heavenly. I highly recommend this.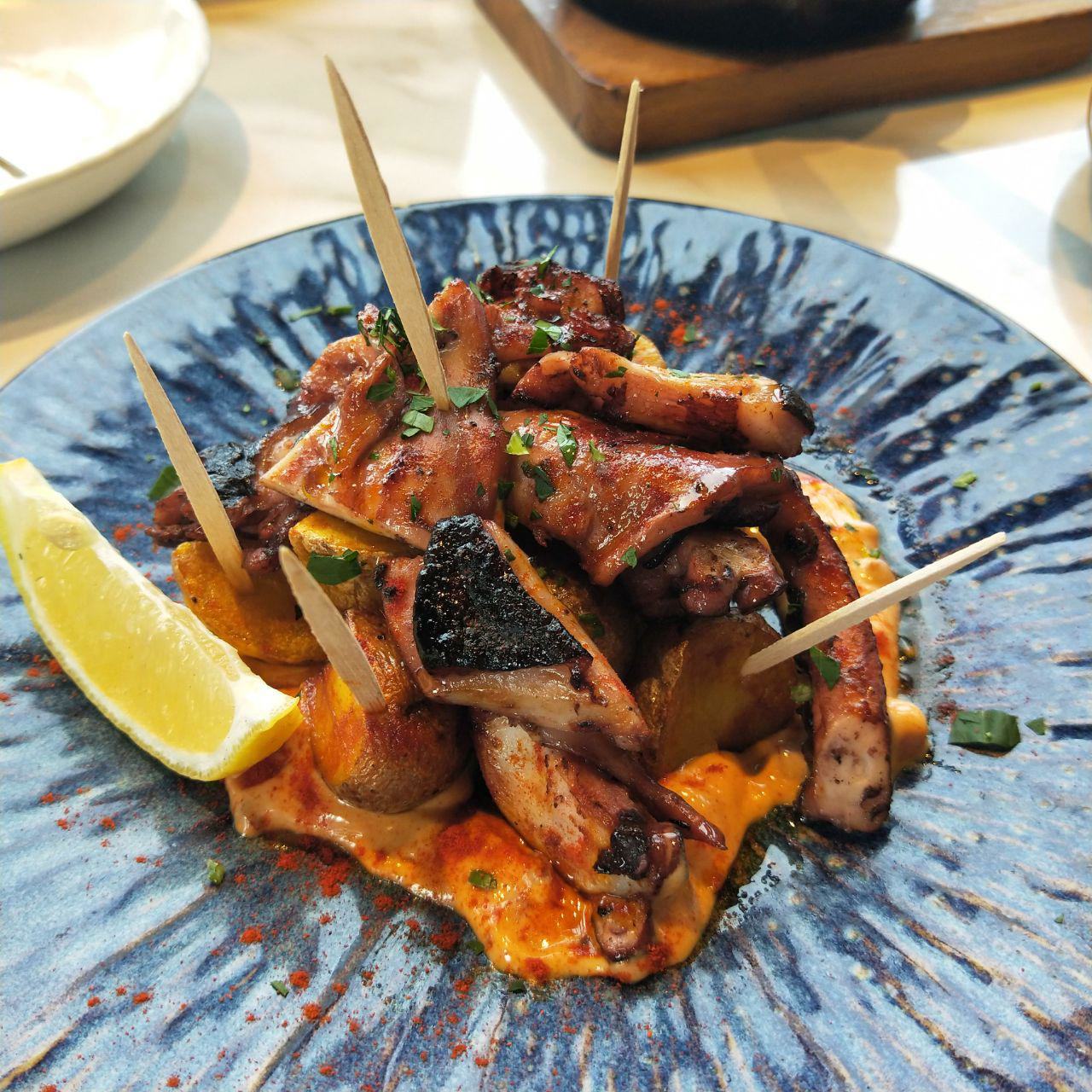 It got even better. This was probably the BEST dish out of the entire course. Or maybe after the garlic toast. The octopus was so easy to chew and went so well with the delicious mayo like sauce. At one glance I thought it was chicken. At some point, it even felt like chicken. The potatoes were absolutely lovely as well.
There are 3 kinds of clams in this and cooked in herbs, lemon, and wine. I'm not a fan of clams but my friends said it was really good. I enjoyed the soup.
This was quite delicious too. The pork was really yummy. The green veggie gave me a feeling of airplane food so all the more travel feels since there's nowhere we can go now.
Overall, I would give about a 3.8 out of 5. Location wise, it is really convenient. The views are fantastic and the staffs are really nice, greeting you with a loud 'HELLO' when you walk in. The food was pretty good but I think without dessert, the entire course felt kind of incomplete. So if you have the budget, you might want to consider the JPY4000 course that includes dessert.
I love eating and traveling. Always in search for the next good place for food and beautiful views. Come join me on my adventures!