Lifestyle
How to store oversized luggage?
You are an international student or a traveller in Japan and are finding a way to store your oversized pieces of luggage before going to the airport? In this article, I will introduce to you the magic wand to solve this problem that I have just discovered. This is my savior whenever I need to bring a big suitcase back to Vietnam!
In Japan, the most common service for storing luggage is probably Coin Locker which you can find at any station. However, it seems challenging for Coin Locker in terms of quantity and market coverage to meet the market demands due to a large number of tourists.
"As estimated, approximately 176.000 visitors are having difficulties in finding space for their belongings every day. There are about 1.400 coin lockers in Shibuya but only 90 suitable for extra-large luggage." - Shinichi Kudo - Founder of Ecbo Cloak
Carrying luggage with you everywhere makes you uncomfortable and tired, so is there any other way? Let me introduce you the Ecbo Cloak! (This is only for sharing personal experience, not for any advertising purposes)
How I found Ecbo Cloak
Before coming back to Vietnam on Tet holiday in Feb 2020, I planned to travel Fukuoka and then took a direct flight from Fukuoka International airport to Hanoi. That time I brought a big gift parcel exceeding 150 cm in length. I kept wondering how to store it somewhere so that my trip in Fukuoka could be done without carrying too many belongings.
Because the check-in time was from 4 pm, I could not leave it in my hotel before the time. It was also impossible to find any suitable Coin Locker because it did not fit the size. The service at the airport was too expensive as well so I did not want to use it at all. After searching a lot on forums, I found Ecbo Cloak.
Ecbo Cloak is an application collaborating with restaurants, coffee shops, etc. which enables you to book a space for your luggage in any size and number. It can be near your hotel or train station or anywhere in Japan.
How Ecbo Cloak works
After downloading the app and signing up an account, I choose the location where I want to leave my luggage, such as near the station or the hotel. In my case it was near Hakata station in Fukuoka so that I could get the luggage back then went to the airport (You can easily download Ecbo Cloak app from App Store or CH Play).
I can also choose check-in and check-out time along with size and number of luggage. Ecbo Cloak supports 2 types of luggage size: Bag size (less than 45 cm in length) and Suitcase size (45 cm and above in length).
When I've done the required fields, it shows me all the locations nearby that meet my needs so that I can pick the most suitable one. Then I can reserve the space and make a payment effortlessly.
They offer different options for forward or advance payment depending on the location. But please note that Ecbo Cloak only supports Credit cards for advance payment!
The process after that is quite easy. I just need to go to the selected location, show the staff the screenshot to prove that I already reserved the space and done. The staff also took a picture of my luggage and updated it on Ecbo Cloak to avoid taking the wrong luggage later. I felt secure to leave my luggage there without worrying about loss or damage after observing their working process and the way they treated my item with care.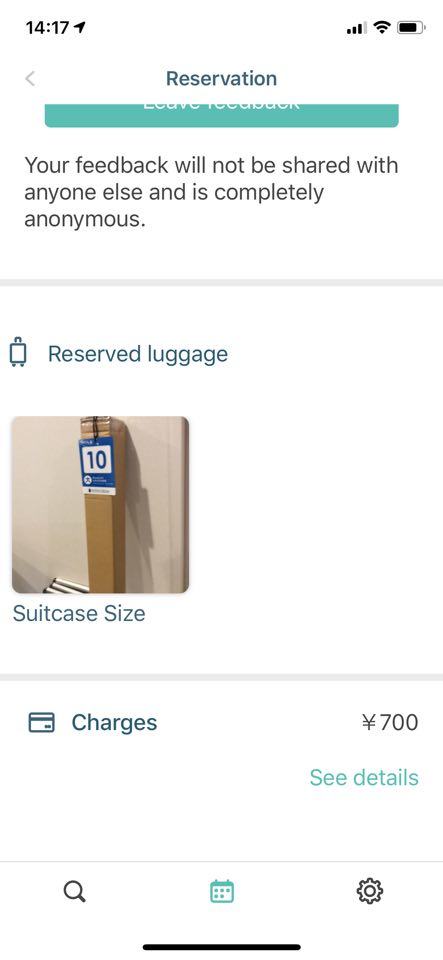 How I feel about Ecbo Cloak
The interface of Ecbo Cloak is super user-friendly and easy to use. All information is clear and easy to find, make the reservation process extremely fast and smooth.
Ecbo Cloak app is very foreigner-friendly since it supports Japanese, English, Chinese and Korean.
Their working process is very strict, confidential and careful. Before the reserved date and luggage's checkout time, an email notification will be sent to customers to remind or just help them avoid taking the wrong one. When check-in, the staff always take a picture and upload it on the app to confirm the luggage with customers. All of these things make me feel very secure whenever using the service.
The price is incredibly cheap. It only costs me ¥400 (around $3.7) per one for a Bag size and ¥700 (around $6.5) per one for the Suitcase size. For that reason, no matter how large your luggage is, you only need to pay ¥700 per booking. If you use Coin Locker service, it will cost you ¥900-¥1000 (around $8.2 to $9.2) for the same size luggage.
When should you use Ecbo Cloak service?
I recommend you to use Ecbo Cloak when your luggage is too big (larger than 25 inch) or too long (as mine). For a small suitcase or a bag, you can use Coin Locker with the charge around ¥400-¥600.
Above is my experience when I need o store oversized luggage while travelling in Japan. Hope you will have more tips to make your trip in Japan more convenient and enjoyable! See you again in the next article!