Travel
Huis Ten Bosch - The miniature Netherlands in the heart of Japan
Huis Ten Bosch attracts us since all the architecture and buildings in this park were reproduced in Dutch style so authentically that visitors feel as if they were lost in beautiful Europe. We stopped by Nagasaki on a sunny summer morning…
The birth of Huis Ten Bosch
Huis Ten Bosch is a theme park built in 1992 in Sasebo (Nagasaki), as a bond of friendship between the Netherlands and Japan. It looks like a huge residence of a Dutch royal family with the European atmosphere, spectacular canals, buildings, and windmills.
Transportation and ticket price
An orange metro, whose color was the same as the T-shirts of Dutch football players in every match, slowly took us to "The Kingdom of Windmills". There is a station named Huis Ten Bosch, which is only a 5-minute walk from the amusement park.
Each entrance ticket costs 7 sen, which is relatively high compared with other recreational areas. However, you will not regret it anymore if you visit this place by yourself and directly view the colorful flower gardens, giant windmills, and gigantic hotels!
The must-do things when you visit Huis Ten Bosch
1 - Admiring flowers and taking photos with the windmills
As soon as we entered the park, we encountered scenery just like in a fairy tale, where there was a large green lawn as a background for colorful flowers. Many kinds of flowers, such as roses, sunflowers, lavenders, etc., were planted in the straight lines alongside the tranquil rivers.
The mighty windmills depicted in "Don Quixote" were looming before our eyes. Behind them were the huge castles like ancient royal palaces. In fact, they are not castles but simply large hotels to serve tourists.
I felt as if I had been lost in a garden of royal families, and they had been wearing Western European skirts, together with floral lace fans and overnight parties. I had that thinking because the scenery here was too similar to a palatial palace in movies or in fairy tales, not in Japan.
2- Taking a river cruise to admire the Netherlands
The entrance ticket has included the cruise ticket, so you do not need to buy a new ticket when coming here. Traveling along the small river, we had countless great angles to take photos of a lifetime.
Domtoren tower is a favorite destination of photographers and visitors from over the world. It is the symbolic tower of Huis Ten Bosch, inspired by the bell tower of the oldest church in the Netherlands.
Every angle, every street, and building look like a little European town. We sat on the same cruise with two other Western friends. They were all surprised and seemed interested as the architecture was even more beautiful than in their country. While there is a decreasing number of windmills in the Netherlands, they could see the huge blades rotating slowly in the sky of Japan.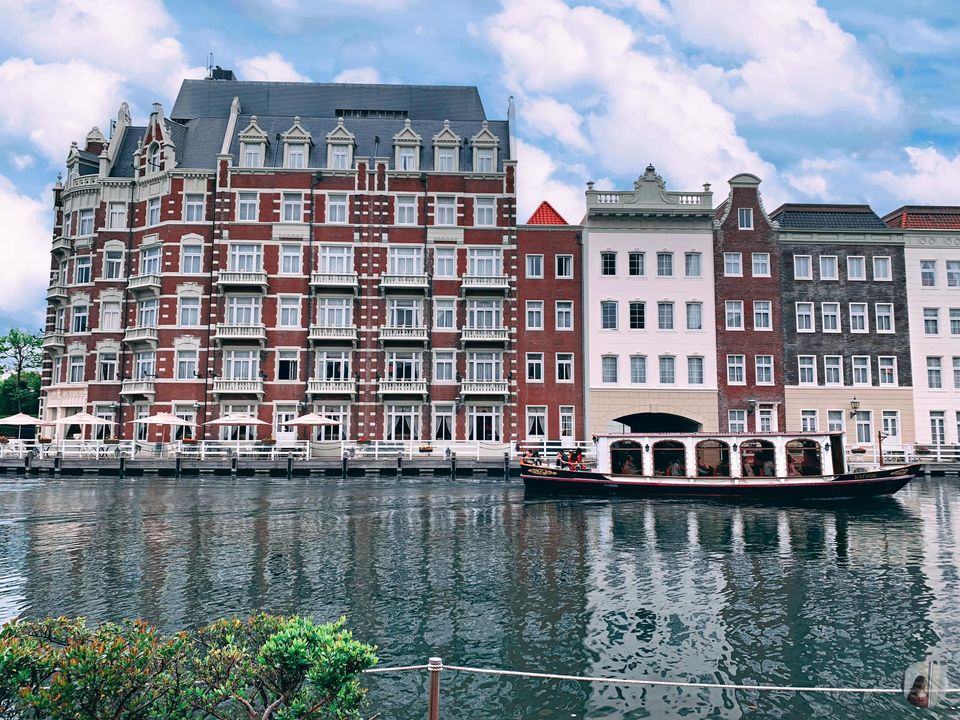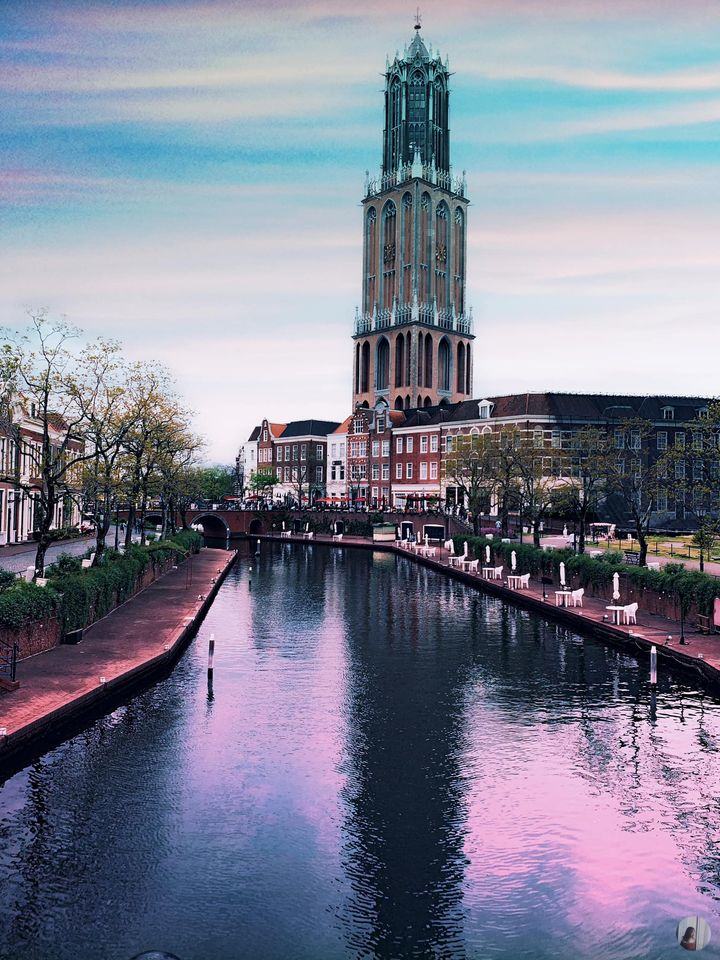 3 - Walking on the romantic "Umbrella Street"
Huis Ten Bosch held our legs the whole day as it has many places to discover, such as Umbrella Street, where many colorful umbrellas hanging above. We came here to take photos and avoid the harsh sun at noon of the April summer.
There was an ice-cream shop located right on the road that we visited. Enjoying ice cream and taking a photoshoot for a virtual living are the things you must do when coming here.
4 - Discovering small museums
One of the unique recreational places is the Teddy Bear Kingdom or Robot Shop, where you can experience the feeling of being a guest to the kingdom of bears or robots in movies.
Some experiences I have still not tried, but I highly recommend you to have
Let's enjoy the incredible and luxurious dishes in huge hotels or nearby restaurants. Since we had another trip, we did not stop there to eat. I heard that their space and food are also very European!
Let's come here on holidays like Christmas or New Year to experience more activities, for example, Christmas market, fireworks festival or beer garden, etc. It will be very fantastic to immerse in the festivals like those in Europe!
The thing I love most when visiting Huis Ten Bosch is feeling the Dutch atmosphere right in the heart of Japan. Despite not having enough time to take part in recreational activities, having a chance to come here and admire the beautiful sceneries of Europe was enough for me to fall in love with this place!
If you have a chance to go to Nagasaki, come here and visit this wonderful place!
Hi guys, my name is Huong Giang. I love travelling and Japan is the place that I can do what I desire to do. I hope my experiences will inspire you and it would be glad if we can share our things in common <3