Travel
Kadokawa Culture Museum - Knowledge in every step
In the previous chapter of "A complete guide for Kadokawa Culture Museum", I have introduced the first 3 floors of the museum. Let's explore the remaining 2 floors with a "bookshelf theatre" and many other special exhibitions!
Are you curious about the place where we headed for lunch?
Besides the coffee shop on the second floor, there was also a restaurant on the fifth floor, so you wouldn't have to worry about finding a place to have lunch.
After walking around, it was already 12 o'clock. We checked in to enter the fourth and fifth floors (the allowed visiting duration after checking in is 3 hours) and then went to eat before going back to explore the rest of the museum.
5th floor: Resting place for recharging
On the day I arrived, there was a food court outside, but I chose to eat at the restaurant for convenience. The fifth floor had a restaurant and cafe that looks very neat and luxurious.
We went to a restaurant on the fifth floor called Sacula Diner since it was located at a not easy-to-find spot, so it was not as crowded as the usual ones. The staff was very friendly, the food was delicious, and the prices were pretty good too. I found the food here to be healthy but still very tasty. The most surprising thing was that after paying, I was also gifted 2 extra tea packages!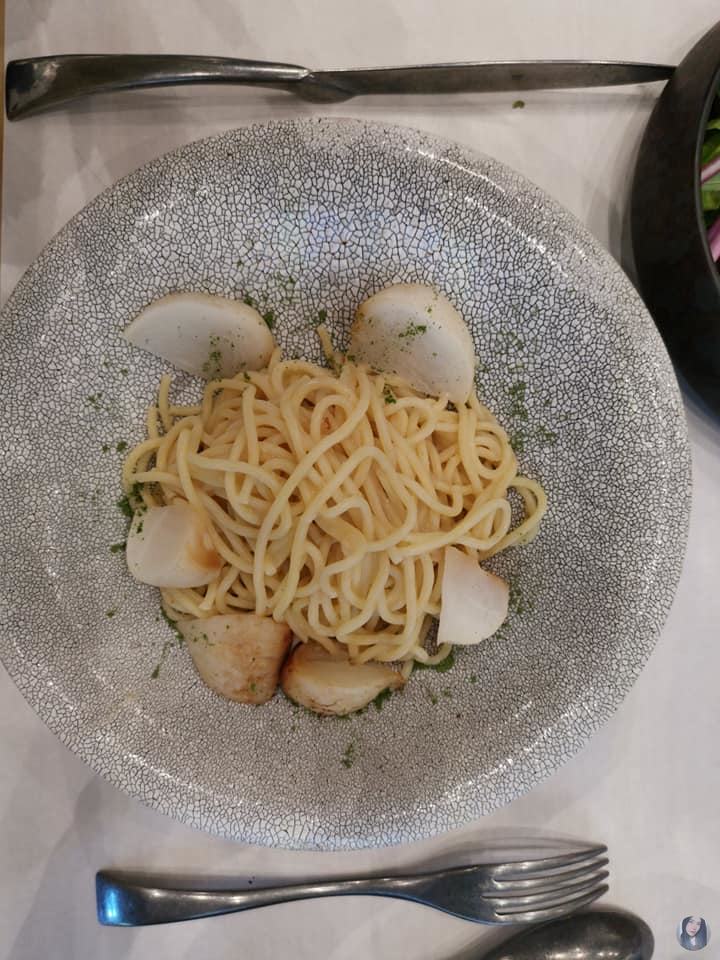 Dishes were served with a variety of cooking styles from Japanese, Western, to Chinese. To make the best use of local ingredients and bring out the best taste, the chefs applied fermentation, smoking, vacuum cooking, and low-temperature cooking, providing us with a genuinely original Musashino Cuisine.
4th floor: A space with the perfect combination of knowledge and arts
After lunch, we continued the visit. Perhaps this is the most beautiful and desirable place for me.
This place has a super high-rise library, interspersed with colorful led screens that can be turned into a "bookshelf theatre" thanks to the projection mapping technique (A technique that using light to create visual effects on contact surfaces, creating interaction with the projected object in 2D space).
The 8m high wall of books is a famous and appreciated check-in place. You should be able to take pictures, but please refrain from filming!
The space here is extremely spacious and is full of quality books arranged carefully. It looked like the scene was trying to attract visitors' eyes and ask them to explore each shelf, each story title.
With the unique architecture and technical technologies applied here, you would play and interact with the books.
In addition, the fourth floor also has an Edit Town area with 250,000 books divided into 9 topics that will help you gain a better understanding of the world. It is truly a book world - where you can read books anywhere!
Extremely eye-catching and attractive exhibitions
I had the chance to look at the Edit and Art Gallery and Aramata Treasure House - divided into 2 rooms: "The Wonder Room" and the "Science Art Room".
This exhibition impressed me not only by modern technology and the application of science but also by combining science and art to create works that are both novel and highly aesthetic.
During my visit to the museum, there was an exhibition by Ken and Julia Yonetani. Their work was impressive. This event is definitely a must-visit for art lovers. It was the opening exhibition at Edit and Art Gallery and was also the first large-scale exhibition of two talented artists.
Photos of Ken and Julia Yonetani's exhibition:
The work of Ken and Julia Yonetani explores the interplay between man, nature, science, and the spiritual realm in the contemporary era. Their work is highly accessible, attracting international interest, support, and widespread attention due to the combination of aesthetics and nuanced representation of the artworks.
It was now late afternoon, I felt pretty tired after finish visiting all 5 floors of the museum, so I decided to end the trip and return home.
In short, the Kadokawa museum is a place where you can visit, study, have fun, and open your eyes to new, exciting knowledge.
If you are a book lover, this place will be a paradise for you, and if you love manga and anime, the third floor is a place not to be missed. And if you're not into the above, it would still be the perfect place for you to take many beautiful photos!
"You've gotta dance like there's nobody watching, love like you'll never be hurt, sing like there's nobody listening, and live like it's heaven on earth."