Travel
Let's explore the unique CUPNOODLES MUSEUM in Japan !!
The museum celebrates the first invention of instant noodles and this is also the place where you can explore the history and full story of the world's first instant noodles from the very first day...
Instant noodles have always made me feel nostalgic about my old days in university since this was a thing that I could never live without. Instant noodles derived from Japan which is a seemingly a simple dish but it is steeped in history. To learn more about its origins, I went to the very famous museum of instant noodles when I had the opportunity to go to Yokohama. It is called as Cupnoodles Museum. Another branch is in Osaka Ikeda.
It was about 8 minutes walking distance from Basamichi Station or Minatomirai Station (on Minatomirai Line) or 12 minutes from Sakuragicho Station on JR and Shiei-Chikatetsu Line. The museum is open everyday from 10:00 - 18:00 except Tuesdays (but if Tuesday is a National Holiday, it is open). The ticket price for adults is 500 yen, children are free (please note that this ticket is only an entrance ticket. There are some areas you have to buy another ticket for sightseeing purpose).
Let's get started ! At first, when I went to the ticket counter, I was instructed to install the museum's free application on my phone in order to be able to search for information at ease about exhibits and attractions by audio or text all the time in the museum.
The first place I visit was the most tourist heavy spot in the museum: My Cupnoodles Factory. In this area I designed my own cup of noodles and chose the flavor I liked. The production process is as much professional as in a noodle factory, including several steps as following:
Step 1: Purchase a cup from the vending machine (cost: 300 Yen/cup)
Step 2: Sanitize your hands with alcohol before starting
Step 3: Design the cup your style
Step 4: Choose the soup flavor and the toppings (You are free to choose 1 of 4 flavors including spicy, salty, curry, seafood. Then choose 4 of 12 topping types: crab, shrimp, fish ball, corn, onion ... to put in noodles).
Step 5: Place the cup over the bundle of noodles by yourself
Step 6: Seal the cup
Step 7: Shrink-wrap by using air package area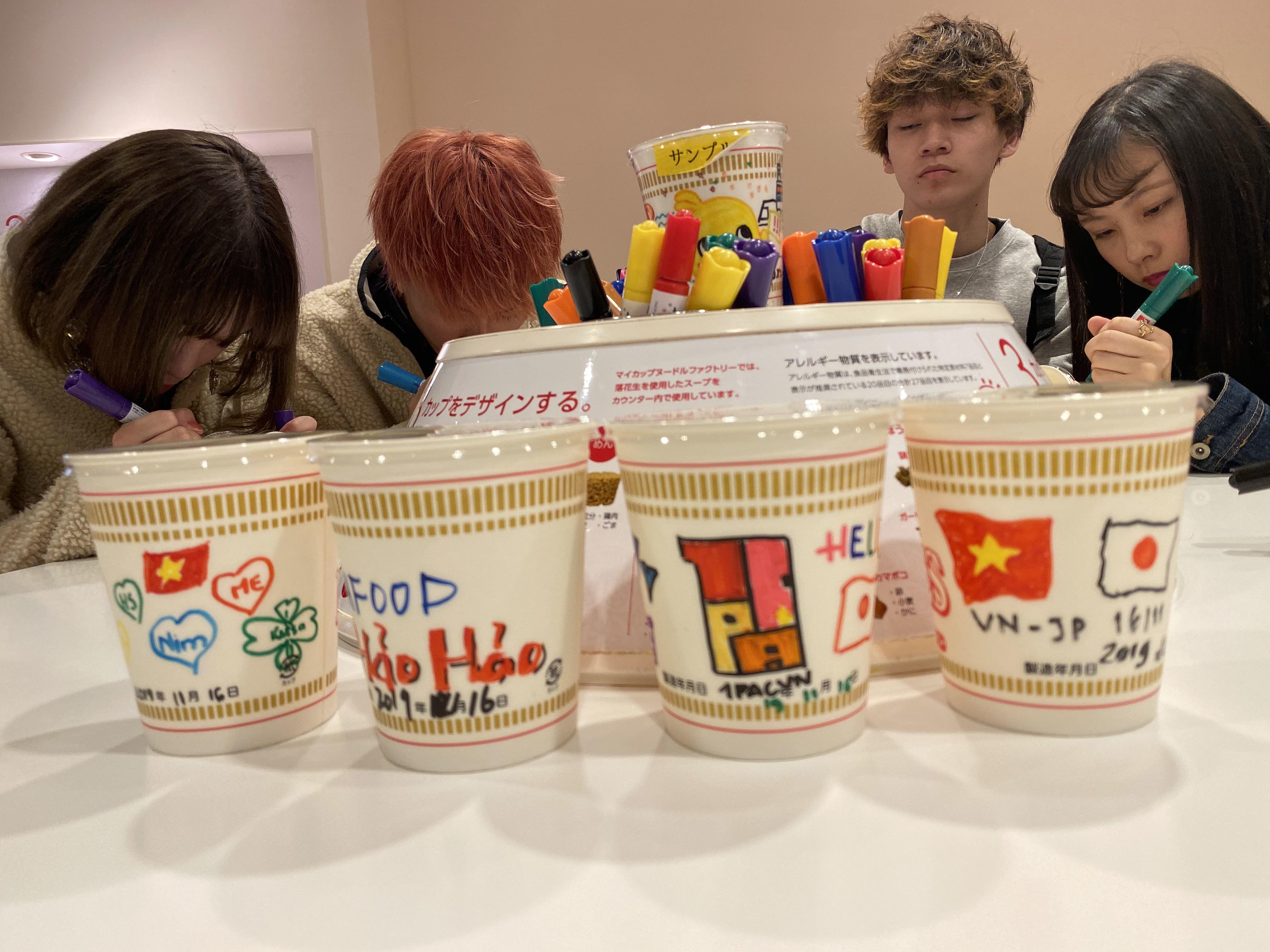 After having done all the steps and waited to our turn, we finished our design cup noodles with favourite flavor and topping. I thought I could enjoy it right away but there was no boiling water here. You can go up to 4th Floor - Noodles Bazaar which is a self-catering dining area with noodles made from around the world. The prices varied from 150 to 300 Yen/portion. What I liked most was that all the counters were decorated by the styles of original countries that made me feel like I was eating speciality of that country without traveling. Besides, they were so thoughtful to carefully note the level of spiciness in the menu to notify customers who do not eat spicy food like me.
Then I moved to Instant Noodles History Cube. I was very fascinated by the first pack of noodles - Chikin Ramen created in 1958 as well as countless brand noodles around the world that I found it so hard to point out Vietnamese brand noodles.
To learn more about the history of the King of Instant noodles, I went to Level 2 to read the life story of Mr.Momofuku Ando which was presented in an expansive 58-meter long panorama combined images and lovely illustrations from his transcendental life.
There were other areas as Momofuku's Theater and Momofuku's Work Shed where he overcome great adversity to achieve significant global inventions. The two attractions I just mentioned were free of charge, so please feel free to come in. Only Cupnoodles Park where I experienced manufacturing process charged 300 yen per pax for 30-minutes time slot. Due to the limited time, what a pity I could not visit this area!! At Museum Shop, there was a display area of all Chikin models known as the symbol of the legendary noodle pack. You can buy many souvenir items related to instant noodles here as well.
Finally, I've done taking all of you to visit almost every corner of the museum! It was a very interesting day for me and I really admired Mr.Momofuku's talent for his successful invention of such convenient dish to the human. If you are a big fan of instant noodles like me, do not forget to visit this place when in Japan!