Travel
Lunch & Exploring Rayard Miyashita Park
Come join us for lunch and a quick exploration of Rayard Miyashita Park at Shibuya!
Rayard Miyashita Park is located in Shibuya. The two nearest stations are Shibuya Station and Meiji Jingumae Harajuku Station.
The website wrote that it is a 3 minutes walk from Shibuya Station, but if you are not someone who walks fast, trust me, it will definitely take longer than 3 minutes. And if you are not good with directions, better to factor in some time to get a little lost.
This exciting place actually has a garden on the highest floor and three floors below.
The garden is such a lovely place to just relax if the weather isn't too hot. When we went, there was a light breeze and the sun wasn't too hot. There were different groups of people who kept a social distance and were just relaxing. It was a very comfortable place to be.
The 3 floors are divided into North side and South side. Based on my observation, the North side has more on the higher end brands and a little quieter compared to the Southside. The Southside has quite a lot of interesting shops that I actually recommend just for the experience. There were so many brands that I've never seen elsewhere before.
There are clothing brands, restaurants, cafes, and even a souvenir store. When I checked out the souvenir store, it had products that were this shop limited. So if you would like something special for your family and friends, you can consider souvenirs from this shop.
There is even a Kit-Kat shop that has a workshop where you can make your very own Kit-Kat and there is even a cute piano inside the shop.
For lunch, we decided to go to Yakitori Hotei inside Shibuya Yokocho which is on the ground floor of the South side.
Shibuya Yokocho is like a food court with different kinds of little shops inside where you can just walk in and choose whatever you want to eat. However, there are specific areas to sit according to where the restaurant is so I don't think you can order various foods from various restaurants to enjoy at the same time like how we usually do in food courts.
If you are a fan of Showa-style atmosphere, Shibuya Yokocho is definitely a good choice. We went in the afternoon but I am sure there will be this exciting feeling in the evening with all the neon lights.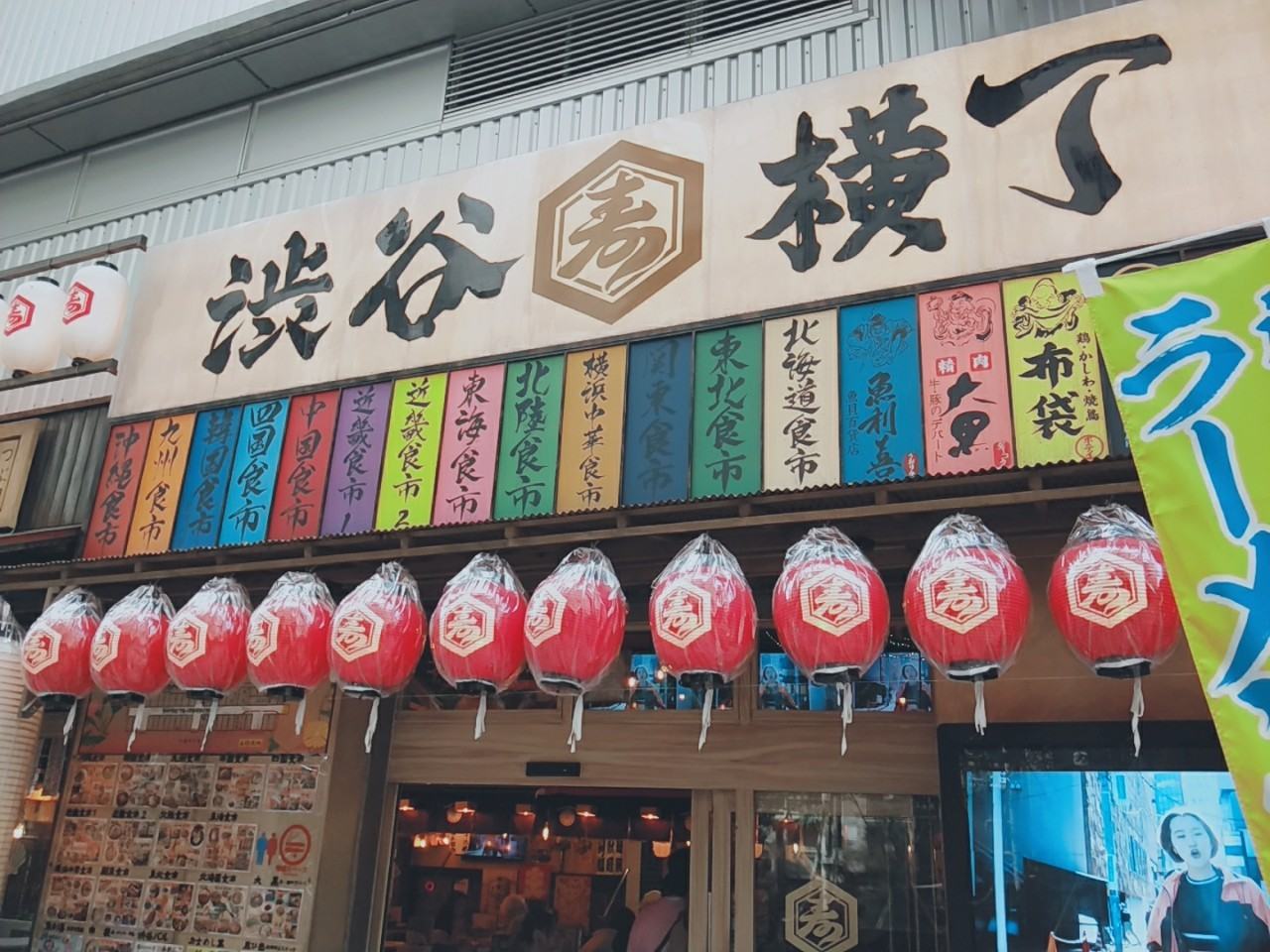 We didn't order any drinks so they gave us cold water in beer mugs.
This restaurant is a chicken specialty shop so most of the menu has chicken. Now let me introduce to you what we ordered!
This is the classic Oyako-don which literally translates to parent and child rice bowl. The chicken is the parent and the egg is the child.
The chicken was cooked over charcoal so there was a very nice fragrance to it. This was quite a pretty filling menu because the amount of rice was very generous but we shared this so it was just nice.
We were so excited to eat this that we completely forgotten to take a picture of the dish and we only remembered it after we were about to finish eating it. But let me tell you this: this Gyoza was SO good!!!
The gyoza was okay but the soup! The soup was fantastic. The depth of flavor and tastiness was amazing. It's almost gravy-level thick but in such a good way. Every spoon of soup felt like a burst of flavors in the mouth. There was ginger in the soup as well and I feel like it was going to be a very good meal in winter. I highly recommend this if you have no idea what to order if it is your first time.
I wished we could try more things but the friend I went with has a very small appetite so we could only try two items this round.
Let me know in the comments if you got to try out this restaurant and found something good!
I love eating and traveling. Always in search for the next good place for food and beautiful views. Come join me on my adventures!