Travel
MAGNET by SHIBUYA 109: Fatburger & Bonus
We check out Fatburger at MAGNET by SHIBUYA 109 and a bonus extra something. Make sure to read till the end!
The other day, I was watching television and Fatburger's burger was introduced on an Arashi program. We looked it up and apparently there is only ONE branch of Fatburger in the whole of Japan and it is on the 7th floor of MAGNET by SHIBUYA 109.
It is right opposite Tsutaya and the same row as Zara and Tower Records. Fatburger is a LA-based chain serving burgers. There's an option between the original, double, triple and even US KINGBURGER which has 6 patties! You can even add on different toppings into your burger if you want.
Here's how it looks like from the outside. The seats are placed quite far apart from each other.
We went the moment it opened so we were the first customers. The both of us went for the Original Fatburger each and we shared a Chili Cheese Fries (I'm keeping Chili spelling as according to their menu). There is even an option between the normal skinny fries and fat fries.
We chose the latter. We also wanted to get Homemade Onion Rings as well but it wasn't available. If you order a drink, it is self-service and it's a drink-all-you-can. I didn't order a drink and the staff was nice enough to give me a cup of water.
The Chili Cheese Fries were SO good. However, if you are someone who likes things spicy, it is not even the slightest spicy. The flavour is there though. The cheese doesn't harden too much even when it cools down. The fat fries provided the volume and potato texture. The sauce isn't too salty and is of a generous amount so that all the fries, even the ones at the bottom gets the sauce. I highly recommend it.
The Fatburger's Original Fatburger comes wrapped up nicely for you so you don't have to touch it with your hands. The burger is made up of the buns, mayo, bits of lettuce, slices of tomatoes, a few slices of pickles, onions, relish, mustard, and the patty.
The size might be quite small for guys but it's just a nice portion for the ladies. The mayo was a good dressing for the lettuce. The tomato wasn't watery so you wouldn't be getting bits of tomatoes dripping off your fingers.
The relish was FANTASTIC. I was pleasantly surprised with it because at the first bite, it was just, "Oh. Maybe I should've just went for Mcdonald's." But after a couple of bites when everything came together, it turned out to be an excellent surprise.
The patty was juicy and soft but not oily. The whole combination was perfect. My image of hamburgers always include cheese but this burger, even without cheese, tasted so good.
So we finished eating and girls being girls, wouldn't you want to go to the toilet to touch up your make up? Let me tell you, the toilet on the 7th floor was so pretty. Let me show it to you.
This is taken from the opposite side. Imagine how Insta-worthy this is if you and your friends posed with it!
And then you will see this. Ladies on the left, men on the right.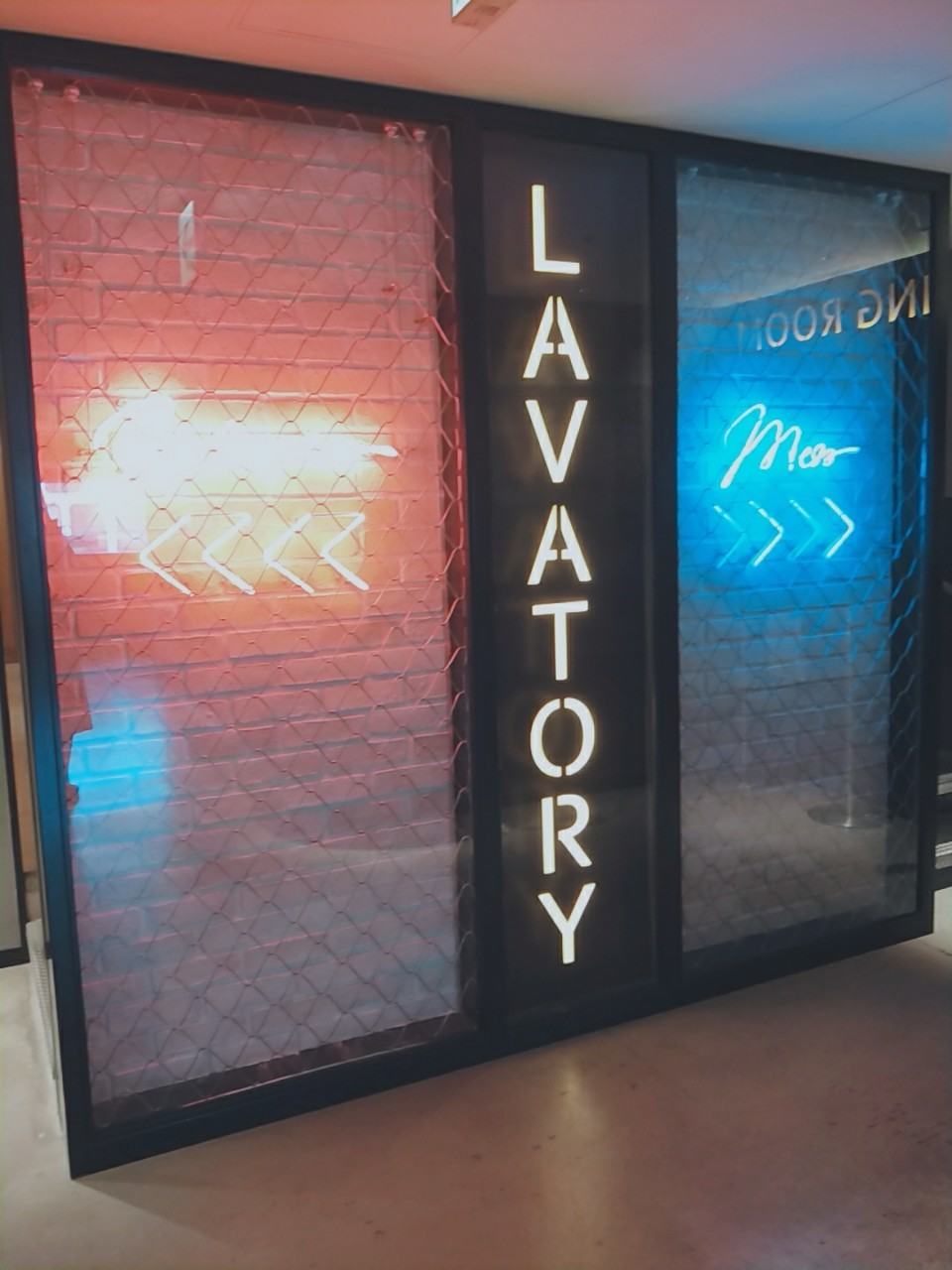 This shot is a little brighter than how it looks in real life. When you see it with your own eyes, it is a lot darker and a lot more dreamy and grungy. Once you walk in though, it mirrors everywhere.
Look at those cute little lightbulbs on top. There's sufficient lighting and it is one of those lightings that make you look prettier. So if there's no one, remember to grab a quick picture (or a couple) with your friends.
See you next time when I discover something else!
I love eating and traveling. Always in search for the next good place for food and beautiful views. Come join me on my adventures!