Travel
Marine life - Shinagawa Aquarium
Are you interested in the oceans? Are you always eager to find out more about the diversity of marine species? If yes, please do not skip this article. ^_^
If you are in Tokyo and want to explore the marine life, the Aquarium will be a great choice for you. In this article, let's experience how great a day in the ocean is.
This time I will introduce to you guys about Shinagawa Aquarium located at 3-2-1 Katsushima, Shinagawa City, Tokyo, open daily from 10:00 to 17:00. That day, I went by the "express" train of JR Keihin Tohoku and got off at Omori station, then walked around 15 minutes from the north exit to the aquarium. I felt it was quite far. To save time and avoid walking too much, I suggest you to take the Keihin express train then get off at Omori Kaigan station.
After that, I had to walk over 800 meters more because the Aquarium's entrance was being repaired. It was getting dark when I came here and it was over an hour left until the closing time of the aquarium. However I still decided to explore this place because I had a great passion for marine life. Similar to other sightseeing destinations I visited before, most of places in Japan had automatic ticket counters and so was Shinagawa Aquarium. The ticket price for adults was 1350 Yen. There was also a self-service locker opposite which helped visitors feel comfortable during their visit without worrying too much about personal belongings with prices ranging from 200 ~ 400 Yen for different sizes.
Our visit was in the middle of the week and very closed to the closing time. For that reason, there were only a few customers so we had the opportunity to visit comfortably without being afraid of the crowds. Let's begin the journey to explore the ocean. At the beginning of the Aquarium, I saw a diorama of coastal area of ​​Shinagawa in Tokyo Bay, a metaphor for nature creatures being lost gradually due to urbanization. Is this a message to all of us that we should always care about the life of marine creatures?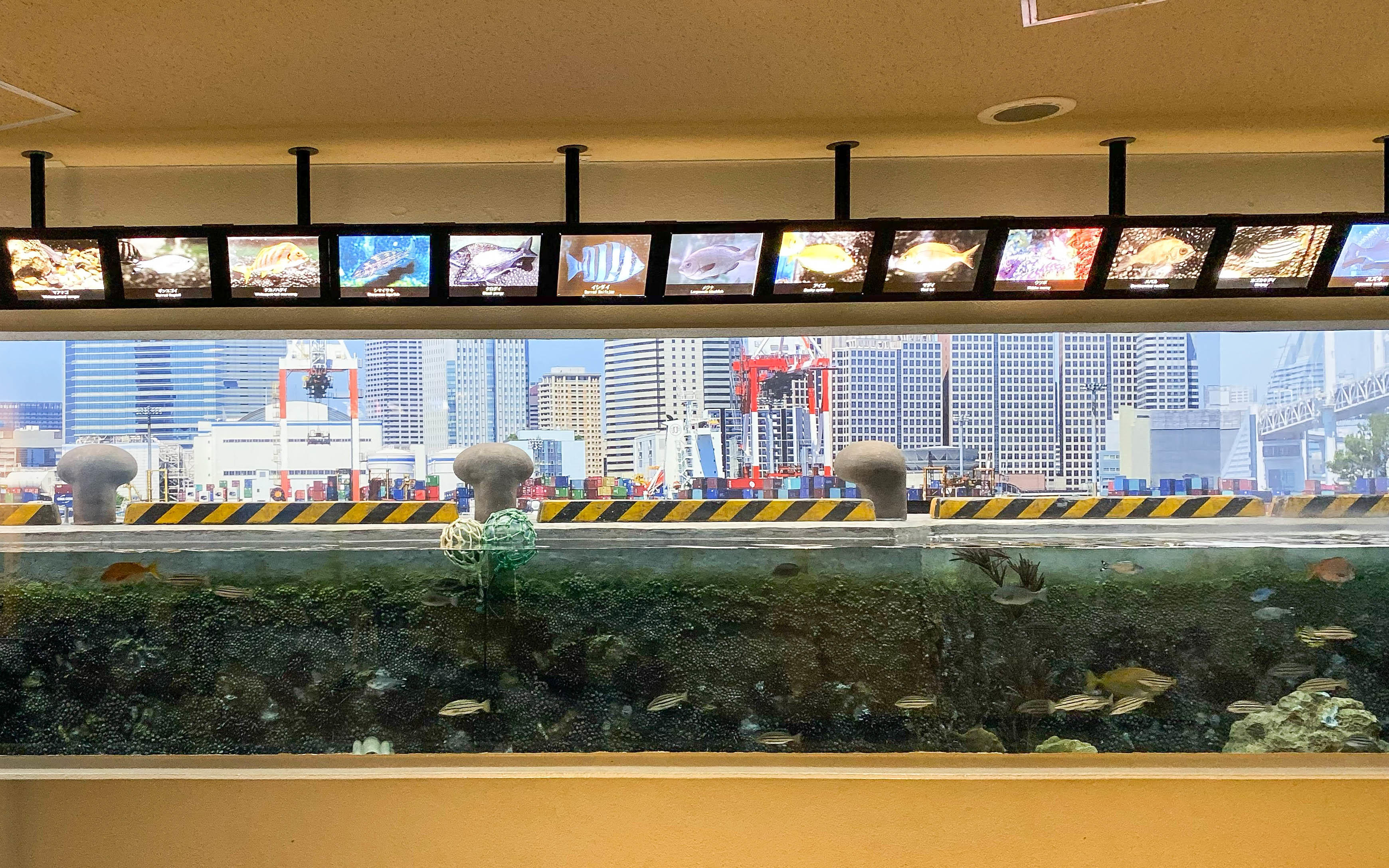 Next, I was really overwhelmed by many different kinds of fish species that I could never remember their names. But do not worry much since each Aquarium area had detailed description about them. So if you wish to get to know them, walk slowly, read their stories and feel the world of the sea. Here, everyone feels free to take pictures but remember to turn off the flash mode in your devices. The flashlight can affect our cute friends.
After visiting the surrounding area, I entered Tunnel Aquarium spreading over the ceiling - the ocean where over 900 sea creatures were swimming around. With a promenade of the sea of ​​22 meter in length, it made me feel like I was in the heart of ocean with beautiful fishes swimming around. However, it was a bit dark and flash photography was not allowed so I avoided taking pictures here.
When I stepped out of the "ocean heart" area, suddenly I saw an amazingly illuminating area. I approached with the great curiousity then realized that was a tank where many jellyfish were gracefully floating in the ocean and changing color by LED lighting - Jellyfish World. It looked super stunning!
Next to them was a fish tank with the theme of the Earth. This tank told a story about the formation process of nature as clouds form and make rain, then thanks to the rain, soil nurture fruits and then animals appear ... How meaningful it was!
Keep moving and you could see a corner where you can observe water creatures directly by touching them - Touching tank. It was also considered as the most irresitable area in the Aquarium so there was no doubt this tank attracted so great attention from both children and adults. The touching tank allowed visitors to put their hands into tank to get massaged. There were two types of "miraculous" sea species in this tank including Garra rufa and Yamatonuma shrimp which can eat dead skin cells on the human body. In medical field, they are often used for psoriasis treatment. At first, I was a little scared but I saw everyone was interested, then I tried my best touching them. When they gathered a crowd round and bit, it made me startled at first but after a while I got used to them. I did not move my hands anymore and left them consume my dead skin cells, actually felt like being massaged. So enjoyable!
At the end of the Aquarium, I came to visit the Shark Hall and Dolphins. There was also a section for souvenir items like stuffed dolphin/shark and exhibiting shark teeth. I heard that they had dolphin performance every day, so I asked the staff to see it once. Then they instructed me to go outside of the Aquarium.
There was a miniature stadium with seats for the audience to enjoy performance. It was only 10 minutes remaining before closing time, but the enthusiastic coaches still performed the dolphin circus for us. The Dolphin show lasted more than 5 minutes with 3 dolphins dancing and doing games under controls of coaches made me very excited. It was very interesting and I could truly feel how intelligent and closed to human they were.
Actually we were the last guests of that day. What a pity that we came here too late and could not visit all areas of the Aquarium. According to the guidebook of the Shinagawa Aquarium, there are a total of 25 areas. Hopefully, I will come back here to visit them again.