Travel
Miyazaki: The Hidden Paradise in Kyushu
Talking about travelling in Japan, many may think of megacities like Tokyo and Osaka, or the mixture between tradition and civilization like Kyoto or unique places like Okinawa or Hokkaido.
However, the beauty of Japan is not just inside those famous destinations but is also hidden away in some not-so-famous prefectures that really triggers my curiosity and motivation to travel.
And yes, it has exceeded each of my expectations!
Let's go to Miyazaki: a hidden paradise in the Kyushu region.
1/ Takachiho Gorge
Takachiho Gorge is probably the most famous tourist attraction that everyone will hear about in Miyazaki. It's a narrow chasm cut through by Gokase River.
It is breath-taking to witness those small waterfalls with a forestry background, and also a great chance for taking photos!
There are two things you can do in Takachiho Gorge:
Try the boat riding services to go through the chasm and get a closer look at those waterfalls and the natural shape of the rocks.
You will have to row by yourself, and a boat is capable of 3 people maximum. It is a must-do thing in Takachiho, not only because rowing a boat by yourself is super fun, but also enjoying the close-up view and the atmosphere inside the chasm is totally mesmerising.
Take a walk along the road into the forest and pass the bridge between the chasm.
There is no fee for this activity. This is a great chance to really slow down, let yourself be surprised by how amazingly beautiful nature can be, and reconnect with yourself.
2/ Takachiho Shrine
Just 5 minutes walking from Takachiho Gorge is Takachiho Shrine.
Like any places in Japan, Miyazaki is also full of shrines with different mythology. The Takachiho town has one of the most well-known mythologies in Japan.
It is said that Amaterasu - the Shinto Sun Goddess, became furious after her brother's cruel pranks that she hid herself and her light inside a cave in the Takachiho area.
All the gods and goddesses came and tried to get her out, but no one succeeded until one goddess performed a ribald dance that caused other gods a roar of laughter. Amaterasu, out of curiosity, finally came out to see what was all the fun about, and therefore returned her light to the world.
The stair up to the Shrine is hidden under the trees of the forest surrounding it. I was 39°C the day I came to Takachiho Shrine, but right after walking through the main gate, it felt like only sunlight reach this point, not the heat.
The main Shrine is actually unpainted, all the woods building up the Shrine stays with its own colour. It truly makes the Shrine become one with its surrounding, and it is nice to enjoy the calming and peaceful feeling the atmosphere gave.
3/ Aoshima Beach
Aoshima area contains Aoshima beach and Aoshima Island.
Japan is surrounded by the sea, but obviously, not every beach can be used to swim. But Aoshima Beach is the exception, and it's a wonderful one.
The sand here is in the darker side, but it felt so soft under the feet, it almost felt like massaging while walking through the sand (even though it was burning under the 39°C heat).
The water was shallower than I expected but was so cool and clean. Well, there is nothing more summer than dipping yourself into the ocean under a burning sun.
The Yellow Post at the beach is also a famous tourist attraction. There were indeed a lot of Japanese travellers taking a picture with that Post, I heard that it will bring luck if you touch the Post?
Personally, besides the fact that it was the first yellow Post I saw, and it matches really well with the surrounding, I don't find it so fascinating. But overall it was a nice touch.
Besides the view, Aoshima Beach has a lot of street-food style restaurants, ranging from Kakigori (Japanese ice-shaved sweet) to hot dogs and curry rice.
4/ Aoshima Island
Aoshima Island is a small island located right just a bridge away from the mainland. This small and subtropical island is the ultimate world of Shintoism with the place of the Aoshima Shrine.
The colourful Aoshima Shrine, located at the heart of Aoshima Island and circled around by a subtropical forest, is believed to bring luck to married couples.
However, the main shrine is not the only thing on Aoshima Island.
On the right of the main shrine, there is a small path through the forest that will lead you to another smaller shrine.
Along the way, you will see a lot of wish board hanging like a short tunnel.
It is the Old Road of Wishes. These boards do not just contain wishes, but memories, things you would like to put back here are also included. You can buy your wood board and hang it here.
At the end of that road through the forest is this small Shrine. It is said that this Shrine was built for the Sea Creatures - which are also considered as God in Shintoism.
Behind the small Shrine is an old well.
Legend says if you whisper your wish to a seashell or a ceramic dish, then throw and break it inside the well, your wish will come true.
I tried, the dish did break, but did not land inside the well. It seems like the lucky god was not on my side.
Next to the well is a pair of palm trees. You can choose a coloured line and tie it on the trees to get luck in whatever aspects you might wish to have more luck in. For example, relationship, studying or finance.
Both coloured line and seashell/ceramic dishes are provided beside the small Shrine, at a cost of around 200¥.
5/ Devil's Washboard
Devil's Washboard can only be found in the Aoshima Island area or along the coastline in the South of Aoshima.
It may look like manmade, but it is actually a completely natural phenomenon.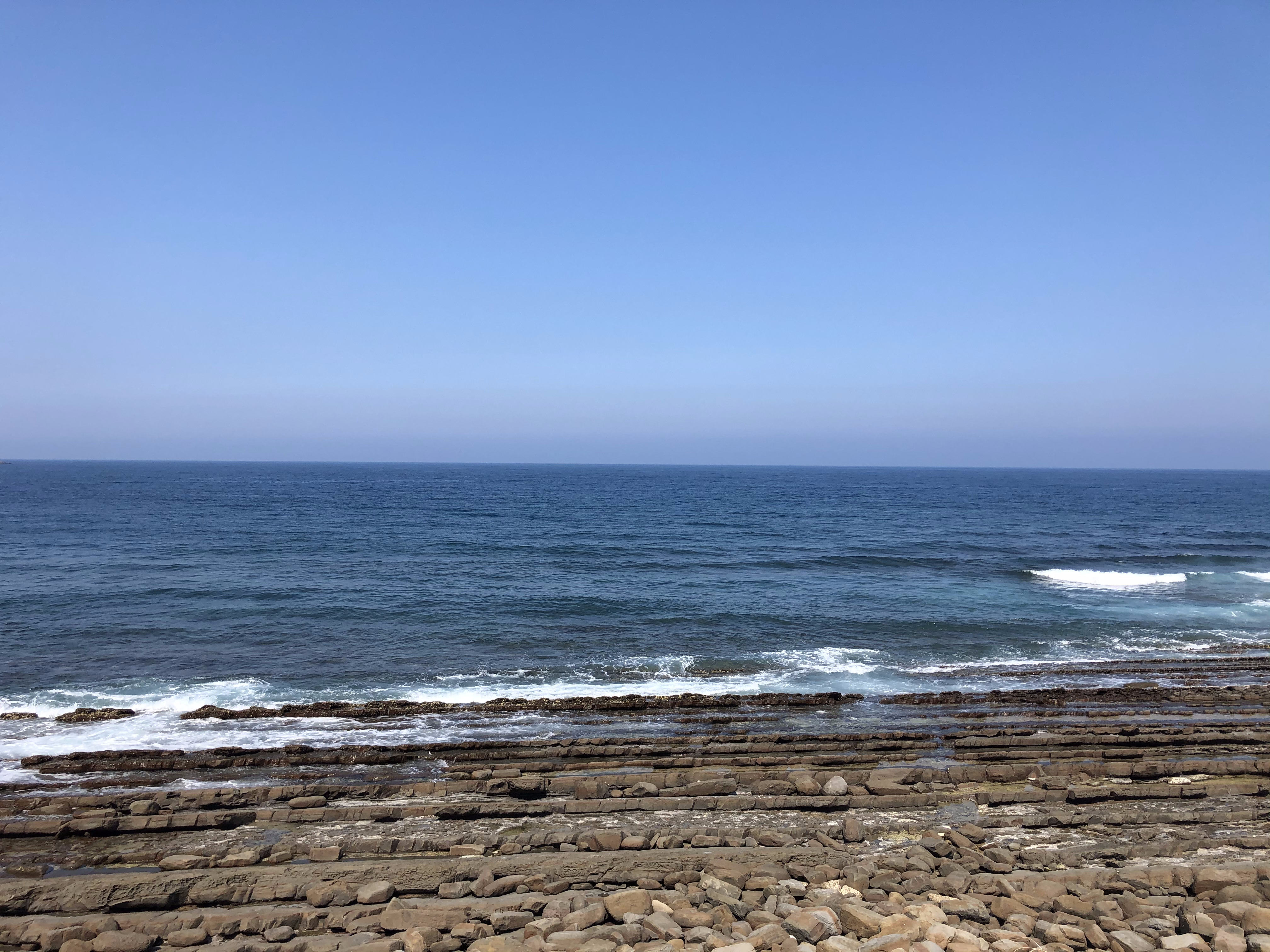 I had to Google the explanation right at the time I was visiting Devil's Washboard because I could not believe nature can create this perfect line-up rocks.
It is said that the Devil's Washboard was created as a result of millions and millions years of the sandstone being washed over by the ocean wave. The softer sediments of the stone was slowly carved and washed away, leaving behind the hard sandstone with its natural shape.
Devil's Washboard does not only mesmerize tourists, but also the local people. Part of it is because of the aquatic life between those rocks. If you look carefully, you can see a wide range of small sea creatures ranging from starfish, other kinds of small fishes, crabs and some sea bugs.
Hello, my name is Ha and I'm currently living in Japan. I hope that my share of experiences about life in Japan with the perspective as a foreign student will help you to visualize a bit about how life in Japan for a foreigner is like.