Lifestyle
Monogatari Onsen: attraction and spa day in one
Autumn and winter are perfect seasons for relaxing spa time in the hot springs. One of the most famous houses is Monogatari Onsen in Odaiba, which was definitely a unique experience, here is how it was...
So far I've visited Hakone onsen. Check out my post about Hakone here:
So Monogatari Onsen was a completely new and fun experience for me.
Before you plan to come, you want to make sure about deals, as they have great discounts for specific hours and days. You don't purchase the ticket online nor you get a discounted deal from anywhere, the prices are being reduced if you come specific hours as stated in the picture below.
Moreover, onsen offers a free bus shuttle service, so you can easily reach there to have a great day without any commuting concerns. They have specific restrictions such as tattoos and alcoholic state, so make sure to consider those before coming.
All this detailed information can be found on their website: https://daiba.ooedoonsen.jp/en/
First things first, I called them to ask what to take with me, and I got an answer that everything will be provided there, so all I need is to come over (and to take my purse of course to be able to pay). Make sure to take a photograph if you have one, cause the common areas are pretty nice to be captured.
Once you arrive, you will leave your shoes in the locker and from there will proceed to the cashier to take your locker key. Then, you will be forwarded to the Yukata rental room, where you will be offered a great choice of yukatas and belts by color, picture, and size according to your taste.
From there you are entering a dressing room depending on your gender, where you will see many dressers with skincare sets, hairdryers, brushes, and so on. You need to change to yukata, and if you aren't aware of which way to wear it, you will find a poster with the illustration.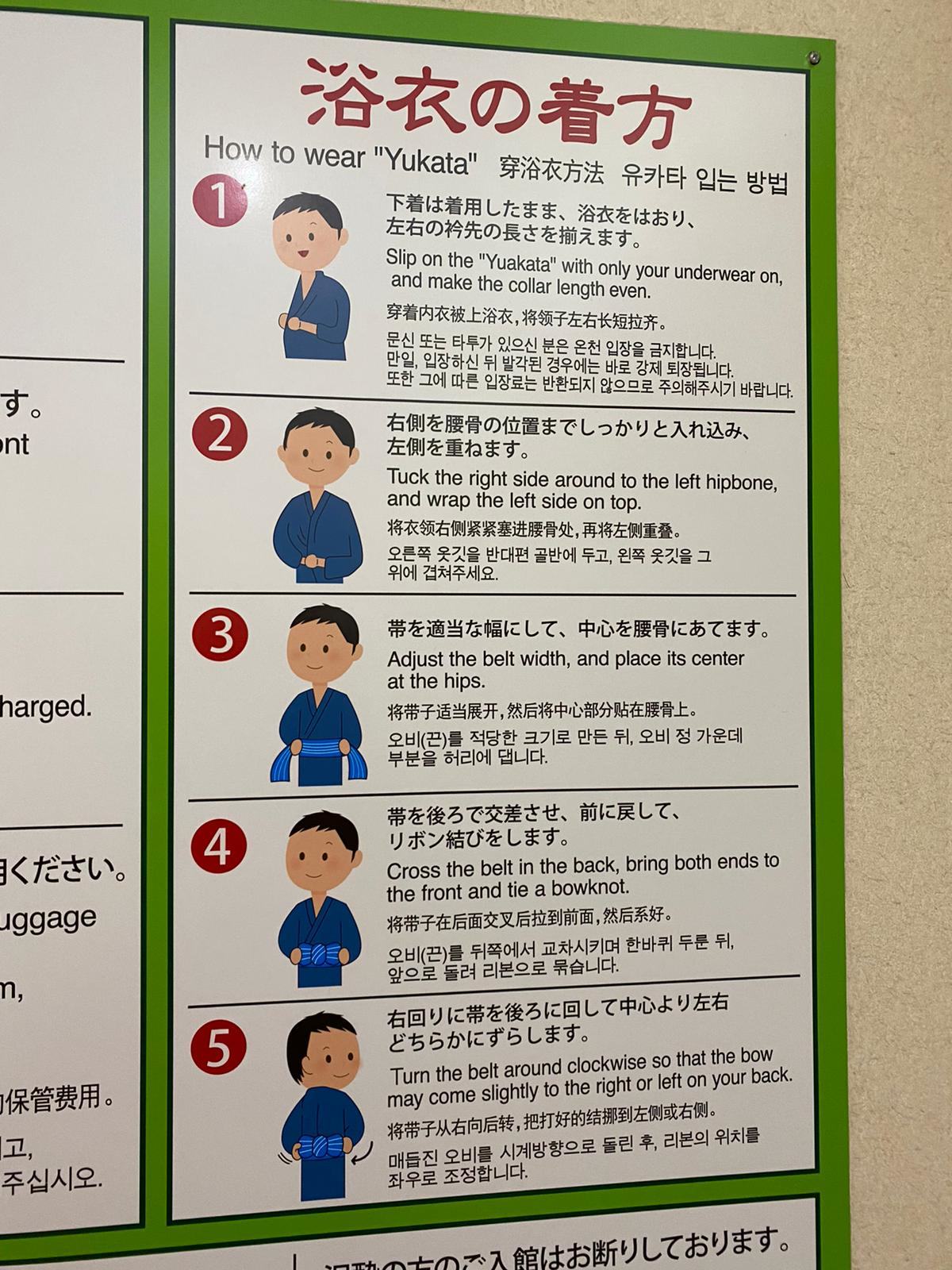 Once you enter the common section, you will find an immense variety of restaurants such as sushi, crepe, ramen, udon, and soba noodles, together with some attractions and games.
You will find many seating areas, the festival atmosphere of the Edo era followed by a large tatami room, where you can enjoy a big and cozy space with your family.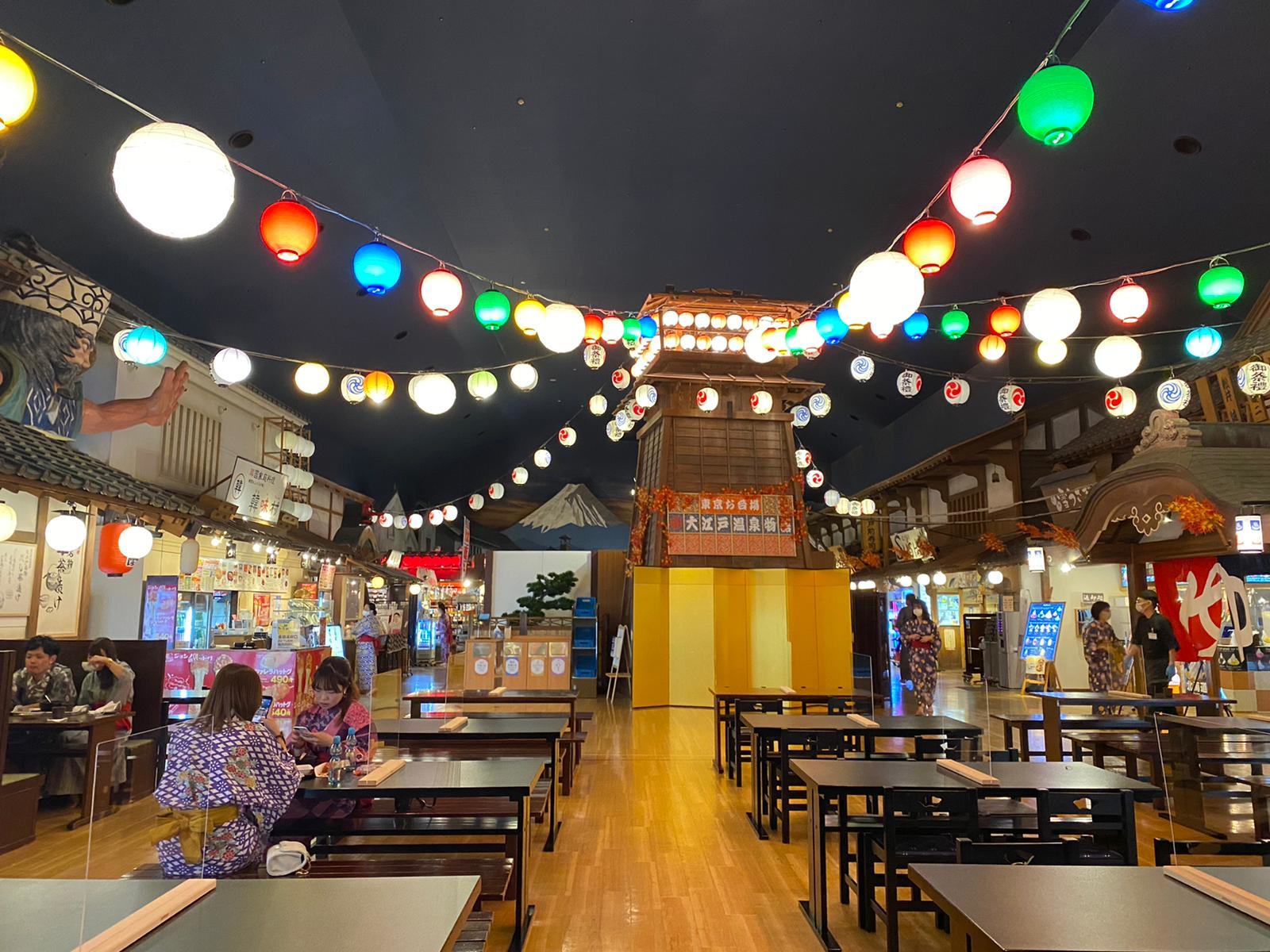 Just next to the Dressing rooms you will find an entrance to Foot Bath Garden. It is a common outdoor area to have your feet being massaged by different rocks on the bottom of the little pond. Meanwhile, you can take pictures next to the Japanese garden and umbrella decorations.
With an additional payment (around 1000 yen), you can have Fish therapy (those tiny fishes that eat dead cells of the feet) and a stone sauna area.
On the opposite part of Onsen, there are Izakaya, the Banquet Hall, and Hotel. Other services that are being provided with an additional payment are Massage and Esthetical treatment, you can also have some souvenirs from the local shops.
In my case, I only enjoyed the onsen for the beginning, planning to get those services next time though.
Finally, the main part which is the whole point of Onsen is the Bath area which has its own Dressing room. You are given a towel and another locker key.
As a main rule, you have to be totally naked to enter the Onsen. And another rule is that you have to take a quick shower or rinse yourself with water at the entrance before entering the Bath.
Keep in mind, that if you are not tolerating hot water (40 degrees C and up), then it is better to avoid hot baths. There is just one warm bath, and one cold bath.
In total, I paid about 3000 yen, since I went daytime on the weekday (about 2700 yen) and I bought ice cream.
One of the information desks shows the whole list of benefits of onsen, which makes you wanna stay longer and take your time for healing processes.
My favorite was massaging bath with many high pressured water which makes nice massaging moves on your body. Another nice spot was a small bubble bath with a great garden view.
Moreover, there are 2 saunas to make the whole experience complete. Open-air garden onsen is a genuine type, where you are surrounded by high walls (so you won't be seen for sure) and a great natural atmosphere. Here, you will surely have a meditation and relaxation time.
In conclusion, I'd like to add that whoever loves having "onsen time" should definitely visit this amazing and fun place for a unique experience, not just to release the tiresome but also to have fun and enjoy the great ending of the day through all its attractions.
I am from beautiful country called Kazakhstan I am married and we have an adorable child who was born in Japan, Tokyo My specialty is Tourism Management, that is why I love to share all my experiences of cultures and traveling destinations,and I'm happy to share with my current experience in Japan