Travel
My first solo trip to Tokyo: Sunshine City, Odaiba or Akihabara?
Traveling alone may be nerve-wrecking for first-timers, but it can also be a good, refreshing experience.
Welcome to Part 2 of Solo in Tokyo! Since I will be picking up where I left off, do check out the first part of solo travel journey below:
Visit Sunshine City
Sunshine City is a shopping complex located in Ikebukuro, easily accessible from Ikebukuro Station by taking the East Exit. No. 35.
The mall also consists of many shops, restaurants, and entertainment spots, so you can never run out of things to do there.
What makes it unique from other shopping complexes is that it has its very own indoor aquarium and planetarium on the top floor.
I didn't visit the aquarium and planetarium this time but I had the chance during my first time in Tokyo in January of 2019.
Entrance fee for the aquarium is ¥2200 for adults (high school students and over) and ¥1200 for children (elementary/junior high school students).
It was smaller than most aquariums, but given its location and the fact that it's indoors, I would say it's pretty interesting! I think this is a good spot to take younger children to. I had gone with my younger sister then and she liked it a lot.
The planetarium was also very impressive, as you can learn about the solar system and the universe. It had been close to empty when I had visited and the reclined chairs made for a very relaxing seating position, so be careful to not fall asleep and miss out on the show!
Try Harajuku's infamous crepes
Harajuku is well known for being one of Tokyo's most popular tourist spots, especially Takeshita-dori, a busy shopping street where you can find an array of unique street-style clothing stores, cosmetic shops, and even food and beverages.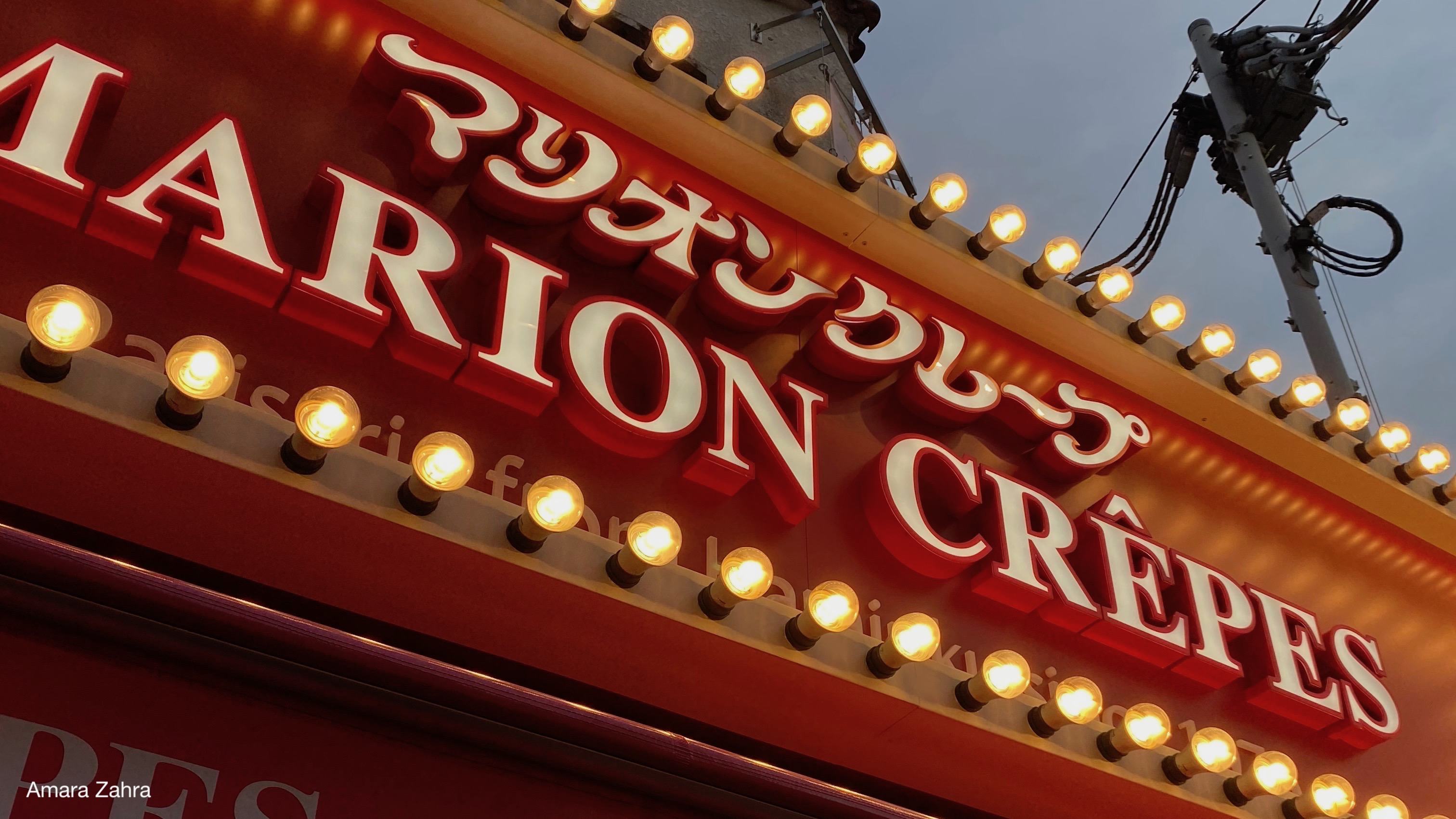 There is no doubt many things you can do here, but my must-do when visiting Harajuku is to have one of their authentic crepes.
You'll easily find one along the street, but the one I had was situated in a small corner called Marion Crepes. The booth itself was painted a very eye-catching red with a pleasing display of their delicious menu on the side.
Sure, you can have crepes anywhere, but I find Japanese crepes really delicious as they're very soft and come with many fillings to choose from, both sweet and savory.
Enjoy the waterfront view at Odaiba
Odaiba is a personal favorite of mine. This is my second time coming to the district, the first one being in early January of 2019.
Here, I went to see the replica of the Statue of Liberty again and walked around the boardwalk and park. The view of the sea is spectacular. If you're looking to take some pictures then Odaiba has some really good spots.
One thing I would advise though, since the area is very much suited for outdoor sightseeing, is to take note of the weather before visiting. From personal experience, it's best to drop by during a sunny day.
I had previously written an article on things you can do in Odaiba, so be sure to check out the link below if you want to know more!
Check out the arcades at Tokyo's electronic city – Akihabara
Akihabara is home for anime enthusiast, popular for being the heart of otaku culture.
Although I am not an anime fanatic myself, I admit that I love Akihabara for its bright lights and electric atmosphere. The abundance of arcades was clear. Most likely, you would easily find one, as they are usually placed at the end of every sidewalk, just a few stores away from each other.
I was one of the many people who had been easily reeled into one. I ended up playing claw machines to pass time. I managed to win two small Kirby plushies and felt very accomplished.
They can be very addicting after a couple of tries, so be mindful of your expenses while playing!
A good experience
Although short-lived, my trip to Tokyo in February of 2020 is one that I will definitely cherish the most.
Not only was it refreshing, I got to experience for the first time what it was like traveling and exploring the city alone. If time and condition permits, I would definitely like to go on a solo trip again to a different city.
Hi! I'm Amara Zahra, otherwise known as Mara, currently residing in Japan for my undergraduate studies. Writing and traveling are things I really enjoy doing so I'm looking forward to sharing my experiences here!