Travel
Nonintimidating giants
Japan is famous not only for its breathtaking landscape and rich culture and history but also for massive structures that represent human's intelligence and hope.
This article will satisfy those who enjoy seeing the view from above. Height might be some people's worst nightmare, but I admire and am very much interested in studying massive constructions, especially skyscrapers, in the world. At the end of 2019, I went to Japan and had the chance to encounter some "giants" about which I would like to share with you.
The Landmark Tower – Yokohama
Currently, Yokohama Landmark Tower is the second tallest building in Japan, standing 296.3m high with 70 floors. It is located in Minato Mirai, Yokohama city. There are other tourist attractions near this tower such as the Art Museum or Square, etc.
That day, I only visited the area below the shopping mall, Queen's Square, and checked in at The Port of Yokohama – the biggest seaport in Japan. If you want to enjoy the view of Yokohama from above, you can go to the observatory with the 360-degree view on the 69th floor – Sky Garden. The ticket price is ¥1,000 for an adult (about 220,000VND).
Cosmo Clock 21
This is another way to enjoy the view of Yokohama for a cheaper price and in a more interesting manner. All you need to do is walking 1 km from Landmark to Yokohama Cosmoworld and pay ¥800 to go on the Ferris wheel named Cosmo Clock 21 for 15 minutes.
This is the world's biggest clock Ferris wheel. All the passenger cars are designed with thick transparent glasses that allow us to enjoy the view and take as many photos as we like from 100m above without being subjected to cold breezes.
Inside the cars, the "Ferris Wheel Navigation" touch screens will allow passengers to see others' comments and read about the history of Yokohama. The perfect time for you to enjoy the sparkling lights from the park and the city is from dusk to late-night.
Umeda Sky Building - Osaka
I stayed in Osaka for a week for my business trip. However, the truly special thing was, from the office, I could see the view of "a set of giant twins" named Umeda Sky.
Located in Shin-umeda city, this is the symbol of Osaka city and is 173m high with 40 floors. This construction has 2 parallel towers, Tower East and Tower West. These twins are connected by 3 escalators with doughnut-shaped domes that provide a flawless 360-degree view. On the top floor of the building, there is a floating observatory for tourists to see the view of Osaka, Awaji Island, The Akashi – Kaikyo Bridge, etc (fee charged).
Do you know, the workplace has a considerable impact on our emotions, creativity, and ability to think? If you are lucky enough to be able to work in an open space with a beautiful view, you will definitely feel comfortable and have lots of energy to complete your work.
Roppongi Hills Mori Tower - Tokyo
The last place I visited was Roppongi Hills Mori. This tower has 54 floors and is located in Roppongi, Minato, Tokyo. This construction was finished in 2003 and was named after the constructor, Minoru Mori. Although there is nothing special with the architecture of this building, it is one of the 6 tallest buildings in Tokyo and is 238m high.
I was going to visit the Mori Art Museum on the 53rd floor but it was closed for some reasons. That was a pity for me since I traveled a long way but could not go in. Therefore, I came down to the 52nd floor – Tokyo View and buy a ¥1,800 ticket (about 400,000VND) to see the city. However, this ticket only allows tourists to see the view from inside the building.
Since I love to conquer altitude, I bought a Skydeck ticket with ¥500 to enjoy the scene from the rooftop. Standing at an altitude of more than 300m in the cold of winter, I was able to enjoy the beauty of the city as a whole. Japan is truly a developed country with tall buildings standing so close to each other.
However, from afar, Tokyo Tower, in red and white color, was still the most outstanding construction. It is also the second tallest building in Japan and was inspired by the Eiffel Tower.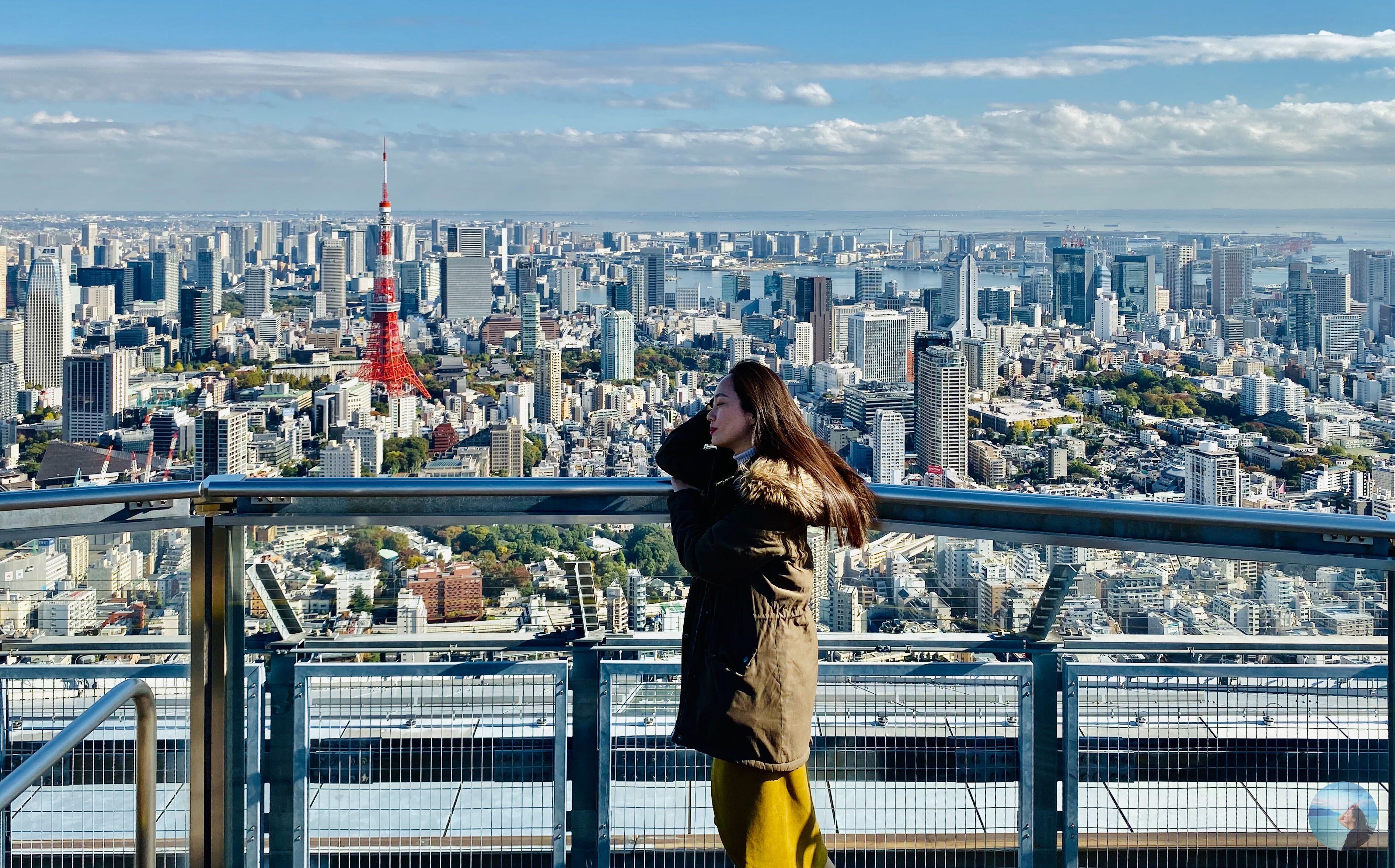 Gacha Gacha Coffee
One more thing I want to share with you is a self-service coffee shop right next to Tokyo View. That shop is Gacha Gacha Coffee, a unique coffee shop that was inspired by the Gachapon.
Instead of toys, there are different types of coffee beans inside each ball. These 5 types of coffee beans are produced by Maruyama, a famous brand of roasted coffee in Japan, and are numbered from the boldest to the lightest one. If you cannot decide, just push the button "?" and the machine will let out a random type (it only costs ¥500 each time).
After getting the coffee beans, come to the counter, follow the instructions to put the coffee bean into the coffee grinder, then add hot water and sugar or milk as you like. There, now you have a cup of coffee which is totally made by you, at the same time having the chance to see the whole city. It is really worth a try, right?
Closing
Due to unfavourable geographical location, Japan usually has to suffer from natural disasters, particularly earthquakes; therefore, the buildings in Japan are not so high compared to those in other countries. However, thanks to their courage and endless effort in learning, Japanese people can apply their developed construction technology to create one of the world's most modern infrastructure systems.
I truly hope that when I come back to this country, I will have the chance to visit other gigantic constructions.