Culture
Romantic season of Cherry Blossoms
What's more romantic than sitting under pink blooming flowers, with a picnic, some sake and your loved ones?
One of the biggest attractions for foreigners to Japan and also one of the most loved seasons for the locals definitely goes to the cherry blossom (known as Sakura in Japanese) season in Japan.
When do Cherry Blossoms bloom?
Japan's famous cherry blossom season usually starts from the end of March until the beginning of May and usually, it starts from the south end of the country, Kyushu moving up north towards the Hokkaido region.
So for those wanting to catch a sneak peak of the cherry blossoms, be sure to check which geographical location you're in Japan!
During this time, Japanese families and friends flock to cherry blossom parks and riversides to view these blooms, which is called Hanami.
Hanami, which is known as a flower-viewing party in Japanese, and is a long-lasting Japanese tradition, said to have started in the Nara period (710-794)!
Cherry blossoms were originally used to celebrate that year's harvest as well as announce the start of the rice planting season, which of course most people should know that rice is one of the staple foods in Japan.
Hence the importance of the Sakura flowers in the heart and souls of the Japanese.
Cherry blossom trees take about one week to reach full bloom and usually last about a week until they start weathering away.
This is why the Japan metrological Agency does early forecasts annually and watches closely to the season and weather changes to let people know when and how to plan their once-a-year Hanami day to avoid the disappointment of missing the Hanami, otherwise, a full years wait will be in place for next years Sakura bloom.
What are the most common things people do in Japan for Sakura Hanami?
Many young people like to wear Yukata (summer style traditional Japanese ladies' outfit) or Kimonos (traditional wear).
However since Kimonos can be more costly to rent out and are generally used for bigger events, many people choose to wear Yukatas to take memorable photoshoots with the cherry blossoms, which has become a trending event in recent years, also as a tourist event for foreigners when they visit Japan during this season.
College students love gathering and having a weekend get together under the cherry blossom trees with their beers and picnics.
For foreign students in Japan, this is a perfect chance to make friends!. Families and friends gather in parks with their homemade food and sake to celebrate the start of spring.
Unfortunately, in my first Sakura season in Japan was the start of the lockdown in 2020 which meant I couldn't experience the picnic and sake part, however, I was super lucky to have found a train track, river and a row of full blooming Sakura trees close to my house!
Although I couldn't get a chance to go to those must-see-must-go sites that I had planned to go view cherry blossoms, such as the Meguro River Cherry Blossoms Promenade (目黒川の桜並木) which is one the most popular cherry blossom viewing places in Tokyo, I got a whole week of beautiful sunshine, cool weather and cherry blossoms.
I also got to enjoy afternoon jogging sessions viewing these beautiful and romantic flowers.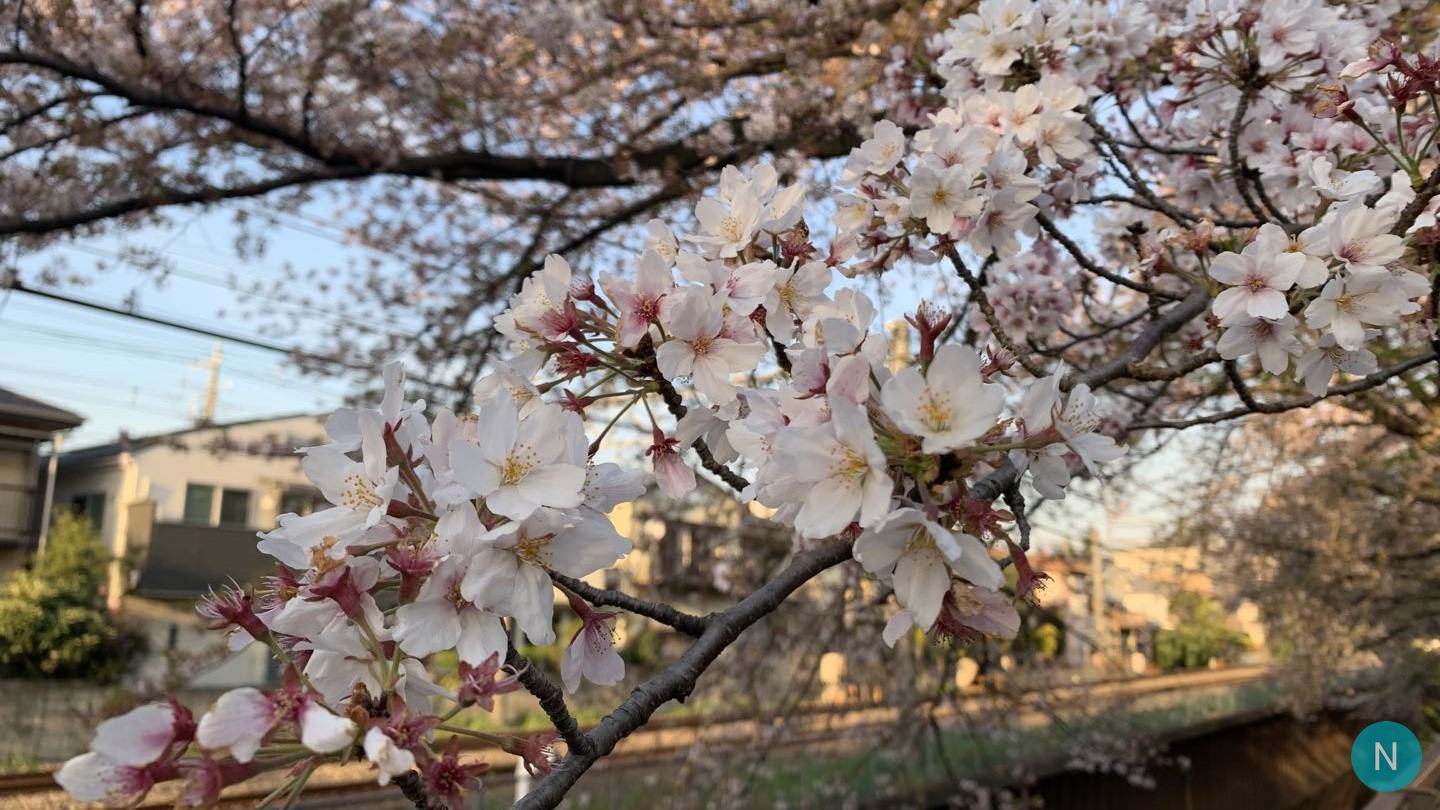 One of the things I find amazing about these flowers, they're so short-lived yet so delicate and beautiful.
They bloom at the end of winter and early spring, I guess it gives people a sense of a new beginning and renewal of seasons, especially after a long period of cold winter days. Which of course, a marking of an end of an era is always a marking to the start of something new, which brings hope and prosperity to people.
Sakura has been viewed over the history of Japan for life itself, being luminous in its colour, beautiful yet flourishing.
Remember any scene from a Japanese anime where the main character breathes in that long freshness and says Ganbatte (Meaning let's keep working hard), under the sakura tree? I guess that's one of the reasons behind the beauty in the ever longevity of the Japanese culture.
Born: Taiwan Raised & Education: South Africa Background: Int Telecommunications. Currently living: Tokyo, Japan. Studied @ Waseda university. Current Job: @Tokyo in Technology Consultancy. Interests: Love exercise, Food, travels! Follow me for more insight into Japan life!