Travel
Running track in Tokyo – Imperial Palace
For those looking for something different to do in Tokyo, why not try the Imperial Palace running track for a run!
As we start the year and went through 2020 mostly in lock downs, I think we all have big ambitions for some exercise and new years resolutions! For those looking for something different to do in Tokyo, why not try the Imperial Palace running track?
I have always been a travel junkie and has a regular runner, I always enjoyed going around the world to travel and run locally in the cities. Japanese are really into running and around Tokyo there are quite several amazing running tracks.
Whether you're a traveler or a resident in Tokyo and would like to try running in Tokyo, the imperial running track is a must try!
One round on the running track is 5km (3.1 miles) which is a good distance for a runner or for someone who wants to try the running track out and run at their own pace. The Imperial Palace running track is located in central Tokyo, close to the Tokyo station, Ginza shopping district and Marunouchi Business area.
Just by the way note, it has always been my dream to work in this area and always thought of packing my shoes to go run in these tracks, before or after work. I achieved my dream of working in Marunouchi business district, unfortunately with Covid, we work from home, so I haven't gotten a chance to go run after work.
So back to our running track, if you want to see Tokyo central at a glance while you are running, please make sure to look up around you while you're running, to the west you will see Tokyo Diet and will see the palace all around on the exterior, along the way you will also see the British Embassy, and beautiful Tokyo city scenery.
Don't stress if you're not fit enough and want breaks in between, along the way, there are several spots to sit down for rests or water stations for those who want a break.
TIP: It's good to remember that you should run with the palace on your left side and the running track manner is that the course starts counterclockwise, some advice is to start from the Tokyo station as it's relevantly flatter and will help you kickstart your run and you can take a picture with Tokyo station!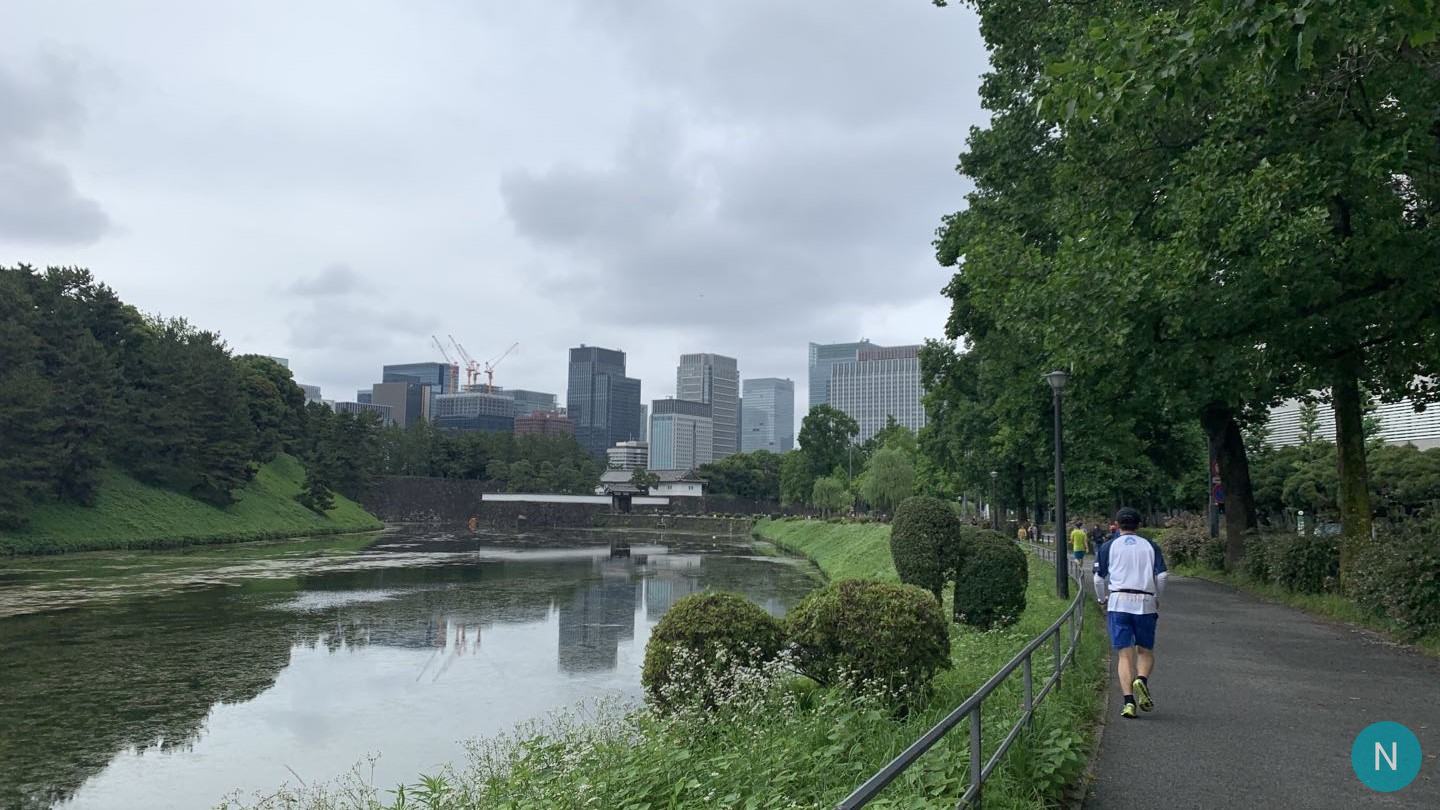 For those, if you didn't bring your kit or have plans after your run, there are two stations where you can rent gear and take showers at a fee or if you have your gear, you can lock your items here.
The facilities charge 1000 Yen to use their facilities. So you would pay when you register at the reception. Towels/shoes can be rented at other costs, depending on which one you choose to use.
1. Adidas runbase Tokyo
2. Asics run Tokyo Marunouchi
I was very lucky to be part of the Waseda Asics running group while I was studying and we were very lucky to run once in 2020 before the social distancing procedures were put in place. We started running from the Asics run Tokyo Marunouchi as a starting base shown here in the picture!
In my own personal time, I wanted to try running from the other running base, Adidas runbase, which was also very good however the starting point was different, so please check your maps before you choose which base station to use.
I have traveled to many countries and really enjoy visiting these traveling tracks in each city I visit. I feel being able to run on these nice clean paved roads, it is also very safe for a single woman to run, with beautiful scenery.
After attempting it a few times, every time I have run, it has been a different experience and the scenery of the season also makes every time an experience and even if you only have one chance at running this track, I must say its memory for a lifetime!
Born: Taiwan Raised & Education: South Africa Background: Int Telecommunications. Currently living: Tokyo, Japan. Studied @ Waseda university. Current Job: @Tokyo in Technology Consultancy. Interests: Love exercise, Food, travels! Follow me for more insight into Japan life!