Lifestyle
Satisfying & Worth Your Money Taiwanese Food
We found a really good Taiwanese restaurant inside Lumine Ikebukuro. Come on it so we can introduce it to you!
Sao Dou Hua is a shop by the Liu family for three generations and it is a Dou Hua speciality shop. Dou Hua literally translates to bean curd. It's like a soft tofu and usually eaten as a snack or dessert.
This restaurant is on the 8F of Lumine Ikebukuro. Ikebukuro Station has a ton of lines and just to name a few: Tokyo Metro Lines, JR Lines, Seibu Ikebukuro Line and Tobu Tojo Line. The mall is connected directly to the station so come rain or shine, there's no fear! You will be able to get to your destination dry and nice.
There are a couple of other branches as well: Umeda (Osaka), Shinjuku, Yokohama, Musashi Kosugi and Ueno. So please do give it a try at your nearest branch.
We went for the Ji-ro-han Set (Chicken Rice Set) each at JPY1408 and two sides which I was introduce to you one by one. If you want to go for something more classic Taiwanese, you can try the Lu-ro-han Set (Braised Meat Rice Set).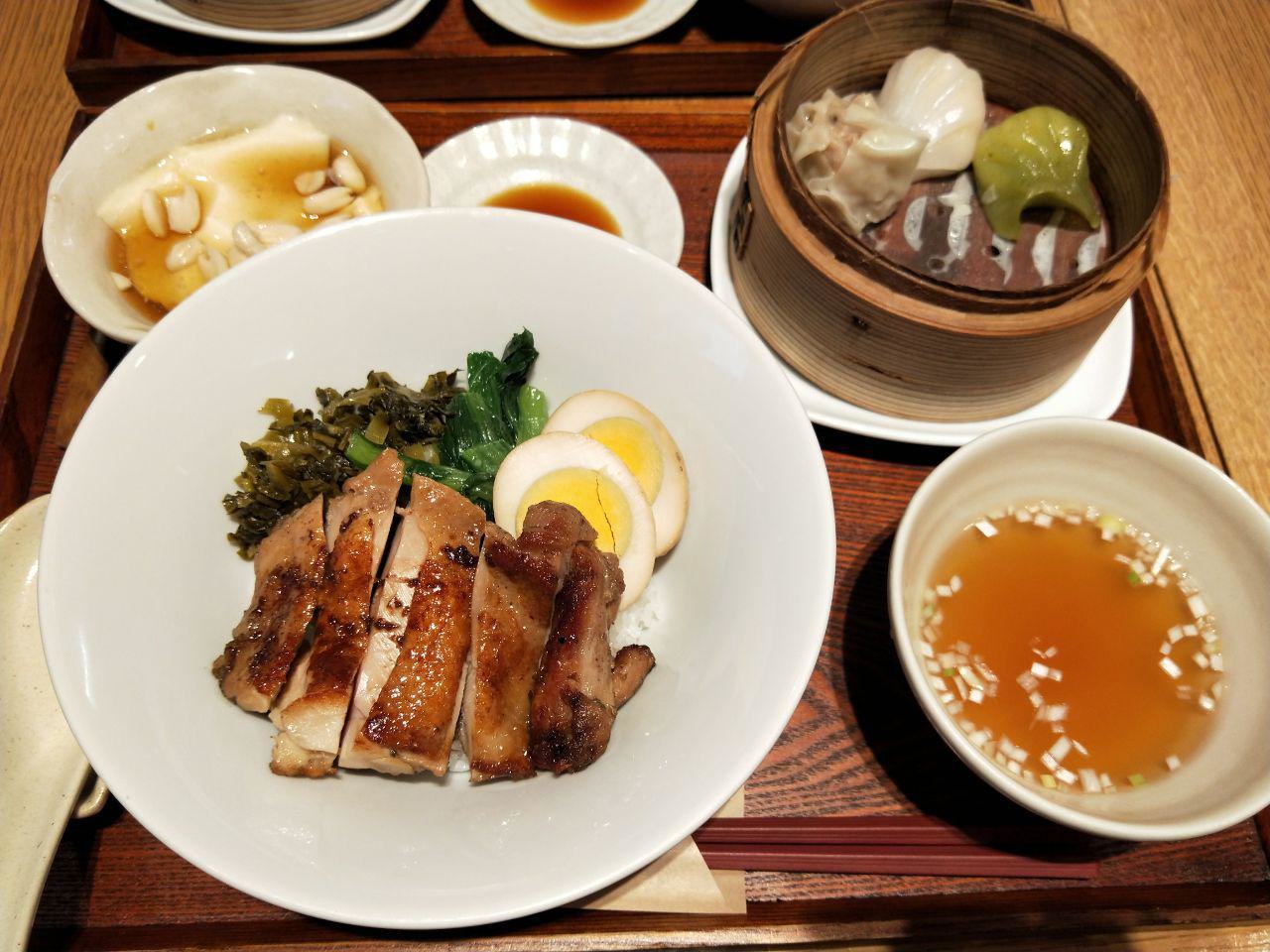 For the set, there is the main, one side, one soup and one dessert. The soup is soy-sauce based, nothing too impressive or bad.
I love this so much. This was absolutely delicious. It's been quite a challenge for me to find such a well grilled chicken (in a Chinese way) in Tokyo. It's fragrant and juicy. There's a right amount of fats and lean meat. It's not too tough yet there's enough chew in the texture. Fantastic.
At the side is half a hard boiled egg, some green veggies and another type of vegetable which is saltier than the green ones. Very good combination.
This is one of my cheaper guilty pleasures whenever I feel like eating Dimsum/ Dianxin (small portions of food in Chinese food culture) in Tokyo. Starting from the left is the Shumai. It's one of the classics and it is a kind of steamed dumpling with pork in it. The other two are steamed shrimp dumplings.
Next up is the dessert! This is the Dou Hua, in liquid brown sugar with soft peanuts on top of it. Gentle and not too sweet. Very nice.
One of the sides we had was Negimochi (JPY418) which I will translate to Onion Pancake. If you know what Roti Canai/ Prata is, this is very similar.
While there are a lot of places selling Naan, there are not many places selling Roti Canai/ Prata so every time I feel like eating it, I will want to order this. It's thin and I love the crispy + chewy texture a lot. You can even order this with a topping or cheese (+JPY165) or egg (+JPY110).
The other side we had was Niku Nira Manju (Meat Leek Pastry). You can order the 2 piece or 4 piece set. We got the 2 piece set at JPY473.
It's a little pastry with meat and leek inside. The meat was juicy, borderline on oily almost. The red chilli thing on the side is extremely spicy so if you cannot take spiciness, please take it with care. But it's really addictive and a really good flavour to it.
In general this shop feels more dessert-based but I feel that if you are planning to have both your meal and dessert in the same place, this is a very good place to enjoy both. This shop is quite popular on the weekends so be prepared to queue if you go at meal or tea times. I highly recommend you to try it because it's good and worth it, so please go a little earlier when you go.
If I were to give it a score, it's 4 out of 5 for the food and atmosphere. I didn't give full marks because I haven't tried the desserts so maybe when I try it out next time, I'll be able to rate it properly.
I love eating and traveling. Always in search for the next good place for food and beautiful views. Come join me on my adventures!