Travel
Second Hand Stores: The Source of my Hidden Gems
I must admit: I have an unhealthy obsession for recycle shops. In this article, I trace back to my first exploration of a Japanese second hand store and recollect the items that caught my eye.
Plaid tennis skirts, stylish denim jackets, the cheapest and coziest coats, the softest pair of flare jeans I have ever bought in my life – Japanese second hand stores have filled up my wardrobe with countless of hidden gems after another.
Whether you're looking for a bit of grunge and edge, some elegant minimalism, or maybe the classically cute J-fashion; Japanese second hand stores or リサイクルショップ(Rīsaikuru shoppu/ "Recycle shop") offer endless of possibilities to flare up your outfits and try an infinite variety of coordinates.
Traveling down the roads of Beppu after a week of classes, I ventured with my friends to see what new thrift items we can find together. Despite being drastically cheaper compared to department store wear, the clothes at second hand stores are cleaned and maintained to impeccable standards, making them feel just as new.
Coming to a country with four seasons for the first time, I had brought only a single parachute jacket with me. Without knowing how to prepare for the approaching winter, I came to the recycle shop by one of the bus stops closer to my dormitory.
The first thing that caught my eye were the trails of colors running through the aisles - hues neatly arranged by sections, plaids with tartans, button ups with blouses, going through the hangers from left to right always felt like a natural, fluid series of discoveries.
There is nothing I love more than the authenticity of the pieces in Japanese second hand stores – stitched and styled with their own unique features, they are completely different to the mainstream, common articles I often found back at home.
I found just what I needed at that time – a few turtlenecks, cotton-wears, thermals and corduroy pants for extra heat, and they were each only 600-800 yen. A few days later, I found a winter coat for just 2000 yen in another second hand store which would have costed twice the price in a normal department store.
Before I knew it, going downtown to visit second hand stores became a weekend getaway with my friends. After lunch, we would go to see and find the new items that came with the new seasons. It definitely has become a guilty pleasure of ours!
Beyond clothes, you can also find a diverse collection of miscellaneous items. This includes books, games, toys, kitchenware and even appliances. Vacuum cleaners, rice cookers, kettles, takoyaki makers, hotplates, all the way to keyboards and acoustic guitars, all for prices way below the original, with conditions still just as (good) – not a bad deal to stock up on necessities for your new apartment.
I have been eyeing on the sleek electric guitars recently, though I guess it is pretty difficult to find a location to play it in Japan.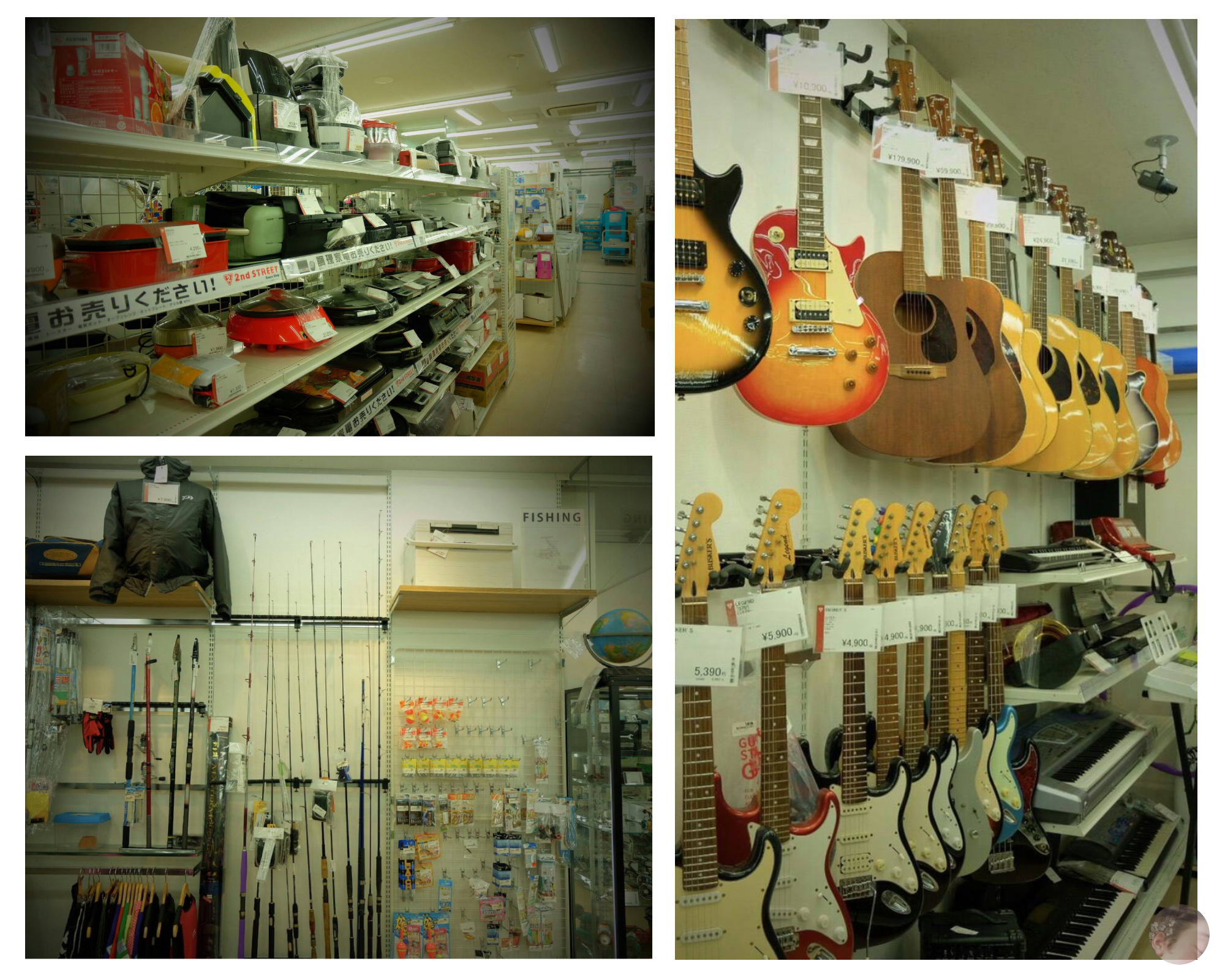 Selling at second hand stores can also be a great option to get rid of your belongings before moving out. It may be easier sometimes to directly come to second hand stores to remove unwanted clothes.
All you need to do is come with the items you want to sell and the employees will check them. You will then receive a form which you need to fill in with how many articles of clothing you are selling and your contact information. They will then inform you how much money you can receive from your donation.
Aside from this store, there are so many other brands of recycle shops across Japan, and all of these different branches have their own authentic items from different people residing in Japan.
Never been to a recycle shop in Japan? No harm in trying - who knows what treasures you can find in these curious stores!