Culture
Seeing the matchmaking wind chimes overshadowing the sky at the Enmusubi festival
Started to be held in 2014, the famous wind chimes path at the Enmusubi Wind Chime festival has become a favorite check-in place for young people. With more than 2000 colorful wind chimes, the festival offers people an extremely dreamy and magical ambiance
I find the jingle of wind chimes is the most melodious sound, and they seem to encapsulate the whole Japanese summer in each tone. Therefore, I chose the wind chimes festival held in the Kawagoe Hikawa Shrine in Saitama Prefecture as the destination for the first day of my summer vacation.
It is a large-scale festival usually held in early July to early September every year. The festival goes on for quite a long time, so you can conveniently go to the temple to admire the scenery and capture the shimmering moments of the wind chimes.
With my old camera, I caught the Tobu bus number 7 and got off at the Kawagoe Hikawa Jinja station. It only took more than 30 minutes to go there by bus, and by that time, it was already quite bustling at the festival.
Although it has only been held annually since 2014, this festival attracts a large number of visitors, about 100,000 people each year. It was not so crowded when I got there, and there was still enough space for me to enjoy the festival.
Do you wonder why the "matchmaking wind chimes festival" is held at Hikawa Shrine? It is because this sacred shrine worships the "God of Marriage"
These are called matchmaking wind chimes because each wind chime is connected to small bamboo slats that have the couple's wishes written on them. People believe that their wishes, along with the sound of wind chimes, will reach the gods' ears.
These bamboo slats are called Tanzaku. I often see people writing wishes for good luck and peace, or maybe poems on them. Don't forget to send your wish to the God of love!
You can buy wind chimes and wish slats at the souvenir stall inside the shrine, it costs 2500¥ for a wind chime (with a special bag) and 500¥ for a bamboo slat
Upon coming to the shrine, I first came to the famous "wind chimes path" - also known as Furin Komichi. I was immediately overwhelmed by a sky of wind chimes of all colors. The chimes are made of glass and have a round shape, each bell is also painted with delicate motifs by artisans.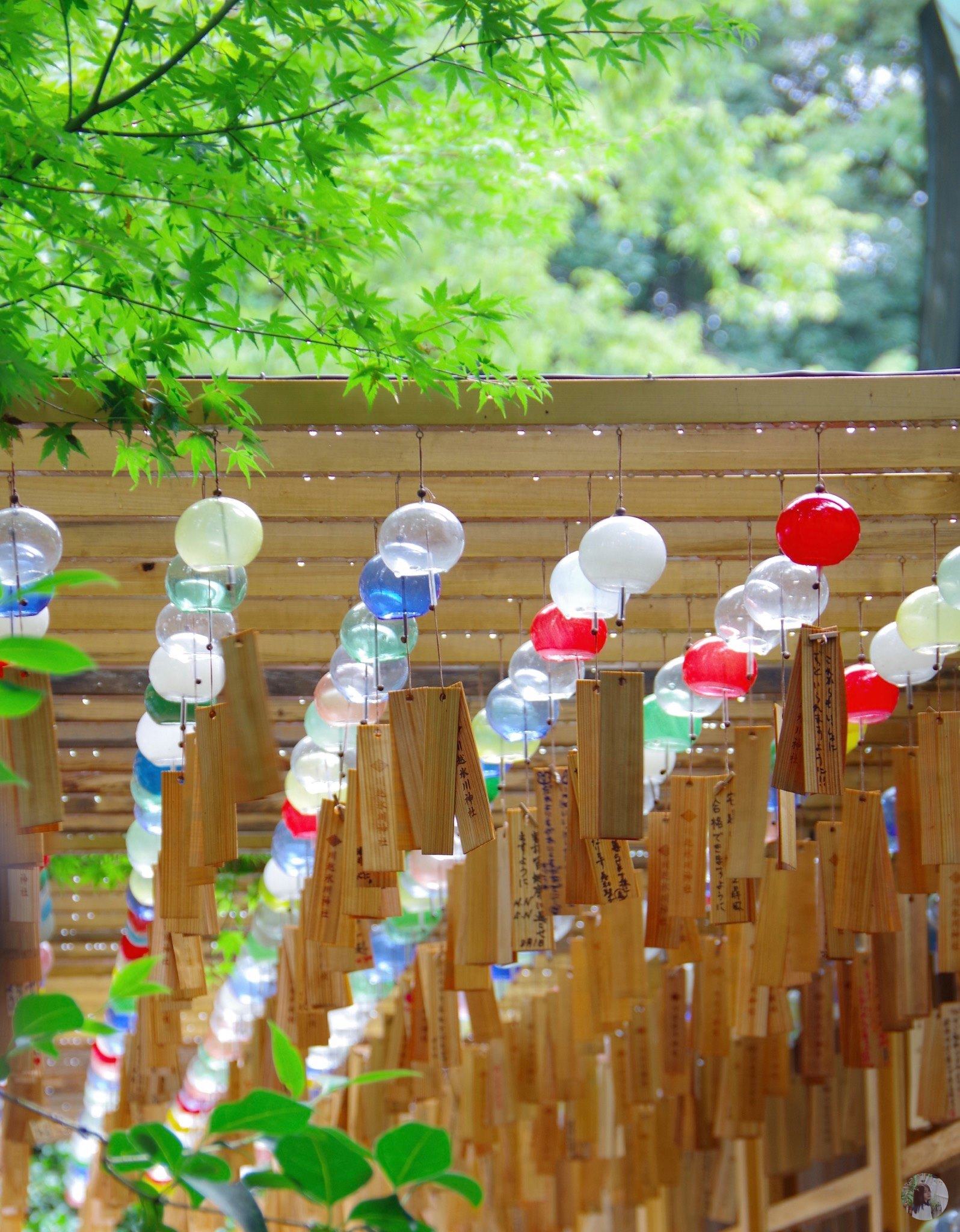 Small chimes swaying in the wind created not only a beautiful sight but also unique and pleasant sounds.
The shrine is divided into several areas and each area is decorated differently. I came across a wall with lots of pretty little pinwheels and a hallway full of wooden cards with wishes.
The festival takes place from 9 AM to 9 PM every day. It is already beautiful during daytime, but at night, the sight is even more shimmering and dreamlike. The paths of wind chimes, with their remarkable lights, make the atmosphere become so romantic.
After a day at the festival with a bunch of pictures, it was quite late, so I had to say goodbye and went home. Lucky for me, I had enough time to experience the festival from morning until evening.
It can be said that this is an ideal place for everyone, especially young people who want to come to pray for a happy love life. As for me, this is not only a place to visit and take pictures, but simply a place of retreat where I can immerse myself in the gentle and serene sound of wind chimes...
"You've gotta dance like there's nobody watching, love like you'll never be hurt, sing like there's nobody listening, and live like it's heaven on earth."