Travel
Shibamata - Main shopping street & Snacks
Time travel back to the old-school town, away from the hustle and bustle of the usual Tokyo and enjoy Shibamata's famous Kusa Dango!
If you, like me who have never heard of Shibamata, read on! I had never heard of this place until my friend suggested it. So we decided to do a short day trip to Shibamata and see if there are any interesting things.
Shibamata is on the Keisei Kanamachi Line if you are changing from Nippori Station, I highly recommend you to get the Keisei Line One Day Pass at JPY510.
In case you would like to go up and down the line and perhaps even drop by Oshiage to take a picture with the Tokyo Skytree, this ticket will be an advantage. If you stay along the Keisei Line, that's even better. You can save so much on transportation.
Shibamata serves as the home of Tora-san
He is actually a really famous character from a super popular series of movies, 男はつらいよ (It Is Tough Being A Man). The 48 movies aired between 1969 to 1995 so you can imagine how highly popular this character is. Once you get out of the station, there is a bronze figure of Tora-san and his sister, Sakura.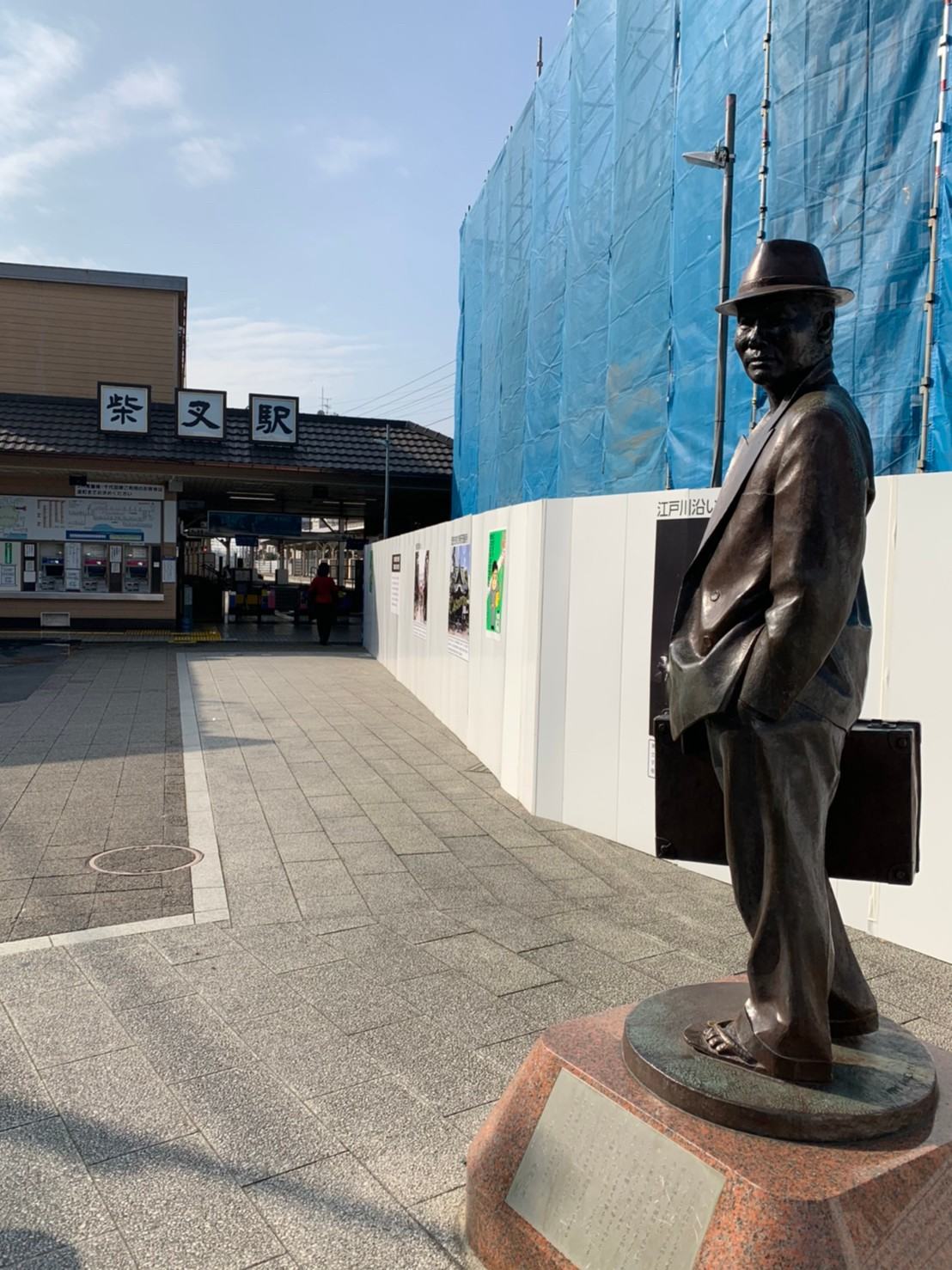 Sakura is just beside him so you can take a picture with both of them when you are there.
The moment I got here, I already felt like I was sort of transported a couple of decades backwards.
The streets were filled with interesting shops and the signboards were all so pretty to look at; so different from what we usually see in the heart of Tokyo.
One thing interesting I noticed was when we were there in the morning, there were only senior citizens. It was only from mid-afternoon when we started seeing younger people appearing. I felt like we were on a trip with many grandparents and that was a pretty interesting experience.
Now is apparently the season for Chrysanthemum so there were so many pots we saw when we were strolling around the area. They were all so big and tall and so very pretty. There were some that were as tall as me (161cm).
I never knew Chrysanthemum could grow this tall so I learnt something new that day!
This shop was SO interesting. It was filled with snacks and kinds of stuff from the old days. There were black and white pictures of celebrities that would probably make the older generation sentimental. There were some snacks that even we felt were nostalgic because we used to eat it when we were younger.
If you are really young, I guess this might just be an interesting place to experience.
We even discovered pinball machines! Have you ever seen this before? I'm sure our parents will be excited to see this too.
Before going for lunch, we decided to go for a little snack.
The Kusa Dango (mugwort dumpling) is one of Shibamata's famous speciality so we knew we had to try it.
It is these green balls with coarse red bean paste on top of it. I am usually a fan of the Kusa Dango but this was so strangely sticky that we had such a hard time getting it off the plate. Maybe the person making it that day wasn't having a good day.
The other one we tried was the Kuzu-mochi (arrowroot cake). This is also another speciality that is served with brown sugar syrup and kinako (soybean) powder. It apparently has a special flavour to it because there is a fermenting process involved during the making of this dessert but I didn't taste anything special that day.
** One tip is that if you go earlier in the day, please buy the desserts that catch your eye because by mid-afternoon, some of it might be sold out. I wanted to try the Shibamata Mochi but I was too late.
And that concludes part 1 of my Shibamata trip. The sights are worth seeing but the desserts we had were not so good. In the next part, I will talk about our lunch and a couple of attractions. Till then!
I love eating and traveling. Always in search for the next good place for food and beautiful views. Come join me on my adventures!