Culture
Shibuya – The busiest crossing in the world
Every day there are thousands of people in a hurry of their busy life...
In November 2019, I had the great opportunity to go to Japan for a short business trip and my very first destination was Tokyo's Shibuya. Some papers had mentioned that Shibuya was the most busiest place on earth. That's the main reason why I chose to explore Shibuya. In my mind, Japanese people are very hardworking and devoted most of their life for working. Actually, when I just arrived in Tokyo I felt like that all people here seemed in a hurry and when I came to Shibuya, I had to admit that it what people said about Shibuya was true in every way.
The main means of transportation in Japan are trains and cars. For better convenience Japanese people prefer to walk if the distance among desired destination was short. I was super impressed to witness thousands of people passing through crossing from dawn to dusk every day. Unlike other crossings I knew, all the traffic lights at the Shibuya crossing would turn red at the same time so that all pedestrians could cross over the street simultaneously. It made a very signature scene for busy lifestyle in Tokyo.
If you wish to enjoy the whole view of the Shibuya from above or take pictures, I highly recommend you to go to Starbucks in Tsutaya building. Enjoying a hot coffee in such a cold day while seeing thousands of people moving nonstop was an interesting experience. However, I had to patiently wait for a long time to get a nice place to stand because this shop was full of people all the time. While waiting, you could go to the upper floors to wander around or buy CDs, DVDs disc...
Also, this was a shopping paradise surrounded with many malls like Shibuya 109 for trendy girls to buy all kinds of clothes, shoes, cosmetics .... and there were countless SEIBU Department Stores - a shopping center with many famous brands as Adidas, Uniqlo, Muji ... or department stores with Kinokuniya bookstore.
Contrary to the fast-paced life in Shibuya, there was a corner that made me feel so peaceful. At the exit of the station 8, a bronze statue was carved to commemorate the dog Hachiko about his loyalty to his owner by continously waiting for 9 years. If you have a chance to visit Shibuya, don't forget to say hi to Hachiko!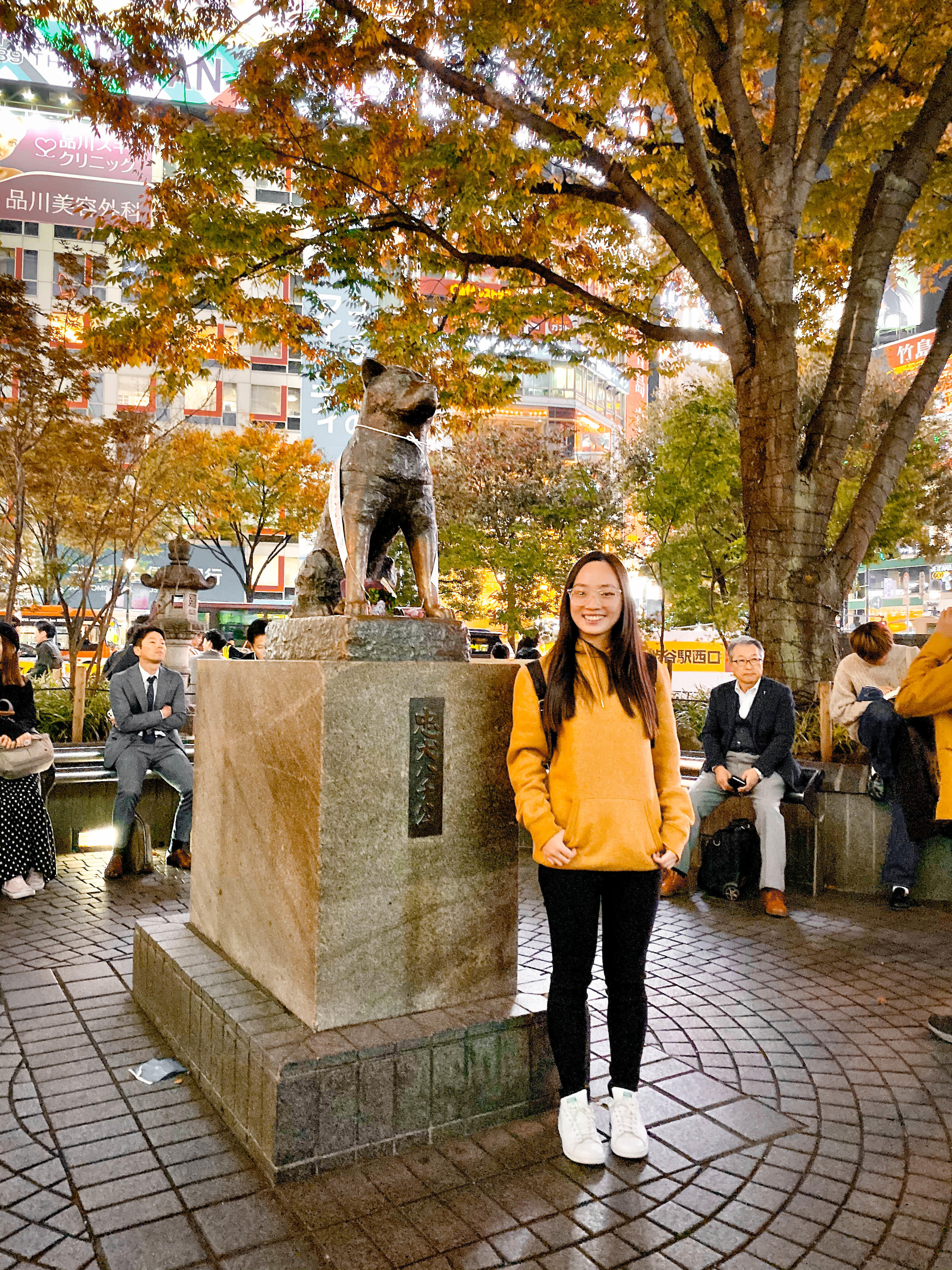 Another great thing that I realized in Japan is the streets are always clean though they are packed with people all the time. It is very hard to find a trash bin in public areas but people are very conscious about the environment. Everything in Japan is very expensive, including waste expenses. To minimize waste Japanese government has put very few trash bins in public places. I didn't even know about it! When I finished my food and drinks, I went for a long way and tried so hard to find a trash bin to throw them away but I failed. As a result, I had no choice but bring them along during my visit on the day. So if you are traveling in Japan, please prepare a small bag with you to store garbage at any time.
It was my first time to be in Japan and those are all the things that made me excited about the people and lifestyle in Japan. See you in the next article.