Culture
Sparkles of Summer ~ Hanabi Season in Japan
When you think of summer, what immediately comes to mind? Biting into juicy watermelons, iced sodas, ice-creams and diving into a ice cold pool. But in Japan, it's also firework season.
Every during July-September, Japan hosts Firework festivals all over the world, fireworks which is also known as Hanabi 花火, Literally meaning "flower fire" in Japanese is a significant symbol in Japan for summer season.
Always good to find out more about the background
Hanabi was originally used to "frighten" away the evil spirts and actually go long way back in Japan history, tracing back to have started in the Edo period (1603-1868) when peace in Japan was restored, and people decided to make fireworks to honor to Shogun Tokugawa Ieyasu (徳川家康).
The first Hanabi festival was held at Sumida River, hence till this day, Sumida River firework festival still has the longest history and one of the most popular firework festivals in Japan. There are usually many Hanabi festivals schedule through out July to September, usually held on weekends
Some really fascinating points about Hanabi Festivals:
People take it very seriously! Girls will go get their hair done professionally to match with their Yukata, even men dress up and wear their traditional wear.
There are so many mouthwatering yummy food and game stalls around the festival, otherwise some families bring their own picnic basket to enjoy while enjoying the firework show.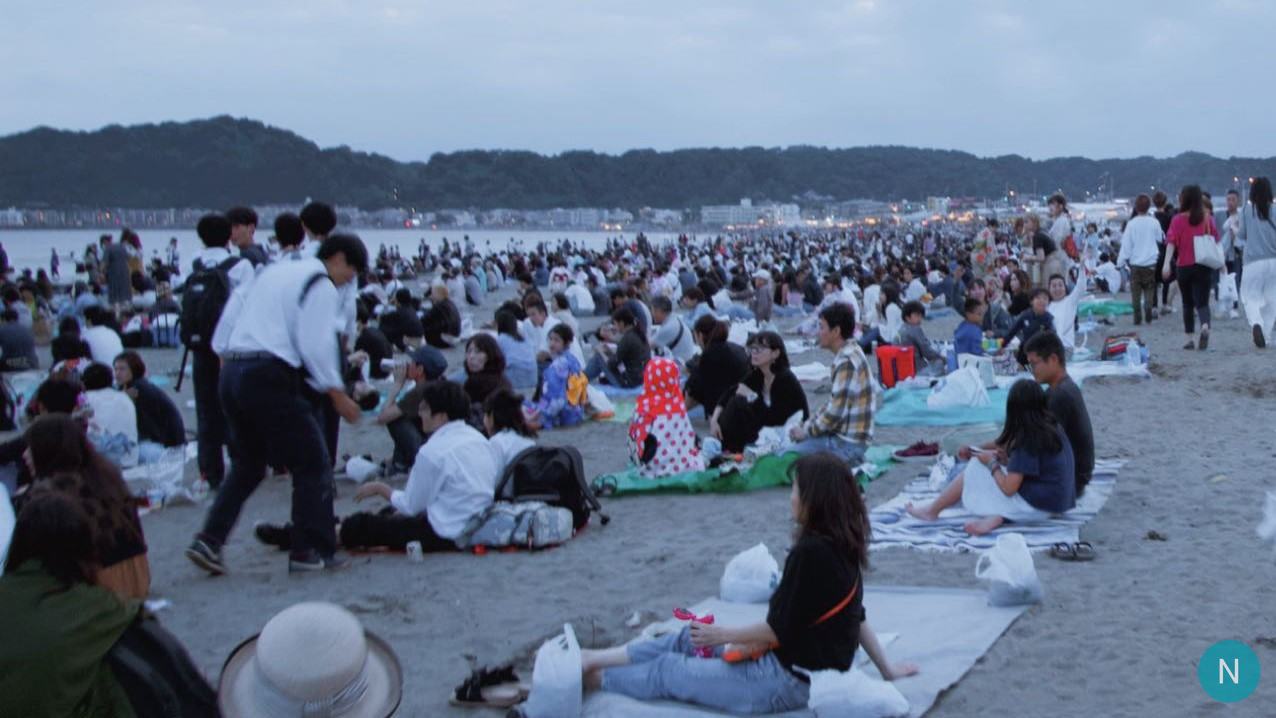 Fireworks let off at these festivals are done by licensed and firework expert professionals, and they definitely turn the usually two-hour firework display into a spectacular show.
At the festivals, there's music, firework designs and sometimes heart shape, cartoon shaped fireworks and people around you, all relaxed and enjoying their yummy food.
TIP: If you don't bring your food and want to buy it at the food stalls, remember to bring small cash, because most of the food stalls don't have card machines, and with the long queue, you don't want to spend all your time queueing.
When a person of the opposite sex invites you to this festival, it usually means there's more in it than normal friends, I only realized afterwards, when I told my partner before knowing him, I had gone to a firework festival, and his next question was, with who?
Usually, for the Japanese, going to watch the firework festival and getting dressed up is really romantic and is something many dream of going with a romantic partner. (By the way, I went with my classmates)
Another TIP: always try to go earlier to secure a better viewing spot, because it can get really congested, even started from the train stations. There will be fierce competition for a good viewing spot!
There are a lot of items in Japan sold during summer related to summer fireworks, in memory of not be able to attend the Hanabi festival in 2020, I bought a starbucks membership card limited version of the Hanabi.
I went to the Kamakura festival in 2019, unfortunately the 2020 ones were all cancelled due to Covid. I was still a student back then, so we locked our school bags in lockers at the stations and we went straight after school to try and secure a better seat.
However, we were so unprepared, the Kamakura festival is at the beach, which is super romantic and beautiful, but TIP for anyone going, please take a picnic mat/something to sit on. We didn't have anything to sit on and didn't bring any food or drinks. We looked around and everyone was sipping on ice cold beers!
I must say, when I first saw the fireworks, with the music and the surrounding, it was really touching and beautiful, the beauty of Japan really went straight into my heart and soul, it's so difficult to explain through words of that moment but those who have watched Japanese anime or movies will be able to understand that spirit.
Lastly, as we are not sure if 2021 Hanabi festivals will still carry on, but here's a list of the top 8 Hanabi festivals in Japan for anyone interested and can start watching out for the firework schedules.
• Nagaoka Fireworks Festival.
• Omagari Fireworks Competition.
• Tsuchiura Fireworks Competition.
• Sumidagawa Fireworks Festival.
• Kumano Fireworks Festival.
• Kachimai Fireworks Festival.
• Naniwa Yodogawa Fireworks Festival.
• Miyajima Fireworks Festival.
For those who have a special someone in mind, it's your perfect chance for a memorable perfect traditional Japanese date, so brave up and ask that person! For those who just want a relaxed day and trying out Yukata, it's also your perfect opportunity to enjoy the summer of Japan to the fullest.
Born: Taiwan Raised & Education: South Africa Background: Int Telecommunications. Currently living: Tokyo, Japan. Studied @ Waseda university. Current Job: @Tokyo in Technology Consultancy. Interests: Love exercise, Food, travels! Follow me for more insight into Japan life!