Culture
teamLab - Lost in the art world
teamLab is a leading arts organization in Japan with lots of exhibitions year-round held all over the country. I have been immersed in the art world of teamLab twice and I felt like I could never stop myself from falling to such the most beautiful dream.
1. What is teamLab?
teamLab is an arts organization with people passionate about bringing science and technology (sound, light, sensor ...) in a harmonious combination with art and the natural world.
2. What does teamLab do?
Not only permanent digital art exhibitions in Tokyo, Shanghai, Singapore, etc, teamLab also organizes seasonal and themed exhibitions across the country as Fukuoka and Chiba.
On permanent showcase artwork, teamLab combines projection technology with animation in harmony with the mother nature to create sparkling, illuminating and magical scenes that I could never find somewhere else. Besides, their short-term exhibitions open up a great opportunity to the audience in the journey of exploring the region from a creative perspective of view by focusing on the history and culture of the land.
Video description: Forest of resonating lamps which inspired by the beauty of wisteria - One of their permanent exhibitions in Tokyo
TeamLab's exhibits are often aimed at discovering the human perceptions and emotions along with the surrounding world in borderless and multi-dimensional point of views. Visiting teamLab's exhibitions, observing the movement of the light while immersing myself into music made me pretty chill out to explore more, reflect on myself and unleash my imagination. And I bet you'll definitely have great moments here with one-of-a-kind photos!
3. What are the activities in teamLab's exhibition?
These are things I have experienced so far by attending their exhibitions two times in USA and Fukuoka. Every exhibition promisingly reveals uniquely hidden secrets to the audience so please never miss a chance to go there if you have one.
This is probably the most exciting thing about teamLab exhibits. Here, I have experienced a lot of magical spaces that could not help but burst into surprise and admiration.
Video description: It shows how technology is applied in the creation of space filled with lights to deliver innovative views about forests and nature
These light illuminating eggs move back and forth like a cute tumbler and all can change color at the same time to create splendid scenes. One special thing was that all the audience including me were allowed to touch and slightly pat on them to make them wobble like tiny tumblers. They greatly surprised me on how they let us feel and interact with creativity and arts.
Draw and paint characters yourself
This is a brand new way of interaction I only found in teamLab. When you come to the exhibition, especially temporary themed ones, visitors can color and make their own paintings based on prepared drawings. They are often historical characters of a region, seasonal flowers or a myriad of adorable things. Then, the paintings are scanned and presented as a short animated movie.
Not only about stimulating our creativity but this particular activity also made me (and many kids) excited by seeing how our works were animated. It was probably an unforgettable experience for me when I painted a picture of the historic character of Fukuoka at the exhibition.
You can also watch this video to know more about the whole process including painting, scanning and animating the drawings
Another impressive thing about teamLab is their activities do no harm to nature since nature itself is perceived as a form of art. By adding light, sound and sensors to nature, teamLab is making the beauty of nature lively than ever. And this magical forest is a convincing proof for what I just said.
It is the boundless creativity of teamLab which brings you lovely surprises on every exhibition.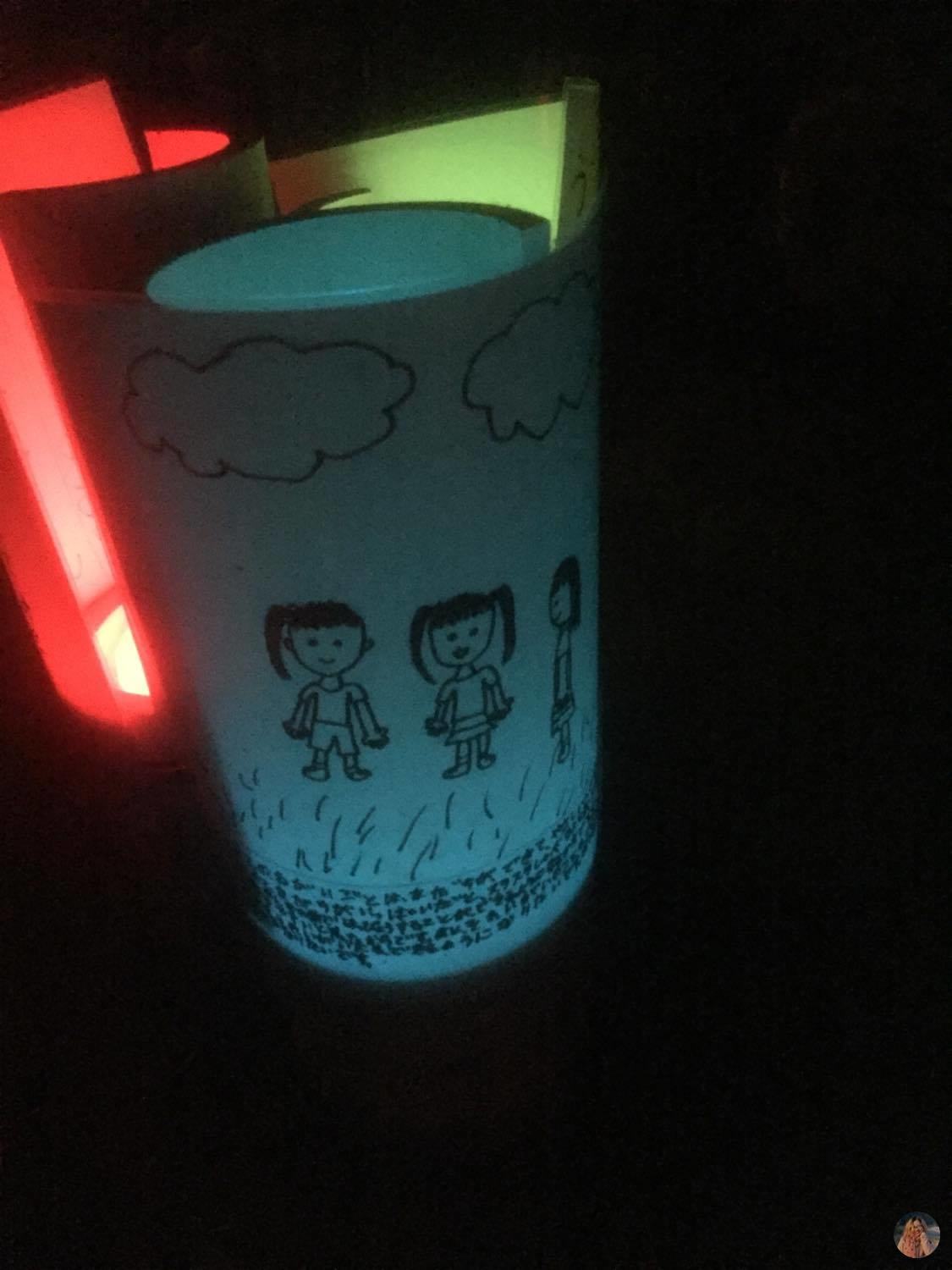 4. Where does teamLab hold the exhibitions?
You can find all permanent and temporary exhibition venues of teamLab on their homepage. Whenever you plan to travel to Japan, take some time to check teamLab's website to see whether they hold any exhibitions in your planned destination!
5. Ticket fee to get lost in the art world
Ticket price varies depending on the venue and the type of exhibition. Based on my experience, the price for temporary events is more affordable at ¥500 to ¥1500 ($4.7~$14) while their permanent and major exhibitions usually cost you around ¥3200 (~$30) per pax. Prior to your visit, please check your ticket price on the website and purchase in advance if possible to avoid situations when all tickets are sold out!
Above are my unforgettable experiences when attending teamLab exhibitions. Which activities are you most interested in?
See you again in the next post!