Travel
The coral Kochia season at Hitachi Seaside Park
Japanese usually call Kochia "Hokigusa" – the grass used to make brooms. It may sound not as pretty, but its beauty is no simplicity. Sometimes we catch sight of Kochia on the roadside, but I have never seen elsewhere with a vast field of only Kochia like in Hitachi Seaside Park
On a business trip to Ibaraki, I happened to be invited to Hitachi for some "virtual life" photos by a friend. That day was beautiful, not sunny, not rainy, overall it was very nice. We spent 450 yen/ticket to get in.
On the bus coming here from Katsuta station, we heard many people chatting:
- Is it "red" at Hitachi now?
- It's gone red now. At this moment it's the most beautiful!
Yes, they were talking about the red color of Kochia. At first, it would be green, and then it would turn red in late September - early October. An entire hill of green would be just as expected, but it would be fantastic when it turned into a vast land of red.
We went there in the middle of October. By then, Kochia had put on their new brilliant coats. When setting foot on the small winding trail, I was overwhelmed by the scenic nature. The round and fatty bushes were sitting next to each other, spreading over the hill.
We arrived when dusk was falling, the bright red of the flowers blend with the orange setting sun, making the view so dreamy and majestic. I felt so tiny standing in the middle of the vast red flower sea.
I felt the "heat" of Hitachi Park right then as many people coming here to enjoy the flowers and take photos. The place was like a paradise with millions of types of flora, so it would not be difficult to take "so-deep" photos.
Not only Kochia, but visitors could also enjoy cosmos flower reefs blooming in purple. Some reeds that had turned into yellow waving in the wind faraway. Each wind blow brought the fragrance of flora, reminiscing me of the countryside, a peaceful flower valley.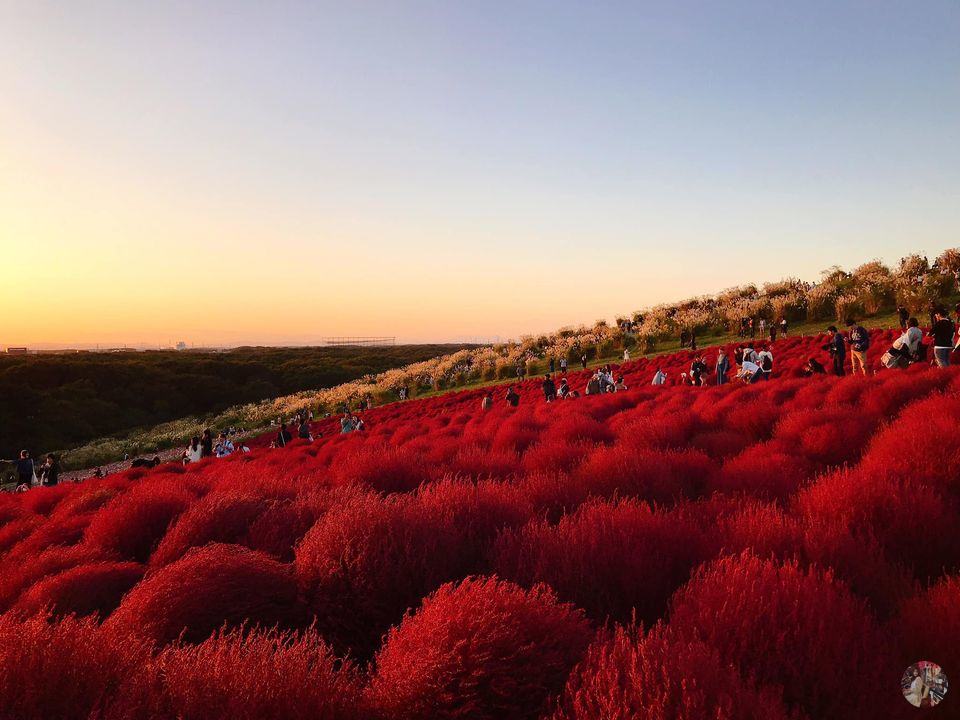 Then we rented mini-bikes and went around the park to enjoy the remaining atmosphere of a nice day. If we had more time, it would be better to come earlier to go to the amusement zone. There were many rides for kids and adults, notably this giant Ferris wheel.
It would be great to see the view from up high, but unfortunately, we only could take the picture, not tried it yet. Later if I had the chance, I would definitely spend a whole day exploring every corner of Hitachi Seaside Park.
Autumn in Hitachi was that of a beauty, but don't miss other seasons as well. In winter, around January, tulips will reign the place. From the end of April to the end of May, Hitachi will put on a blue shirt of the peculiar and beautiful Nemophila in summer.
No matter which season, Hitachi would satisfy the eyes of those who love nature and bring a fascinating experience to visitors. I hope you will have a memorable journey coming to this flower paradise with friends, family, and loved ones!
Hi guys, my name is Huong Giang. I love travelling and Japan is the place that I can do what I desire to do. I hope my experiences will inspire you and it would be glad if we can share our things in common <3