Lifestyle
Tokyo Cafe Hopping 02: Coffee & Toast Tokyo
Japanese local tiny cafe in Sangenjaya (called as "Sancha"). As the name tells, "toast" is their specialty. Must-try, highly raved cafe in Tokyo.
This cafe was actually introduced to me by a friend who is not even in Japan. But she is very good in looking for amazing cafes so I trust that this was going to be a promising one. So I brought another friend so that we can try two different menus in this toast speciality shop.
Location
Coffee & Toast Tokyo is located near Sangenjaya Station which has two lines: Tokyu Denentoshi Line and Tokyu Setagaya Line. It's almost 500m away from the station so please remember to eat something before this or else you will become hangry (angry + hungry). Despite the distance, it's quite easy to locate and we didn't get lost trying to find it.
Coffee & Toast Tokyo
There is a menu outside for you to go through first. So if you don't want to go inside, sit in awkward silence and take up the place for too long, you might want to look at this first and decide before going in.
Do call out or show yourself so the staff will be able to notice you. Just standing at the entrance might not work because the staffs are really busy.
On usual days, there should be quite a queue but we were pretty early and it was a weekday, so we managed to get in immediately. One second later and there were already people waiting outside.
It is quite a tiny shop with only 9 seats. It's run by a couple and it feels very family-like. This place felt like a high-class breakfast place to me. The woody interior and soft lighting were definitely a huge plus for me. It made the entire place warm and homey. There's a very comfortable atmosphere, quiet and I would even call it quaint.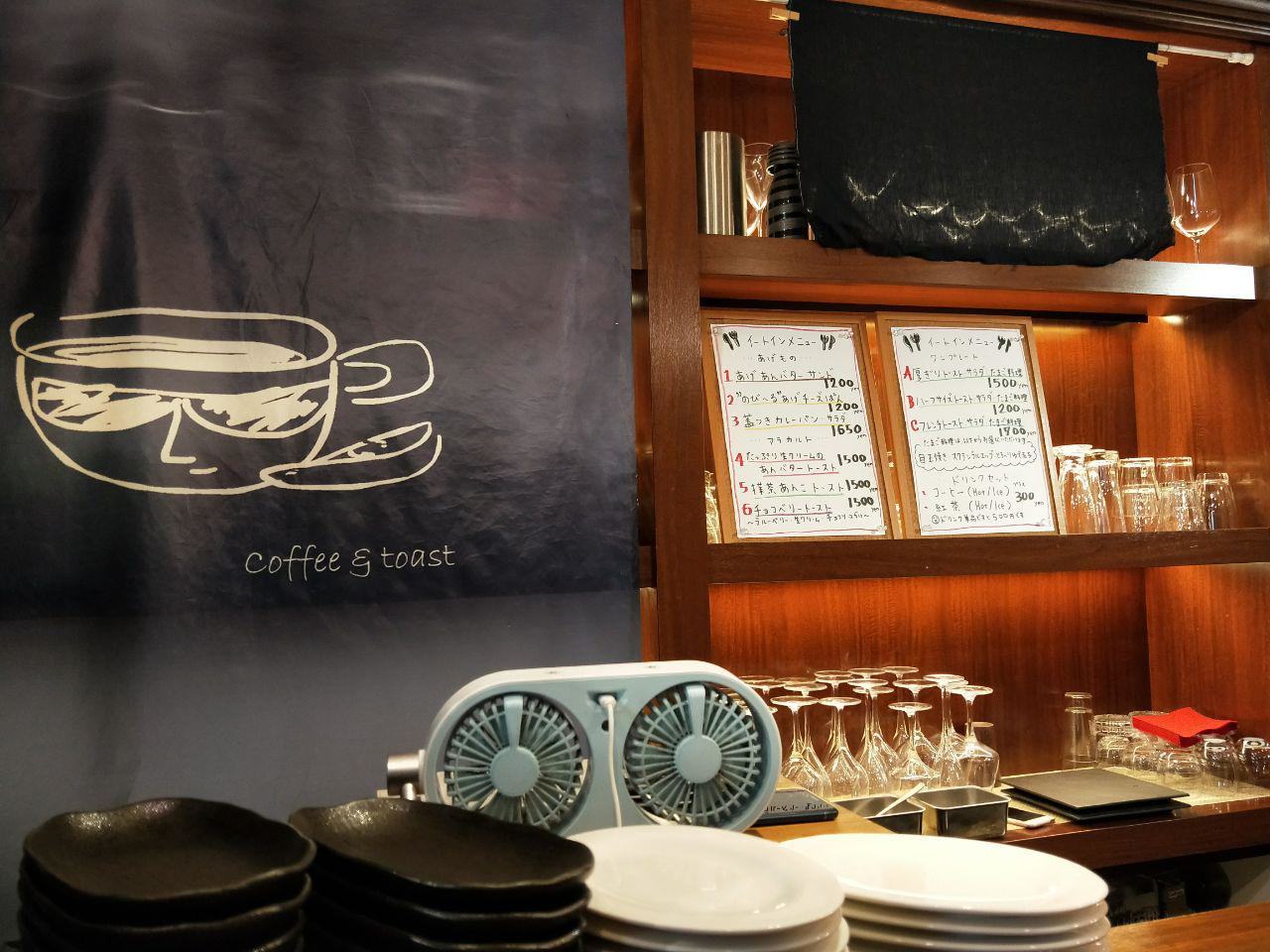 If you have the opportunity to sit at the counter, you get the chance to change your mind again because the menu is right in front of you. One note though, the menu is written only in Japanese.
If you can't read Japanese, maybe you can challenge whichever and be surprised with what is served. If you are worried about your pronunciation or shy about ordering in Japanese, don't worry, most of the menu has numbers or alphabets beside it.
So we made our orders and waited. It takes quite a while because only one person is making all the orders. Our water only came a few minutes before our sandwiches came. But the staffs were really nice.
My friend went for number one: Age-an Bata Sando (Deep Fried Red Bean Butter Sandwich) at JPY1200. This was such a fantastic combination. The red bean paste wasn't too sweet and the butter wasn't too heavy. The different textures between the red bean, butter and fried bread was heavenly.
I went for number two: "Nobi~ru" Age Chi-zu Pan (Deep Fried Stretchy Fried Cheese Bread) at JPY1200. A basil sauce came with it as well. It was a really delicious combination. The basil sauce was really fragrant but it was a little too salty for me.
Even without the basil sauce, the cheese sandwich on it's own is good enough. There's a generous amount of cheese inside. The cheese wasn't too salty or flowing all over the place. So other than the crumbs, it wasn't too messy.
At first we were worried if the sandwich was too small and if it was really worth the price. But after trying both sandwiches, let me assure you, it's worth it. We were also worried if it was going to be too heavy to digest but that was okay too. Even after it cooled down, it didn't become disgusting and oily.
Overall, I think this is actually worth your time and stomach to try. I'll give it about 4 out of 5 stars. The menu changes quite often as well so I think that makes it another point to look forward to every time you visit. Let me know in the comments if you have tried the other sandwiches!
I love eating and traveling. Always in search for the next good place for food and beautiful views. Come join me on my adventures!