Travel
Treasure in Tokyo - Kagurazaka
Ever wondered how it would feel to walk stroll down the streets surrounded by rich Japanese culture in the busiest areas of Shinjuku, yet indulging in the inner peace? Kagurazaka is definitely a treasure of Tokyo.
If anyone had to ask me, where is my favoruite place in Tokyo, it would definitely be Kagurazaka 神楽坂 in Tokyo. Situated close to Idabashi station and Kagurazaka on the To-zai Line Metro.
Kagurazaka's main street was once the outer edge of the Edo Castle and in the 20th century it was renowned for it's famous geisha houses of which can still be seen around Kagurazaka now.
Kagurazaka has always been a popular area to live in for Japanese people in Tokyo due to the location being close to Shinjuku and boasting several eateries and cafes on the main slope.
While still holding to the traditional Japanese atmosphere, Kagurazaka will surprise you with the significant standing French presence with cafes, eateries and patisseries available on the main street.
When I came to Tokyo to travel for the second time alone before moving to Tokyo to study at Waseda University, I chose Kagurazaka to stay for it's location close to the university and Kagurazaka has become my favorite spot in Tokyo.
Although I don't live near Kagurazaka anymore (the accommodation rental here definitely gives you a very good indication of the popularity of this place), sipping on coffee with a book and sandwich here in Kagurazaka is definitely my unwind-spot in this hustling city.
So what is there good to do?
For those who want to take a walk down the Kagurazaka-dori (the main road), I would recommend starting off there for afternoon tea or a brunch. As a major food fanatic, Kagurazaka boasts numbers of old and famous restaurants serving traditional meals and expensive kaiseki cuisine, traditional matcha restaurants in the small alleys. A lot of the restaurants are hidden in the alleys off the main slope, and
Tip: The main road through Kagurazaka is closed to car traffic every day from 12:00 to 13:00, and from 12:00 to 19:00 on Sundays and public holidays.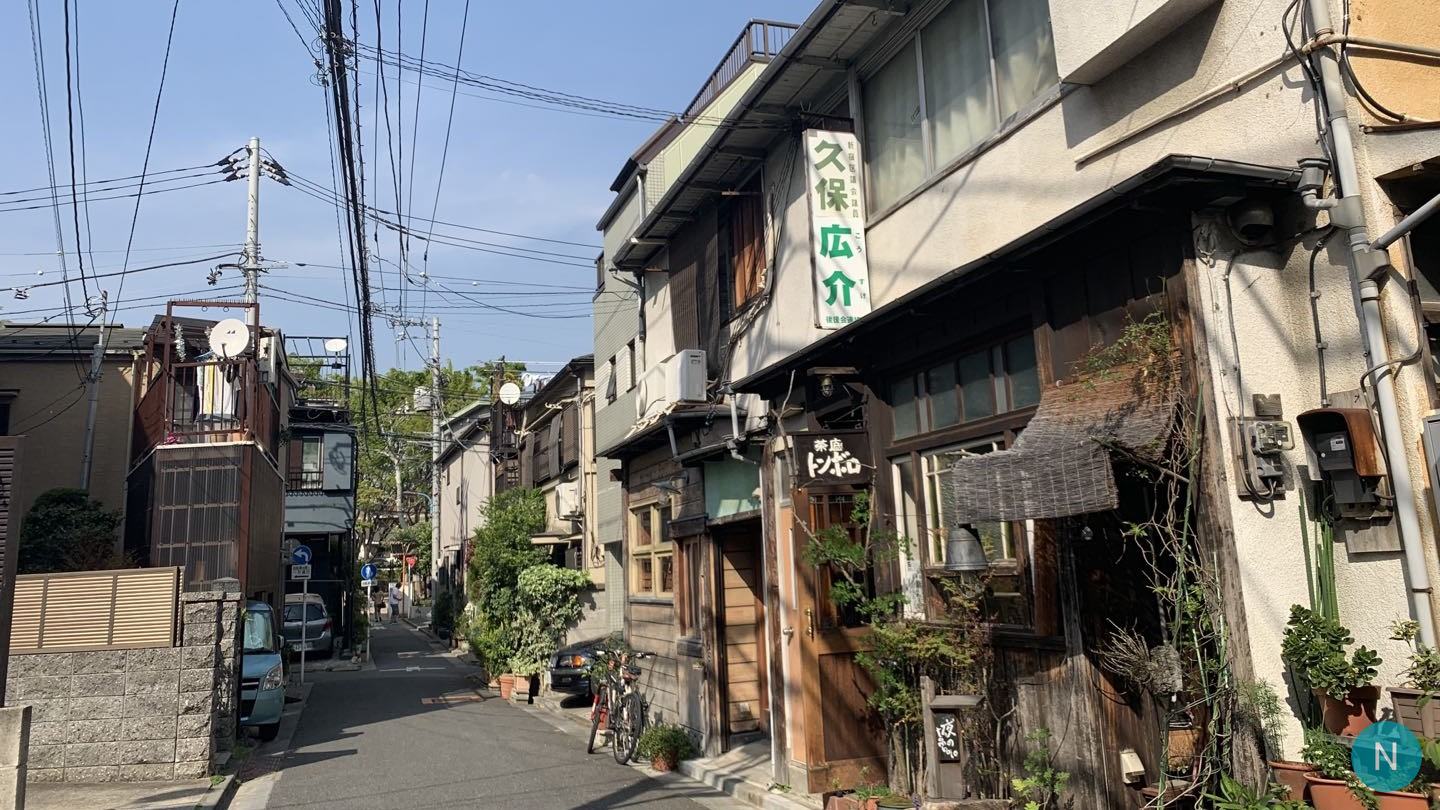 If you're not the hungry type and just want to indulge in the moment of Edo, there is 1 major landmark here, the Zenkokuji, a temple situated in the middle of the main slope of Kagurazaka.
It was built in 1595 and it's full name is Bishamonten Zenkokuji which dedicates to Bishamonten, one of the seven lucky gods of Buddhism and the God of treasure. (Which fits in perfectly with my idea of Kagurazaka being the treasure of Tokyo!)
If one comes in spring, April-May period, you may catch a glimpse of the beautiful purple flowers blooming in the temple.
Another major attraction is the canal café which can be found at the very end of the Kagurazaka main road, close to the Idabashi station. The café overlooks a river and was set up as a boat dock produced by Tokyo Suijyo Club in 1918.
It is known to be one of the desired dating spots for couples too! I went to this café at night, after a long evening and enjoyed watching the water flow by while sipping on a nice drink.
Book stores, French patisseries, coffee shops, eateries, matcha shops, traditional Japanese cuisine, matcha cafes, if you're looking for that stroll that allows you to travel in a time machine to Edo and old French times, or you're looking for a weekend brunch and book day, please take a visit to my favorite place in Tokyo.
Disclaimer: all pictures are taken and are writer's own pictures.
Born: Taiwan Raised & Education: South Africa Background: Int Telecommunications. Currently living: Tokyo, Japan. Studied @ Waseda university. Current Job: @Tokyo in Technology Consultancy. Interests: Love exercise, Food, travels! Follow me for more insight into Japan life!