Travel
Watching maple leaves in autumn in the fairytale-like Shirakawa-go ancient village
Shirakawa-go is an ancient village that is remote and far from modern life in cities. Still, nearly 2 million people are coming here to enjoy the peaceful and quiet atmosphere of the countryside every year.
Shirakawa is peaceful with distinctive thatched houses and golden rice fields that are a feast to the eye. It seems that amid the modern chaotic life, this fairyland is the safe haven for people to come and forget about all the fatigue and sorrow.
To me, Japan is very special since it can always bring me surprises, one after another, and the autumn in Japan is no exception.
Two years ago, in November, fate brought me along with my Nikon to the beautiful Shirakawa-go village. In autumn, this place is covered in the dreamlike color of yellow and red leaves and looks like something coming straight out of a comic.
Shirakawa ancient village - a fairyland in real life
This ancient village is about 2 hours by car from Nagoya. To go to Shirakawa-go, people often go to Takayama city, then take the bus to Shirakawa-go which costs about 2400¥.
In 1995, Shirakawa village was recognized as a World Cultural Heritage by UNESCO with the name "Historic Villages of Shirakawa-go and Gokayama".
There are more than 100 houses that were built hundreds of years ago in the village. These thatched houses were built in Gassho-zukuri (hands in prayer) architecture. The thatched roofs are about 80cm thick and can keep the house warm during 3 months of freezing winter and thick snow here.
This village is also known as the place where author Fujiko F. Fujio created the first volumes of Doraemon.
Therefore, when people do not remember the name of this place, they would just call by cute nicknames such as "the village of Doraemon", "Doraemon's birthplace". The distinctive architecture here also gave the author the inspiration for some of the volumes.
If you go to Shirakawa-go in the autumn, you will surely be overwhelmed by the peacefulness here. Upon wandering around the village, to get a good photo, all I had to do was to hold my camera up and take it: thatched houses, hills, the bridge across the stream and the list goes on.
One of my main impressions was that all the roads were really clean. You can even go inside some houses and have a cup of tea since the people here are very hospitable and friendly.
Experiences you cannot miss in Shirakawa-go in autumn
GO TO SHIROYAMA OBSERVATORY
To get a panoramic view of Shirakawa ancient village, you should go to Shiroyama Observatory in Ogimachi, Ono-gun, Shirakawa-mura 501-5627, Gifu Prefecture.
It only takes 15 minutes to walk here from the village or you can take a bus which cost you 200¥ for one-way but the entrance fee to the observatory is free of charge.
Standing here, I could have a whole view of rustic and unique thatched roofs. The houses peeking behind the curtain of red maple leaves seemed to have taken me back to the past to live through the past hundreds of years.
WANDERING AROUND SHIRAKAWA-GO ANCIENT VILLAGE
To get into the village, you have to cross a small bridge across a bubbling stream. After that, you will see houses with thatched roofs that look like hands in prayer. In Shirakawa-go ancient village, you will be fascinated by the beautiful scenery and have the feeling that you just walk through a fairy gate. Regardless of the season, this village can conquer you with all it has.
To visit and take pictures at the old Wada Houses, you'll pay about 300¥ per house as the entrance fee.
VISITING THE MUSEUM
Gassho-zukuri Minkaen Museum
In this museum, there are 27 thatched houses, a temple, a coalpit, and a horse farm, all of which were constructed to recreate the image of an ancient village. You can also see handicrafts such as dyed fabric and textiles.
The entrance fee when I went was 200¥/person.
WATCHING MAPLE LEAVES AND HAVING TEMPURA MOMIJI
Tempura Momiji is a specialty of autumn in Japan and it is made from maple leaves. After choosing carefully to get the good leaves, they dip the leaves in the batter, then deep-fried them on medium heat to keep their shape. You can easily find this treat in any restaurant here.
Enjoying Momiji with a cup of Matcha tea when watching maples leaves from these unique houses is an unforgettable experience for me.
The fresh air here was what made me hesitate to leave. I was wandering around the village with my camera to capture all the peaceful moments here. The village and the air here all seemed to have an invisible bond with me. This freshness soothed my soul, at the same time made all the problems in life vanish. My soul was calmed by the sound of the stream bubbling, the birds chirping and the sound of red maple leaves falling...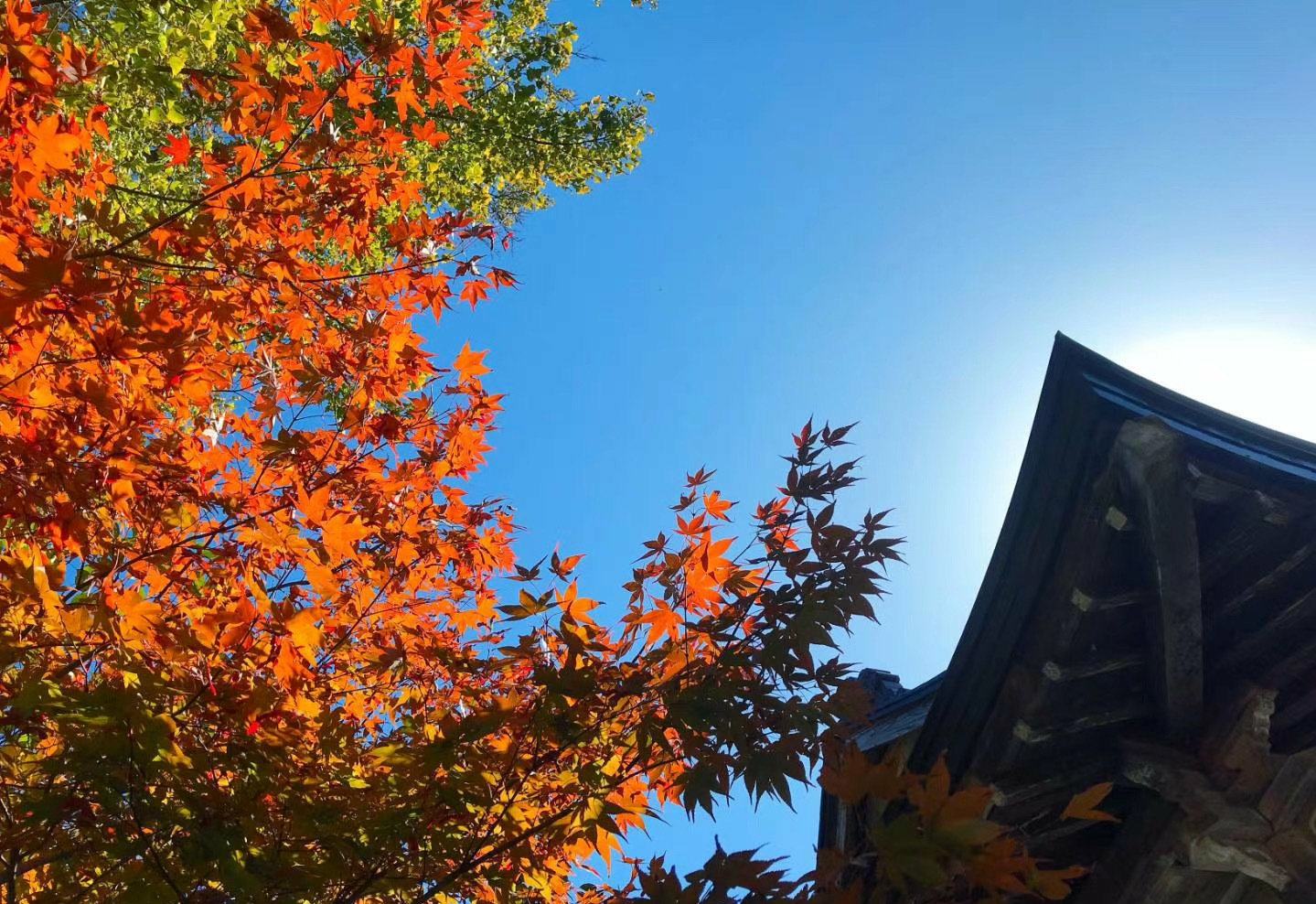 I am still young but it can't stop me from falling in love with the quietness. That's why this rustic and peaceful village is an ideal destination for me. How about you? Do you wish to let go of all the worries in life for a few days to come to this place?