Culture
Wearing Kimono for the first time in Hiji province
The very first time wearing Kimono taught me so much about the Japanese cultures and it was also such an experience that I would never forget.
When I was lucky to attend a cultural exchange event at the university, I went to Hiji province and experienced wearing Kimono for the first time.
About Hiji province
Hiji Province is a small city which only half an hour away from where I live. Walking through each street, watching the trees swaying in the wind, I was extremely excited because I knew that I would wear Kimono for the first time today. However, the weather was a little bad on that day due to the sprinkling of rain.
About Ninomaru Yakata store
The first point we stopped over in Hiji was Ninomaru Yukata store. It was a beautiful wooden house which has a traditional Japanese style with a bonsai garden in front of the yard. The smell of wood, soil, and plants combined with the coolness of the rainy day made me feel comfortable and peaceful. All were my first impressions about the store.
Ninomaru Yakata staffs were exceptionally hospitable and adorable. Though they were advanced in years, they had attached to the Kimono since childhood. Just by talking about how to wear a kimono, watching how they cherished each fabric or carefully selected each hair ornament, I felt the staffs in particular and Japanese people in general were always nourishing a such indescribable love to the tradition of wearing Kimono.
Choose the appropriate kimono
Because my hair was mixed in pink and black, I chose a pinkish and orange Kimono. They also said that brightly colored clothes like this were easy to lift the skin tone of the person, so this is a small tip for those who choose Kimono for the first time.
The patterns of the chosen Kimono were printed in the form of blades and slightly falling leaves which made me feel light like autumn. The winter had just set in so the weather was perfect for this. Don't you feel it? I was told that choosing a Kimono did not always need to be sophisticated. As long as you saw it, touched it, liked it and felt the energy coming from that Kimono, it would be definitely appropriate for you.
After choosing the Kimono, they showed me the obi (the abdomen) and instructed me to choose accordingly. Because the main color was orange, my obi was also orange. The highlight was a thin green rope, the color of leaves. They told me it looked really harmonious on me so I decided to choose that one too!
Wearing a Kimono was quite hard and required many stages. The staffs helped me put on one layer after another and I didn't even remember how many layers they were. But every of them were thin, light, and extremely smooth and creating a very comfortable feeling when wearing. Due to the thick layers, they also "wrapped" me with a lot of strings to keep everything in place. Indeed, it was then that I admired the old Japanese women when they were able to live and work while wearing many layers of clothes and getting wrapped around with so many strings.
Hair styling
After about 30 minutes of choosing and finishing wearing the Kimono, they very enthusiastically helped me with my hair. Hairdressing is an indispensable part to highlight the Kimono so if you are not good at buns or styling, do not hesitate to ask them to help! There were full clips, brooches, and buns so you guys don't need to prepare anything in advance!
Feelings after wearing a Kimono
As expected, wearing a Kimono didn't make me heavy but it was hard to walk around. I almost fell several times because I was not used to the tightness of the Kimono. The secrets on how to walk with ease in Kimono I was revealed by the staffs in Ninomaru Yakata were to keep your back straight, relax, and take small and gentle steps only.
Also, I was taught how to bow traditionally when still wearing Japanese Kimono! So don't be shy, talk a lot to learn new things.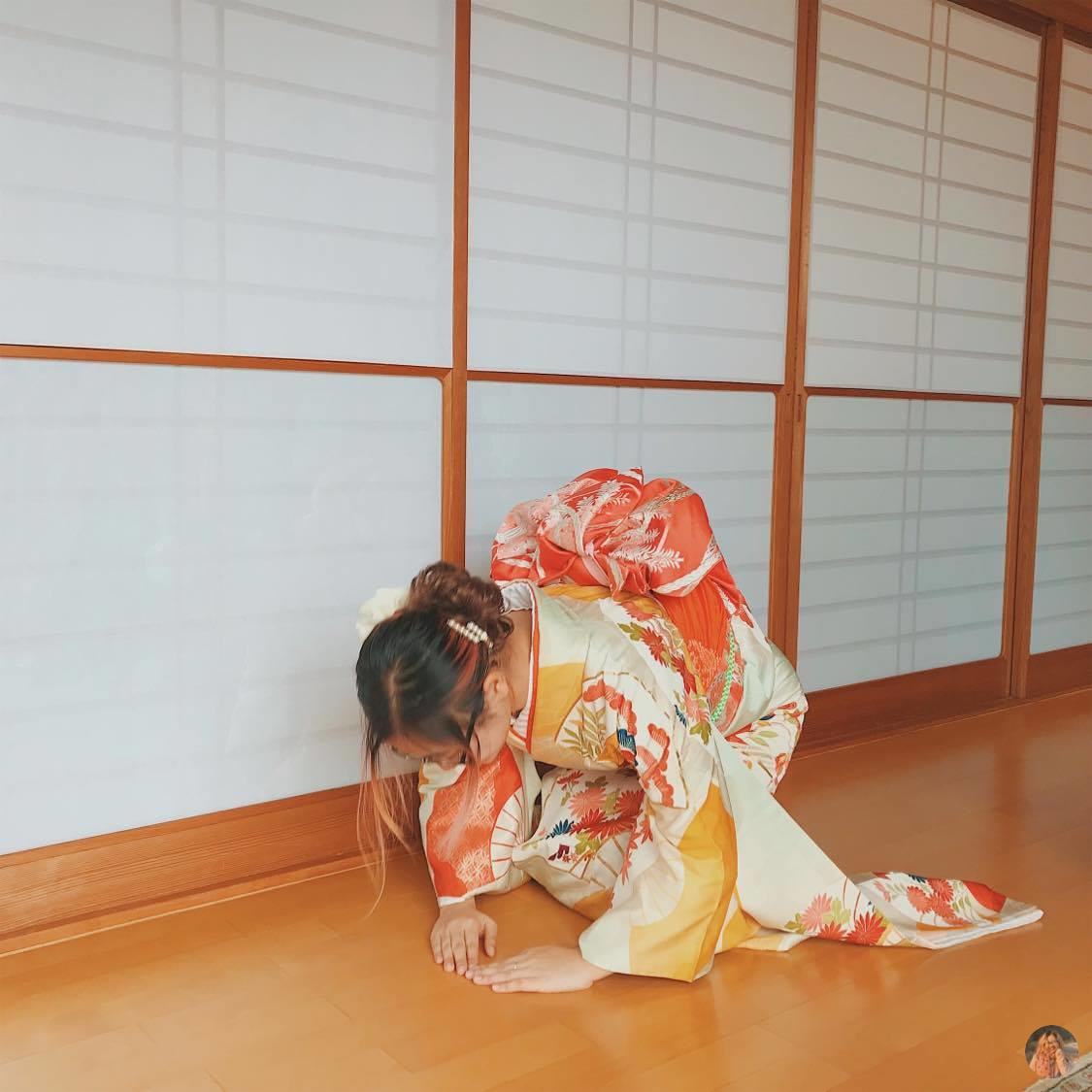 Learn tea ceremony
In addition to the Kimono, Ninomaru Yakata store also offers tea ceremony experience, so don't miss it if you have time! Besides drinking tea and enjoying (very) sweet cakes, they taught us the rules and all sequential steps when attending a tea ceremony. I could not get surprised more by how precise and meticulous the Japanese were.
My experience with Kimono has ended here. My trip was organized by the school so all activities were free. The price to rent a Kimono here is ¥2,000 per day, not too expensive right? This experience has left me with a lot of good memories so I'm looking forward to coming to Hiji again one day!
I hope you guys enjoy my article and see you in the next post!