Culture
What can you learn from working with Japanese people and how can you make the Japanese boss appreciate your effort? (Part 1)
In this article, I will provide some key points based on my own experience. Since this topic relates to the working culture of a country, I cannot cover all the points. However, I think it would be enough for you to develop a proper working style and express yourselves better in a Japanese company.
1. To be punctual and always keep your promise
I mention this point first because it is an important factor to consider when you work with Japanese people or cooperate with Japanese companies.
Japanese people strictly comply with punctuality and always fulfill their promise. Punctuality means you should arrive 5-10 minutes before the appointed time in case you have a meeting with a client.
Also, if your working time begins at 8 AM, you have to arrive at work at least 10 minutes earlier to get ready so that you can start working at exactly 8 AM.
Moreover, once you make a promise, always keep and fulfill your promise. If you cannot do something, just refuse it instead of making a promise and breaking it. As a result, when working for a Japanese company, you can gradually develop a habit of punctuality. This is also a considerable benefit for you in the future, no matter where you work.
2. Ho-Ren-So
Ho(報告): to report
Ren(連絡): to communicate
So(相談): to discuss and ask for an opinion
This is considered one of the basic working principles in a Japanese company, and even Japanese fresh graduates have to learn this when they start working. Ho-ren-so may sound simple but it is a common mistake because of which many employees are reprimanded.
So why we have to Ho-Ren-So?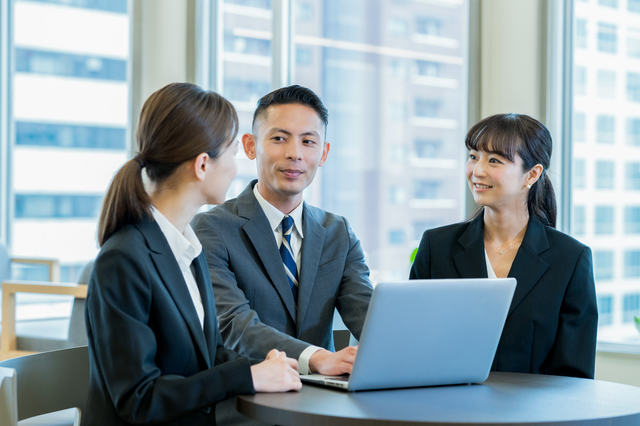 Just put it like this: your work is a link in a chain! If there is a problem with your link, the whole chain would have to stop and wait for you. Also, other phases need to wait for your link to complete before they can continue working.
Your boss and your team need to know your work progress to gain initiative at work. Therefore, always Share your information.
For example, when you are assigned a task, it is great if you can complete it right then. However, if it takes you some days to finish, you need to report your work progress at the middle phase and provide the completion time for that task. As a result, you can learn to report your work and develop useful teamwork skills when working for a Japanese company.
And what may happen if we don't do Ho-Ren-So??
When I interpret and connect the business between Vietnamese and Japanese companies, some Vietnamese companies that do not perform Ho-Ren-So efficiently.
For example, when the Japanese side visits the factory, there are some evaluation categories and requirements that need to be adjusted by the Vietnamese side. However, the common case is that whether the Vietnamese side finishes those changes or not, they would not update or contact the other side. Consequently, the Japanese staff would tell me: "I wonder how everything is going on? Do they allow those changes?". Hence, the Japanese people are confused since they do not know how the work is going.
You see, Ho-Ren-So makes it easier for all related parties.
3. To be principled and attentive
These, in my opinion, are specific traits of Japanese people. They are always attentive, respect the principles, and follow the procedure in everything. Japanese people behave according to their moral principles, not only at work but also in daily life. For example, they keep quiet on the subway and do not make noise in public places.
When working with Japanese people, you need to develop a consistent working style and act in accordance with the principles, whether they are basic or fundamental. Do not be self-indulgent. Remember, being disciplined is one key factor that makes people appreciate you.
Also, you have to admit that it is easier to "handle" your work in a company with a clear working process, right!
All the habits developed when you work with Japanese people will help you become more disciplined, which is a crucial factor contributing to your success in the future, both at work and in life.
4. To learn to be responsible
Most people can detect this trait in Japanese people's working style. Also, thanks to this, Japanese companies always have a high reputation.
Being responsible means you will finish your work at all cost and are willing to take responsibility when something goes wrong.
You see, many billionaires worldwide said that: one key factor that contributes to the success of any individual is Responsibility! Therefore, no matter where you work, as long as you do not forget this rule, you will be highly appreciated! Why? Because it builds up your Reputation.
Japanese people are taught not to bother others from a very early age. Therefore, they possess high responsibility towards their work, thus being able to complete their work effectively without bothering others. Sometimes, I wonder if this sense of responsibility comes from the chivalry of the samurai. Back at the day, the samurai always fought until the end and took responsibility for what they did, right? I don't know about you but I really admire the chivalry of the samurai.
I will stop here for now. Let's wait to see other great things I will share in my next article!
Tôi vẫn luôn thầm cảm ơn cuộc đời đã cho tôi chữ Duyên với đất nước Nhật Bản, để rồi dành gần như tất cả thanh xuân của mình ở một đất nước mà tôi vẫn thường hay nói rằng: Riêng đến vô cùng.