Culture
Yoroi Kizome Festival, where the art of Samurai armour is celebrated
Coming to Kamigamo Shrine on a late autumn day, I was able to get immersed in the Yoroi Kizome Armour Festival. It has left such a strong impression in my heart.
What is Yoroi Kizome Festival?
Held annually on November 23, which is Japan's Labour Day, this festival honours the art of armour making of ancient Japanese warriors.
Not having a history of thousands of years, yet, this activity has been popular among the local people since it was first held in 2008.
On this day, popular attractions in Kyoto are all packed with people. Kamigamo Shrine is rather off the tourist track so it is undoubtedly a perfect destination. As an outdoor activity enthusiast, I surely couldn't miss out on this opportunity. I decided to visit this place as soon as a Japanese friend of mine suggested. Coming here, I could enjoy the festive atmosphere while avoiding overcrowding.
Visit the shrine to sightsee and wait for the festival
The festival was held at high-noon. I came here early to stroll around and take pictures of the shrine grounds during the festival. Colourful flags were placed along the way from the Torii gate to the main hall. The festive atmosphere was criss-crossing all the way around the shrine.
Gorgeous armours of the Japanese heroes
That was my first time to participate in this event. While waiting for the event to kick off, I came across the "warriors" who were dressing up at a side hall. I was immediately amazed at a kaleidoscope of vivid colours in front of my eyes.
The Samurai put on flamboyant brocade costumes, of which the colour palette was inspired by the foliage in the autumn, the season in which the festival took place.
The many small pieces making up each element were meticulously laced together with brightly colored silk cords, with what looked like gilded or brass ornaments on the topmost pieces.
No one wore a sword, but reprising the traditional role of the samurai, many had quivers of arrows on their backs, carried daikyu longbows, and some even had the spare bowstring reel.
The participants ranging from young kids to solemn senior citizens were in different stages of getting armed. Some were lacing on waraji sandals or kegutsu fur boots, others putting on armoured sleeves and lacing on their domaru.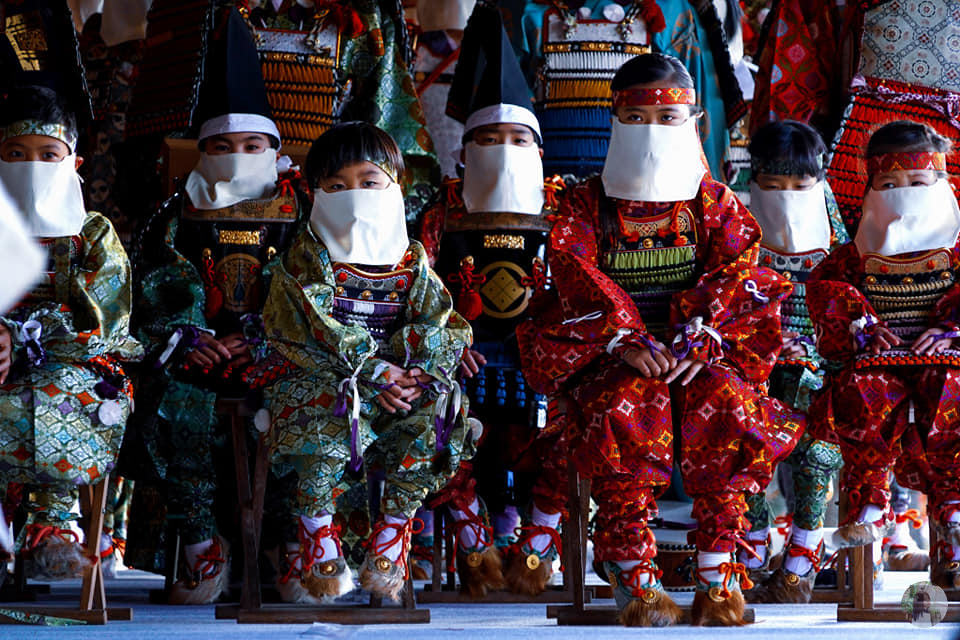 At about 1 pm, the parade officially kicked off
The participants were led out by some of the shrine's priests dressed in white, followed by an old samurai beating a drum to a slow, solemn march. They made a circuit around the shrine, then into the Kagura hall to enact some rituals.
Visitors like me stood on both sides of the road to admire the parade. It was delivering such a strong sense of solemnness. The festival felt like a real throwback to Japan's ancient times. Even though it was only a costume that people are wearing, all of us could clearly feel the "Samurai spirit" present in each warrior.
They performed the ritual of sprinkling the god's water, reciting the warriors' words, bowing, and finishing off by drinking the water contained in small white porcelain bowls one at a time. The ritual was carried out successfully, beyond our expectations!
Samurai can be... adorable also?
Unlike the image of strong warriors that people often see, the little kids dressed in Samurai armour looked so adorable.
As a woman (probably a parent) said, the children from grade 3 were already allowed to participate in the festival and they were very eager for this activity. They ceaselessly checked the fit of their costume and shoes, giving us a glance every now and then when they had to bow. What loveable Samurai!
To get a place in the festival, families should register in advance according to the regulations on the website: https://www.kamigamojinja.jp/ 
Yoroi Kizome Festival is hailed as an occasion for people to pray for good health and strong growth like the real warriors. This festival was such a delightful treat for those who are an enthusiast of Japanese history like me. Hopefully, in the future, I will have more chances to set foot it other places and take part in more interesting spectacles.
"You've gotta dance like there's nobody watching, love like you'll never be hurt, sing like there's nobody listening, and live like it's heaven on earth."